Reaching the lost in the home of their youth
Samoan couple leaves their family in Hawaii to return to their homeland as missionaries.
---
APIA, Samoa —
 Beams of sunlight poke between the wooden boards of Mika and Rosa Laufili's simple island home.
In the open doorway, where the light is brightest, Rosa Laufili sits on a mat of woven reeds with an open Bible, composition books filled with handwritten notes and multiple copies of "The Voice of Truth International" magazine.
She teaches women's Bible studies and her husband preaches for the Vaimoso Church of Christ, a congregation of about 70 members in the capital city of the South Pacific nation of Samoa.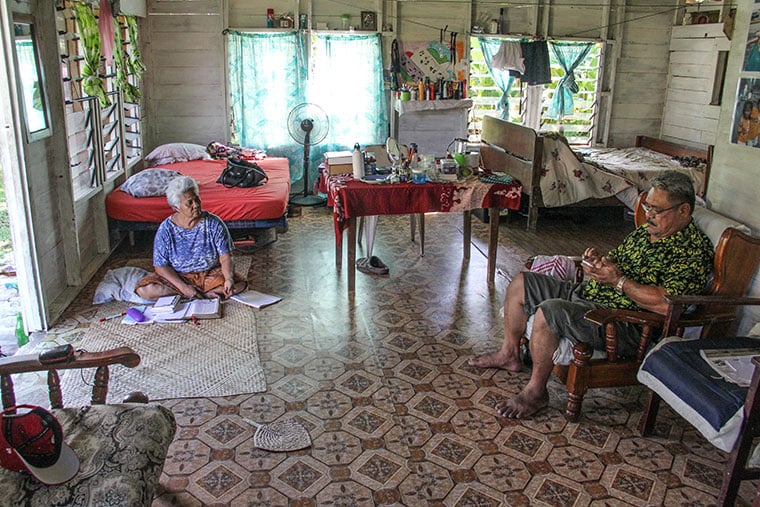 Rosa Laufili talks to her husband, Mika, as she studies for an upcoming women's Bible study in the couple's home in the South Pacific nation of Samoa. (PHOTO BY ERIK TRYGGESTAD)
They are missionaries to their own people — both natives of Samoa who moved to neighboring American Samoa years ago and met a palagi (Samoan for foreigner) named Robert Martin who taught them the Gospel. Mika Laufili grew up attending various churches but wasn't "getting it" when it came to faith and obedience, he said.
See more stories from Churches of Christ in Southeast Asia and the South Pacific.
"I thank the Lord for letting me see the truth," he said.
After their baptisms, the Laufilis spent 19 years in American Samoa, raising their family, before moving to Hawaii, where they worshiped with the Kailua Church of Christ.
Mika Laufili felt a stirring to return to his homeland. The Church of Christ here was stagnating, he learned, and members struggled with addictions. He wanted to help rekindle the congregation.
At first, his wife didn't want to leave her comfortable bank job in Hawaii.
"I thought of putting it off until retirement," she said of moving to Apia. She prayed, asking God that "if this is for us," to open doors and make it possible. He did.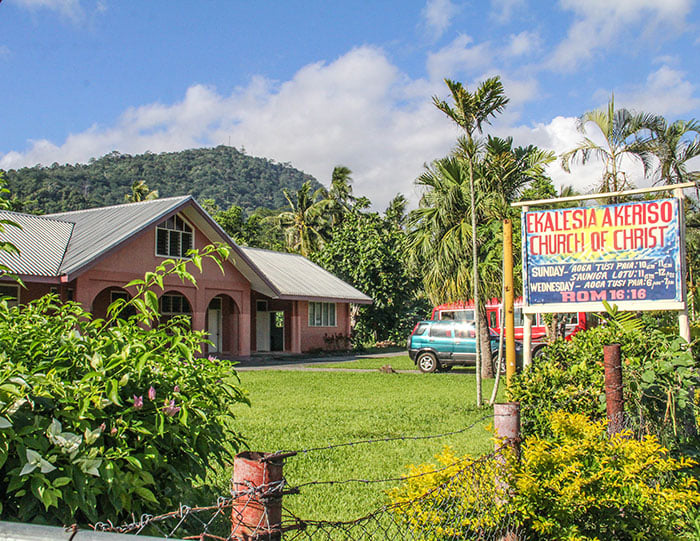 The Vaimoso Church of Christ meets next to a large Mormon church in Apia, Samoa. (PHOTO BY ERIK TRYGGESTAD)
"It was amazing," Rosa Laufili said. The couple found a place to live and means of support. They bought a bus, which runs a route through the city during the week and makes money for their work. On Sundays, they use the bus to pick up church members for worship. The Kailua church also provides some support.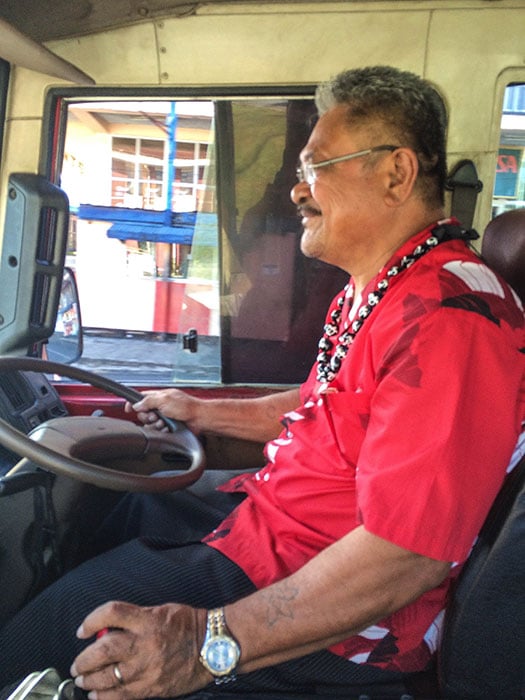 On Sunday morning, Mika Laufili picks up members for worship in a bus used during the week to make money to support his mission work. (PHOTO BY ERIK TRYGGESTAD)
Since the Laufilis' arrival, the Vaimoso congregation has added members, including Paulo Mose, a caretaker for the church's property who was baptized in April 2014 — and his wife, Roberta, a month later.
"There is no other place where I will find eternal life, no other body," said Paulo Mose, who grew up in a Methodist home but didn't take his faith seriously before he met the Laufilis.
The church also is growing spiritually, Mika Laufili said, with members taking an interest in leadership roles and committing to live by the words they read in Scripture.
"The reward we get is the maturity of the church," he said. "That shows us God is with the work in Vaimoso."
As they approach the end of their five-year commitment, 66-year-old Mika and 61-year-old Rosa Laufili ponder the future. Do they return to Hawaii and their children, stay and help the church grow or plant a new one in another part of Samoa?
"So you pray for us, brother," Rosa asks her fellow Christians, "and see what we do here.
A family shares a hymnal as the Vaimoso Church of Christ sings Samoan-language songs of praise before Sunday morning Bible class. (PHOTO BY ERIK TRYGGESTAD )

Related Articles:
Island living: Sharing the Gospel in American Samoa