Racing with amazing faith
CORD AND JET McCOY strive to let Christ's light shine on hectic reality game show.
---
"Oh my gravy!"
Don't bother asking Jet McCoy where the phrase comes from. He doesn't know.
"I didn't even know I said it until I watched the show," says McCoy, on a break between worship services at the
Memorial Road Church of Christ.
He and his younger brother, Cord, are speaking about faith and fame after competing in three seasons of
"The Amazing Race."
"The first leg of the race … I might have said it 12 times," he recalls, "but they aired it 12 times. My sister-in-law was actually selling 'Oh my gravy' T-shirts after the first race. At least somebody made a little money off of it."
Money — $1 million, to be exact — is the prize of the CBS hit show, which challenges pairs of contestants to race around the globe. Along the way, they must perform tasks from
rappelling down a waterfall
in Malaysia to battling a gladiator in Rome, all with the goal of reaching the finish line first. The pace is lightning quick. The competition is fierce.
But the McCoy brothers see an eternal purpose in the spotlight of reality TV.
"You have to decide, 'OK, here's this moment. I can either be dishonest and win or serve God,'" Jet McCoy says. "'Am I going to serve my own desires or do what God has called me to do?'"

'DON'T SQUAT IN YOUR SPURS'
Earlier on Sunday, the reality TV stars pulled up to the church building in a flatbed diesel pickup, complete with reels of barbed wire and a cattle feeder.
They were in diapers when they first rode horses. Jet, 34, the fourth of Denny and Janet McCoy's five children, is named after his mother's maiden initials (Janet Elaine Tucker).
PHOTO VIA WWW.CORDMCCOY.COM
Bulls and blood
If the Almighty has played a role in preparing Jet and Cord McCoy for the spotlight of "The Amazing Race," he's also protected them.
That's especially true for Cord McCoy, who suffered a fractured skull while riding a saddle bronc in Oklahoma City in 2004.
As for Cord, 33, "I had yellow jaundice, so I spent three or four days in the hospital," he explains. "Every time they needed a nurse, there was a hospital pull cord. So it was like, 'Hey, we'll call him Cord.' True story."
As far as they know, they aren't related to those other McCoys who grew up in Churches of Christ — the ones who played football for the Texas Longhorns. (Cord McCoy says he's occasionally praised for his gridiron prowess by folks who mistake him for Colt McCoy, now a quarterback for the Washington Redskins.)
These McCoys grew up on a ranch in southern Oklahoma. There were lots of chores, and when they complained, their mother was quick to quote Philippians 2:14, "Do everything without grumbling or arguing."
Even before "The Amazing Race," the brothers had traveled to 48 states, riding, roping and earning massive belt buckles at junior — and later, professional — rodeos.
On the road, their father did his best to make sure they didn't miss Sunday worship. He remembers thumbing through phone books in hotels across the country, looking for the nearest Church of Christ.
"God has blessed them so much over the years," Denny McCoy says of his sons. While the brothers were still in high school, a reporter from Sports Illustrated followed them on the rodeo circuit for a week and wrote a feature.
It's as if the Lord himself has been preparing them for the glaring lights of the media, their father says.
Scott Young met the McCoys when he served as youth minister for the Central Church of Christ in Ada, Okla.
"Their mom was really involved in children's ministry, teaching class, taking kids to Bible bowls," said Young, now worship minister for the Memorial Road church.
He remembers teaching a high school class about the Old Testament book of Proverbs and asking the students to share some modern-day words of wisdom. Jet McCoy's contribution: "Don't squat in your spurs."
"Denny and Janet have raised those kids to love God and to treat people right," Young says. "I've never heard anybody say a negative word about them. … You have to make up stuff not to like them."
THE FRUIT OF THE SPIRIT … ON TV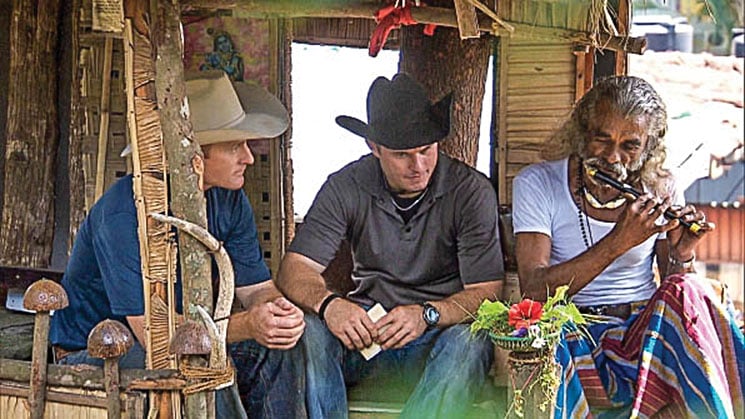 CBS BROADCASTINGThe McCoys' competitors on the latest, "All-Stars" season of "The Amazing Race" seem to have a hard time not liking the cowboys — as they've raced from China to Sri Lanka to Italy.
"Clearly, these lone rangers are more group-oriented than they think, earning love from the other teams with little to no effort," wrote Justin Sedgwick, a reviewer for BuddyTV.com.
When they aren't trekking the globe, the brothers worship with the Fittstown Church of Christ, a 100-member congregation where their father and their brother-in-law, Roger Callison, serve as elders.
Jet McCoy and his wife of 10 years, Ashlee, are ranchers and have a 5-year-old daughter, Ti Silver. Cord McCoy raises bulls with his wife of three years, Sara.
"I was 30 when I got married," Cord McCoy says. "But I had prayed for my wife for a long time before that."
Jet McCoy teaches an adult Bible class in the Fittstown church's auditorium. He says he's continually astounded by the wisdom of his fellow Christians, especially on topics such as forgiveness.
Recently, he led a study of the fruit of the Spirit from Galatians 5:22-23. Needless to say, traits such as love, joy, peace, forbearance, kindness, goodness, faithfulness, gentleness and self-control can be rarities on "The Amazing Race."
"One of the older guys in our class made the comment … that the fruit of the Spirit is a promise, not a command," Jet McCoy says. "When you have the Spirit, the Spirit produces these things in you. … It's been a good class."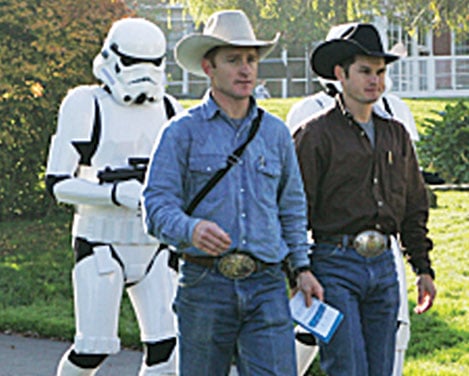 CBS BROADCASTINGThe brothers take the Bible lessons they've learned as children and adults into the race — a grueling, 30-day experience, captured by camera operators who accompany each team.
"But really, the stuff we're dealing with … that all these millions of people are watching every week, it's exactly the same stuff that we all deal with on a day-to-day basis," Jet McCoy says. "How do you treat other people? How do you deal with stressful situations? How do you play the game?
"Just because you're not on 'The Amazing Race,' you're not on TV, you're still being that same kind of example … as a Christian, wherever you're at.
"I think sometimes it's easy for us to lose sight of that."