Racial diversity at church more dream than reality, national survey finds
Most congregations remain predominantly one racial group or another, according to LifeWay Research.
---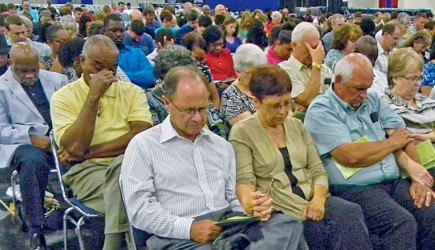 Church members from throughout the Houston area gather to sing, pray and study the Bible during the five-day Campaign for Christ in 2012. (PHOTO BY BOBBY ROSS JR.)New from LifeWay Research:
NASHVILLE, Tenn — Having a racially diverse church remains more dream than reality for most Protestant pastors. More than eight in ten (85 percent) say every church should strive for racial diversity, according to a survey from Nashville-based LifeWay Research.

But few have diverse flocks.

Most (86 percent) say their congregation is predominately one racial or ethnic group.

It's a reality that once led the Rev. Martin Luther King Jr., to call Sunday mornings the most segregated time of the week.

Today, diverse churches remain rare, said Ed Stetzer, president of LifeWay Research, partly because of human nature.

"Everybody wants diversity," said Stetzer. "But many don't want to be around people who are different."
Read the full report.
RACE AND THE CHURCH

• Churches of Christ cross racial divide as they serve
•  Black, white and Gray: Civil rights attorney honored
• 'God's been good' to diverse Church of Christ in upstate New York
• Reaching the heart of D.C.: a multiethnic, multinational Church of Christ
• Unity efforts in Detroit: Getting beyond the handshake
• Editorial: Road to racial unity starts with baby steps
• Breaking down color barriers in the church
• Manhattan congregation reflects melting pot nature of New York City
• Sundays not segregated at St. Louis-area Church of Christ
• Alabama church integrates America's 'most segregated hour'
• Harlem minister sees need to bring races together