Faithful fiction
To sell books, Serena B. Miller was told that she had to include explicit sex scenes. She refused — and now her novel is a movie.
---
Serena B. Miller was utterly unprepared for this moment. 
She was a cashier in a gas station, and couldn't even put together a sentence for a waiting customer. 
Luckily, her customer was Tom Everett Scott, known for his role in the Tom Hanks film "That Thing You Do." 
"Take a deep breath. You can do this," he told her. 
Miller was not having difficulty making change, nor was she star struck. She was making a cameo appearance in a film based on her first novel, "Love Finds You at Sugarcreek, Ohio," published in 2010, when Miller was 60 years old.
Although writing has always been Miller's special gift, acting was not so much. 
"It was very painful," she said. "It took like 12 takes." 
Serena B. Miller on the set of "Love Finds You at Sugarcreek." (PHOTO BY JACOB MILLER)
FROM PREACHER'S WIFE TO ROMANCE NOVELIST
Miller, a member at the
Sunshine Church of Christ
in Portsmouth, Ohio, where her husband Steve has preached for 20 years, is the author of seven novels — and one forthcoming nonfiction book on Amish parenting. 
That was all in the past four years — which also happened to coincide with her husband's diagnosis and treatment for bone cancer. 
"It was God's timing," Miller said. "I had to write 'Love Finds You' while my husband was in 11 months of hospitalization, because I had just gotten a contract; I had a deadline. I asked God 'Why?' but my friends said it gave me my sanity." 
Today, Serena Miller's novels are a family affair. Steve Miller helps her answer email and brainstorms with her, and her son Jacob runs her
website
. 
The road to publication was not easy, though. For decades before she got her first contract, Serena wrote, submitted articles and short stories, attended conferences and workshops and sought publishers and agents. 
While this training was valuable, Serena said she heard a lot of advice from the
Romance Writers of America
that, if she wanted to sell books, she would need to include explicit sex scenes. 
But that didn't fit with Miller's priorities:
"My first priority has always been to honor God with my writing," she said. "I also want to write books that a 15-year-old can share with her grandmother. And I want to leave people with hope." 
Steve and Serena Miller in front of the meeting place of the Sunshine Church of Christ in Ohio. (PHOTO BY JACOB MILLER)

At one point in her writing journey, she almost lost hope that her books would ever be published, and thought she should quit, her husband said. 
"I told her, 'No. You are a writer. Write. No matter what happens, do what you're good at,'" he said. "She kept on, and I'm glad she did." 
Her books, by many measures, have been successful. In addition her first being produced into a film, her novels have won a
RITA Award
, given by the Romance Writers of America and considered the highest award in the romance genre; a
Carol Award for Historical Romance,
presented by American Christian Fiction Writers. She's been nominated for the
Christy Award
, given to novels of excellence written from a Christian worldview. 
Not bad for a 64-year-old preacher's wife from "out in the boonies," as Serena Miller calls her rural home.
This series was perfect for what Chevonne O'Shaughnessy, Los Angeles film producer, was looking for to sell to the international cable television market.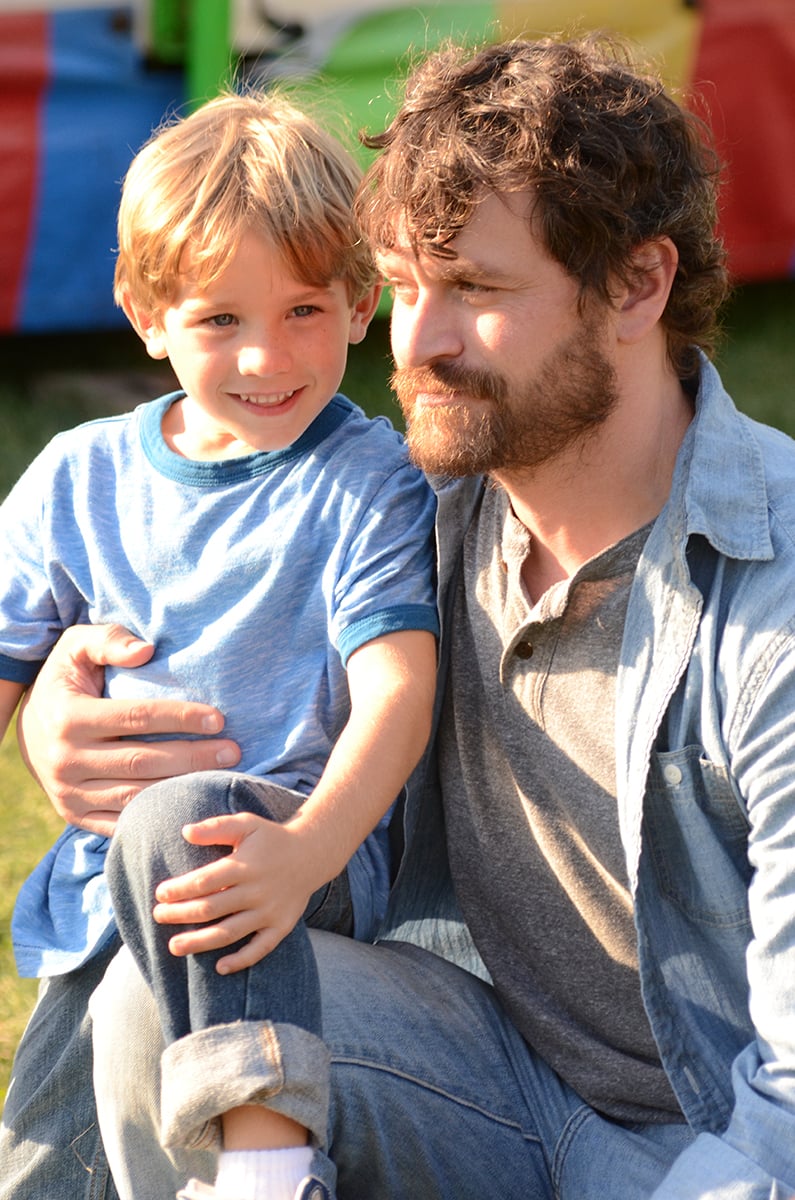 Tom Everett Scott and Thomas Kapanowski star in "Love Finds You at Sugarcreek." (MISSION PICTURES)
"We're listening to what buyers are looking for," O'Shaughnessy said. "The main thing that is working in the international market is family-friendly films with a female main character. So the "Love Finds You" series has that. And with "Love Finds You at Sugarcreek," there was also an element of suspense — plus the fact that it had sold 2 million copies told us that it had followers already." 
The June 1 premiere of the movie broke ratings records for family friendly UPtv, drawing 2.2 million viewers. It was the "strongest premiere of any original movie in the network's history," according to a news release from the network.
O'Shaughnessy has also sold "Love Finds You in Sugarcreek, Ohio" to TV channels in France, Spain, Germany, Australia and Poland. 
For Serena, the filming experience was completely surreal, she said. Filming took place in Sugarcreek, Ohio, which is about three and a half hours from her home in Minford. Serena was on set often, at the invitation of the filmmakers. 
"So many scenes were exactly what I had imagined when I wrote it," she said. 
In addition to Scott, the film also stars Kelly McGillis, whose role as an Amish woman in the 1985 Harrison Ford film "The Witness" made her one of Miller's favorite actors. 
"There's a line where Kelly McGillis says, 'We won't compromise when it comes to doing God's will,'" Miller said. "That's become my battle cry. I've become a lot more tough in my faith." 
FROM COLLEGE DROPOUT TO ALUMNUS OF THE YEAR
Part of what kept Miller from writing for so many years was not just life, church and mother duties (she and Steve have three children, now grown). 
It was the fact that she didn't have a college degree.
"I always thought (writing) was the kind of profession where you had to be really, really smart, or really, really educated, or have some kind of magic," Miller said. 
Harold Shank, president of Ohio Valley University, presents Serena Miller with the Distinguished Alumnus of the Year award. (PHOTO PROVIDED BY OHIO VALLEY UNIVERSITY)
Miller only had one year of college education, at
Ohio Valley University
. But earlier this year, she was chosen as 2014 Distinguished Alumnus of the Year. 
OVU President Harold Shank said he is so pleased to see Scriptures spoken in a television movie based on Serena's book that it made him "proud to have had a small role in her education"
"Serena is a person who has entered the romance novel world, with all of its worldly qualities, and yet she is holding fast to her Christian convictions, which is very admirable," Shank said. 
Perhaps she took a different, more winding path than most writers, but Serena is making her own way. 
As her husband Steve says, "She's slow out of the gate, but she's fantastic in the back stretch." 
The film "Love Finds You in Sugarcreek, Ohio" will premiere Sunday, June 1, at 7 p.m. on UPtv. Check local listings or UPtv.com for subsequent airings. The film will be available on DVD in July or August.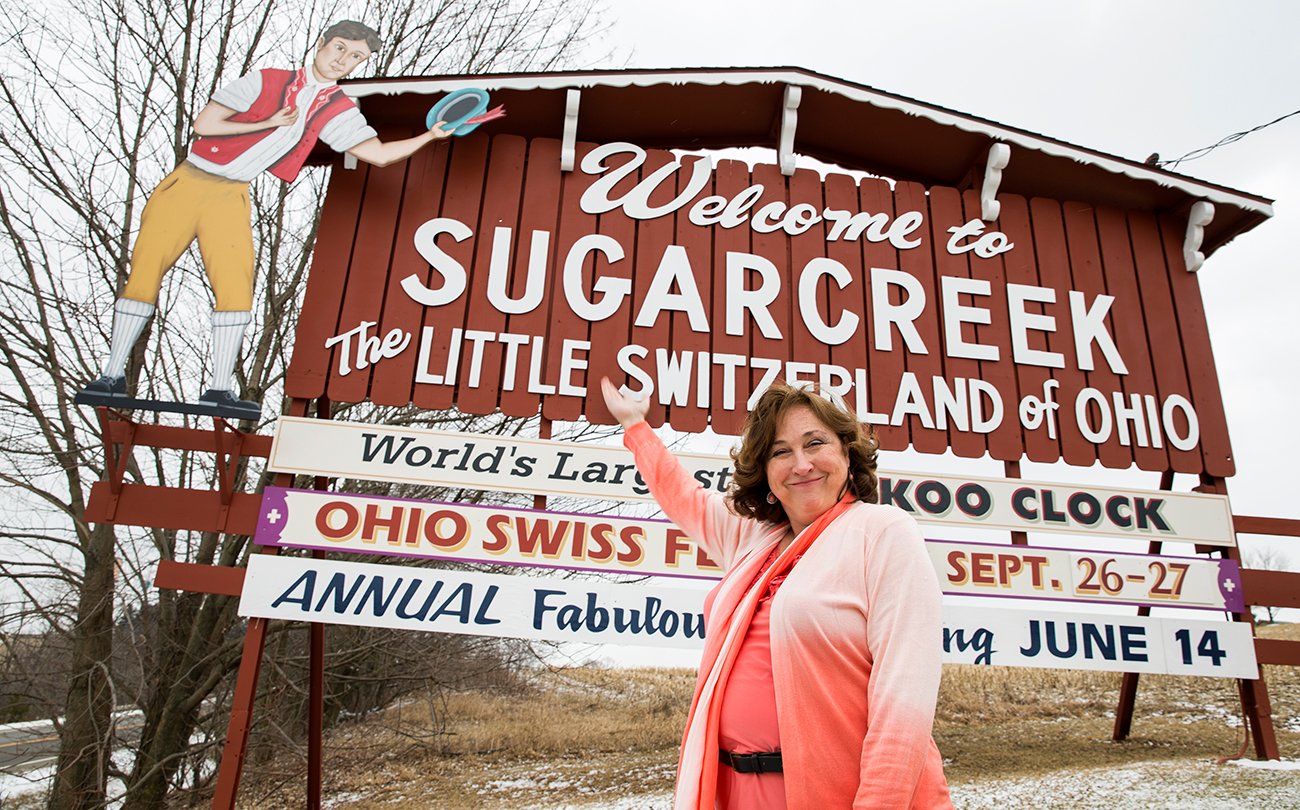 Serena Miller in Sugarcreek, Ohio. (PHOTO BY CHRIS CONE)