Preacher, lay your debt burden down
Heritage Christian University sets a goal of graduating every student with no loans to repay.
---
First in a series
FLORENCE, Ala. — Lucas Suddreth thought he'd rely on federal student loans to pay for his ministry education.
Instead, Heritage Christian University gave him a full-tuition scholarship and helped arrange a part-time youth ministry position.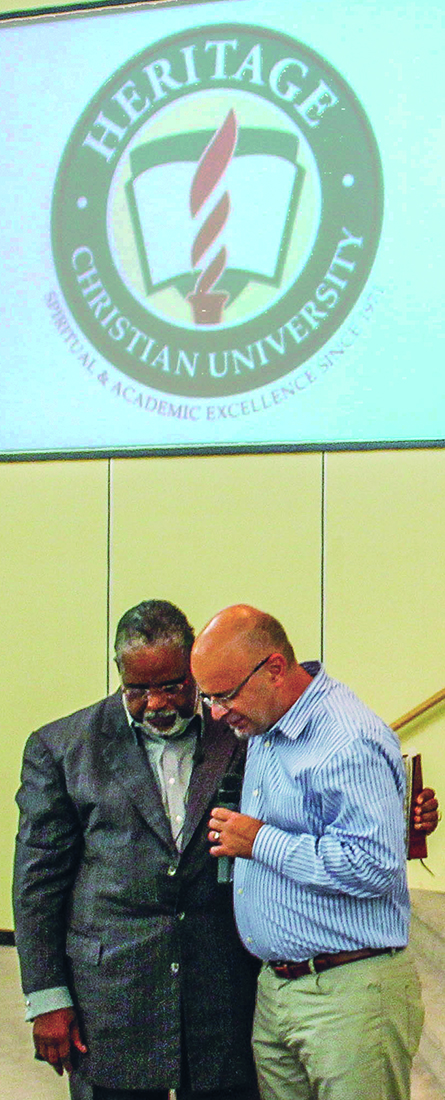 Glenn Newton, right, prays before Arnelious Crenshaw speaks at Heritage Christian University's "Elevate." (PHOTO BY BOBBY ROSS JR.)"I'm extremely blessed," said Suddreth, 22, who lives with his wife, Rachel, in a house provided by the Mt. Zion Church of Christ. "There's no way I could have done this by myself."
Aspiring preachers face plenty of challenges, but tens of thousands of dollars in student debt shouldn't be one of them, Heritage Christian officials contend.
"We have a goal to graduate every student debt free," said Dennis Jones, president of Heritage Christian, a 115-student ministry training college founded as International Bible College in 1971. "It's important that these young people … are not saddled with educational debt that distracts them from what they've been trained to do, which is to work in full-time ministry, teaching the world and saving souls."
Heritage Christian's annual tuition approaches $9,000.
Through its donor-funded Legacy Scholarship program, the university covers the full tuition for all on-campus Bible majors — the amount left after need-based federal Pell Grants are applied.
To keep the scholarship, a student must maintain a 3.0 grade-point average, go on evangelistic campaigns and complete at least 15 hours of community service each semester.
"What they're doing is taking the burden off a student," said Dave Harris, 43, a father of two who enrolled at Heritage Christian after two decades in the business world.
"You don't want the financial concerns to get in the way of someone preaching the Gospel," added Harris, who preaches for the East Colbert Church of Christ in nearby Muscle Shoals.
The average amount owed: $28,400.
Student debt can be especially troublesome for a graduate called to plant a church, serve a small church or go to the mission field, said Philip Goad, Heritage Christian's vice president for university advancement.
President Dennis Jones displays an Ole Miss football helmet signed by Archie Manning as part of a fundraiser for Heritage Christian. (PHOTO BY BOBBY ROSS JR.)"It's like they've got a house payment on their hands," Goad said of the debt racked up by many students. "But they don't have a house. They've just got a lot of debt."
Dale Jenkins, pulpit minister for the Spring Meadows Church of Christ in Spring Hill, Tenn., said he regularly hears from preachers getting out of full-time ministry because of financial concerns.
"So many young guys feel guilty leaving a first or second work because of money," said Jenkins, who serves on Heritage Christian's board of trustees. "I tell them, 'You are not obligated to preach there, but you have a biblical mandate to support your family.'"
In Jenkins' view, Christian colleges and universities could do a much better job of educating preachers concerning money. 
"If I were the king of a preacher training school or the czar of a Bible department, every ministry student would be required to take a
Dave Ramsey-type
class to graduate," said Jenkins, referring to a Christian debt management guru known for his national radio show.
Steve Diggs, founder of the Nashville, Tenn.-based "No Debt, No Sweat" ministry, said he frequently encounters ministers facing deep financial concerns.
Lori Eastep, Heritage Christian's director of public relations, addresses women during the "Elevate" spiritual enrichment seminar. (PHOTO BY BOBBY ROSS JR.)
"This is the way the devil destroys a lot of ministers," said Diggs, who has conducted nearly 500 financial management seminars at Churches of Christ and Christian universities.
Heritage Christian's scholarships don't cover books, supplies or living expenses. However, the university's administrators encourage students to find means of payment other than federal loans — such as part-time ministry work with one of the 60-plus congregations in this northwest Alabama hub of Churches of Christ.
Some take out loans anyway.
"We can't keep students from borrowing money," Jones said. "We just don't want to be the reason they borrow money."
Student Erick Chaney practices a sermon for fellow students at Heritage Christian. (PHOTO BY BRITTANY McGUIRE)
RELATED COVERAGE