Preach it, Teech: Minister mixes God, hip-hop
For Jason Darden, rap music is a way to share the Gospel with a new generation.
---
SANTA ANA, Calif. — As Jason "Teech" Darden grabs a microphone, loud music pulsates.
The audience — a group of urban students invited to a Saturday mentoring event — cheers as Darden begins to rap.
"Turn it up right here," the Christian hip-hop artist instructs as he grooves to the rhythmic beat.
Minister and rapper Jason Darden preaches for the Mission Viejo Church of Christ in California. (PHOTO BY BOBBY ROSS JR.)Darden, 34, sports an Oakland Raiders cap, a black hooded sweatshirt and camouflage pants as he invites the children gathered at Martin R. Heninger Elementary School to repeat the lyrics.
"I said, 'Trust in the Lord with all your heart!'" he declares again and again.
Twenty-four hours later, Darden dons a different wardrobe — a white, button-down shirt, dark slacks and shiny brown shoes — as he steps to the pulpit of the 200-member Mission Viejo Church of Christ.
In each venue, he expresses the same passion: his love for Jesus Christ.
"For Teech, it's always been about spreading the Word," said Marcus Thompson, a West Oakland Church of Christ member collaborating with Darden and Anthony Nelson to create the hip-hop label Kerusso Music.
• • •
Wu-Tang Clan. Busta Rhymes. Puff Daddy.
Growing up, these were some of Darden's musical influences.
"Just like any other kid that grew up in the inner cities, I really liked hip-hop," said Darden, who — as the son of an Army Ranger — lived all over the globe, from Germany to Georgia. "But a lot of the lyrics and stuff like that were full of misogyny and violence."

Minister Jason Darden played football at Harding University in Searcy, Ark. (PHOTO BY BOBBY ROSS JR.)After graduating from Greater Atlanta Christian School in Norcross, Ga., in 1999, Darden headed to Harding University in Searcy, Ark., to play football.
A 5-foot-6, 185-pound running back and strong safety, he double-majored in kinesiology and missions. But a Harding roommate — Josh Davidson — objected to his choice of music.
"How are you going to listen to evil lyrics and try to live a Christian life?" Darden recalls his friend asking. A heated argument ensued.
"He was like, 'The Scripture says, 'Flee from all appearance of evil,'" Darden said, referring to 1 Thessalonians 5:22.
The conversation marked a turning point for Darden, who stopped listening to secular music.
• • •
Darden never expected to become a hip-hop artist.
After the 9/11 terrorist attacks, he joined the Army Reserves and deployed to Egypt, temporarily delaying his studies.
Once he fulfilled his military service, he returned to Harding, where he had met his wife, Mary, in a freshman Bible class. They have two daughters: Alayla, 12, and Izabella, 9.
After graduating in 2005, Darden preached for the North Metro Church of Christ in Sacramento, Calif.
He later joined a Kairos church-planting effort and then did campus ministry at Loyola Marymount University in Los Angeles.
"I had some non-Christian friends and family members who would listen to terrible rap music everyday," the minister said. "Joking around, I said I was going to record some Christian rap and give it to them so that they could learn about Christ.
"Next thing I know, I'm baptizing my friend," added Darden, who immersed the friend, John Castro, on a Sunday night in 2011. "God placed a vision on my heart that day."
The Mission Viejo Church of Christ listens to a Sunday morning sermon by minister Jason Darden. Mission Viejo is about 50 miles southeast of Los Angeles. (PHOTO BY BOBBY ROSS JR.)
Before the Mission Viejo church hired Darden in 2013, elder Ken DuBose searched online for sermons.
"The first thing I came across was one of his rap songs," DuBose said. "I just thought, 'Well, that's interesting.' I'd heard so many good things about him, and we had vetted him with a number of people. We knew he was a great guy."
Besides making rap music, Darden remains a captain in the Army Reserves, serving as a chaplain.
"The elders are super supportive of the music, even more so than the military because they don't want me to get deployed and be taken away," he said. "But with the music, they are saying, 'Jason, use it somehow to reach people, and we'll support you in that.'"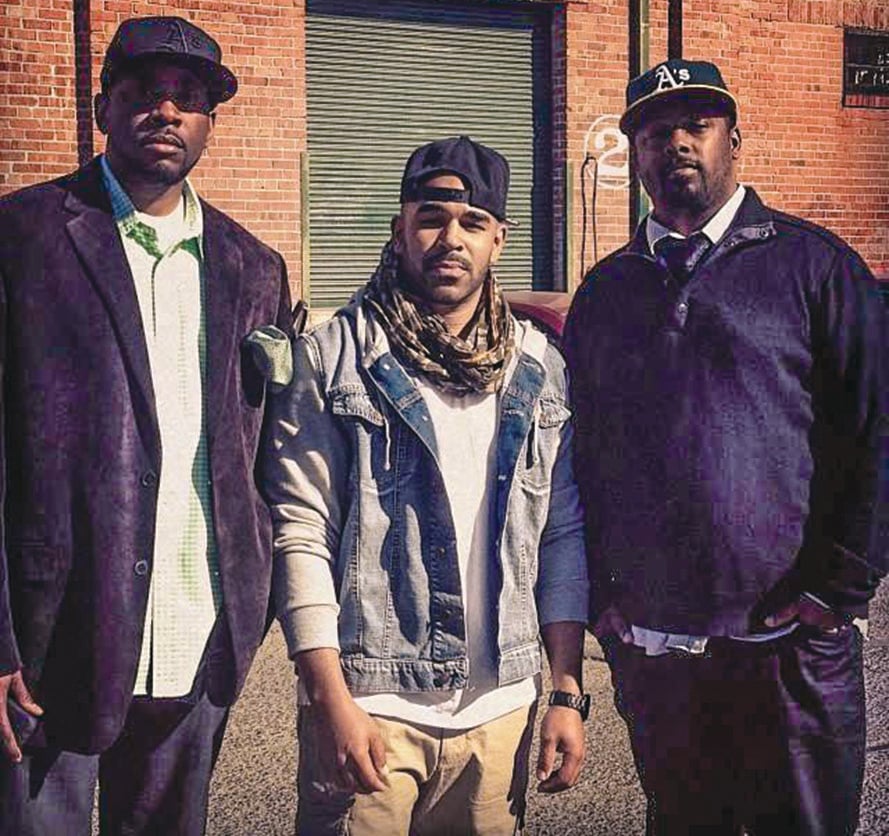 Anthony Nelson, Jason Darden and Marcus Thompson, all members of Churches of Christ, pose at a video shoot. (PHOTO BY MARQUES DU PREE)

• • •
How did a preacher (Darden), a sports columnist (Thompson) and a steelworker (Nelson) come to start a Christian hip-hop label?
Thompson, 38, who writes about the Golden State Warriors and other major sports teams for the Bay Area News Group, listened to hip-hop as a boy. So when the columnist spotted Nelson, a one-time secular rapper, at an areawide hymn singing, he recognized him.
"I was heavily into gangsta rap, especially the Oakland artists, and (Nelson) was one of the good, underground rappers," Thompson said. "He was in a group called Bad-N-Fluenz. After hearing the kind of music he did, I couldn't believe he was a Christian."
"Church in the Wild" was Teech's first album.Asked what a good Church of Christ kid was doing listening to that kind of music, Thompson laughed and replied: "I wasn't a good Church of Christ kid. I was a kid."
Nelson, 42, said the tragic death of his partner, "Rappin' Ron" Royster, in 1996 initiated a spiritual journey that led him to read the Bible and seek a higher calling.
Now a member of the Brentwood Church of Christ in California, Nelson was baptized in 2000 after a man at the refinery where he worked invited him to Bible studies.
"It's all of those things that you might think about or see on TV when an individual does not know the Lord," he said of his former life. "I mean, unrestrained merrymaking, winebibbing, promiscuity, corrupt communication."
As an adult, Thompson had stopped listening to secular hip-hop music.
"I loved rap, but it was clearly too poor of an influence on my mind," he said.
When Thompson connected with Nelson, he encouraged his brother in Christ — who once made profanity-laden music as "Ant Diddley Dog" — to redeem hip-hop by recording songs promoting the Gospel.
Darden entered the mix when Thompson met him at the Pepperdine University Bible Lectures in 2012.
Darden and Nelson — now known as "A. Doulos," which is Greek for "a servant" — have done concerts together in Atlanta, Houston, Los Angeles, Oakland, Raleigh, N.C., and San Diego. Thompson serves as a manager for the artists.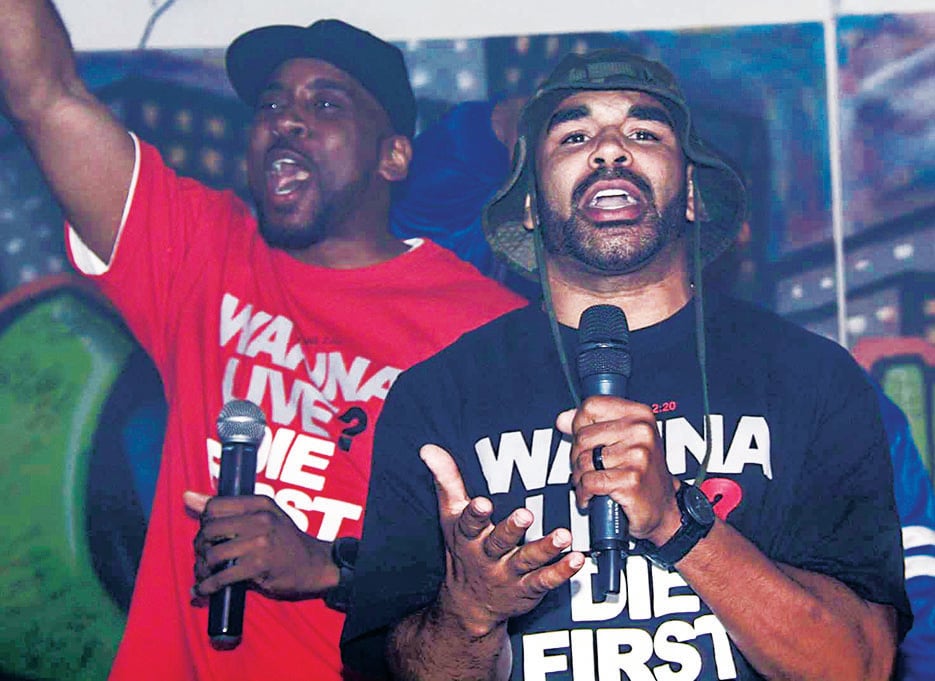 Anthony "A. Doulos" Nelson and Jason "Teech" Darden perform in Oakland, Calif. (PHOTO BY MARCUS THOMPSON)The three are working to develop Kerusso Music and release the Oakland-based label's first albums.
Meanwhile, Darden bought a recording studio in Anaheim and launched Teech Music.
While Kerusso (Greek for "proclaimers") will focus on making and selling records, Teech Music looks to partner with community nonprofits.
"The studio is an evangelistic tool," Darden said. "I want people from the community to come to our studio and record any kind of music they want.
"But we do say, 'If you are going to come here, you have to follow a few rules: No parties. No taking drugs. No profanity.' And everybody respects that because we say it up front."
A boy named José visits with Jason Darden, right, during a mentoring event at Heninger Elementary School in Santa Ana, Calif. (PHOTO BY BOBBY ROSS JR.)
• • •
Darden takes his hip-hop name — Teech — from the Great Commission in Matthew 28.
That's where Jesus tells his followers to go and make disciples of all nations, baptizing them and "teaching" them to obey all his commands.
"I wanted to use the music to figure out how to share the Gospel in a postmodern, contemporary way," he said. "If you can get people a CD or USB with some songs on it, they are really likely to listen to that and just check it out."
Welcome team volunteer Bill Dorrough, left, greets minister Jason Darden at the Mission Viejo Church of Christ. (PHOTO BY BOBBY ROSS JR.)At the Los Angeles-area school event, Darden performs two songs: "You're My God" and "Trust in the Lord."
Then he teaches the students — most of whom live below the federal poverty level — how to write hip-hop lyrics to express their emotions.
"It's really a story about how you feel inside," he tells them.
Hip-hop allows Darden to connect with the children in a special way, said Vernon Gee, program manager for Triple Threat Mentoring, which organized the event.
"This is all these kids are doing," Gee said of rap music. "They're not playing soccer. They're trying to become rap stars."
Darden's goal: to inspire children to ask questions about his faith.
"When I start with music, they go, 'All right, he's a rapper. Really cool,'" the minister said. "Then when I start talking about Jesus or trusting in the Lord, they go, 'I didn't know you could talk about rap and God.'"
Christian hip-hop, he suggests, can be the 21st century version of evangelistic tracts or door knocking.
"I used to do a lot of that, too," Darden said with a smile.

THE LYRICS OF TEECH
Living Water
Like Frankenstein, I was dead, now alive
Shocked by the Gospel, it's alive, it's alive!
Here is water, what doth hinder thee
Here is water, what doth hinder thee
Living water leads to eternity
Come to me, come to me
Oil & Water
OK, I can understand why you question and you doubt
A preacher doing hip-hop, what's that all about?
The two don't go together, like oil mixed with water
But Jesus hung with prostitutes so they could see the Father
I need to set the record straight, about your misconceptions
They need me in the streets, catching souls 
like interceptions
That's why I'm writing sixteens and eights 
on every chorus 
Screaming Jesus is the way
I know they're deaf but can't ignore us
That's why I went to seminary, Fuller to be specific, 
Left the comfort of the Bible Belt for the Pacific
White Flag
I surrender all, I'm waving the white flag
My life was in the trenches like a soldier from Vietnam
I'm fighting a losing war, no longer can I ignore 
The Lord and his word, of course 
Read it, it will enforce 
He made us both woman and man 
Like clay in the Potter's hand 
Will you mold me and make me?
Break me to shape me?
'Living Water' is from Jason Darden's first album, "Church In The Wild." The others are from the upcoming "The Second Self."