Preach it, brother, but keep it short
---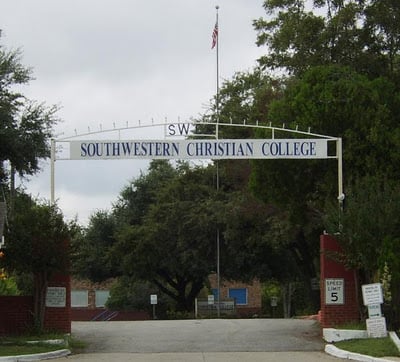 Blogging from Terrell, Texas
What happens in Vegas …
Apparently, my brain stayed in Vegas.
When I ran into Leo G. Gay at the Southwestern Christian College lectureship last week, I immediately recognized his face. Gay is, of course, the minister for the North Las Vegas Church of Christ and welcomed me to Sin City earlier this year when I covered the West Coast Preachers and Leaders Forum.
 
But as I extended my hand, I drew a blank. I could not remember his name. Thankfully, he forgave me for my momentary memory lapse.
While at Southwestern, I enjoyed reconnecting with a number of other ministers and leaders I've met in my travels with The Christian Chronicle, including Leonardo Gilbert, whom I first met at the Sheldon Heights Church of Christ in Chicago, and Yasim Butler, whom I last encountered when he and five Southwestern classmates drove 1,500-plus miles to join an evangelistic effort in New York City.
My Inside Story column on the 74th annual lectureship at Southwestern is now posted on the Chronicle's website:
TERRELL, Texas — Assemble an all-star lineup of some of the most powerful, passionate preachers in Churches of Christ.
Put these ministers on the same lectureship program, and give each 20 minutes to speak.
You probably can guess what happens next.
Read the full column.
Feedback

Thanks for the blog post and article, Bobby! God surely has great plans for multicultural ministry. Regarding the time limit, I remember that Randy Harris taught my preaching class at ACU that an effective sermon length is about 22 minutes. Longer sermons tend to surpass people's attention spans. I still haven't mastered sermon length, but I try. And I'm fascinated by cultural differences in attention spans and wonder about the factors involved.

Steven Gaines

December, 2 2011