Prayer and patience in Taiwan
Faith can take years — maybe even a decade — to grow in the soil of this Asian island, church members say. But it grows.
---
TAIPEI, Taiwan —
In this Asian metropolis, they've got money to burn.
MORE FROM TAIWAN: Modern-day Ruth and Boaz grant the simple wishes of elderly souls 
On the last day of Chinese New Year festivities, a pair of young entrepreneurs stand outside the building where they rent office space, carefully adding stacks of yellow paper to a canister ablaze at their feet.
On a folding table behind them are pastries and fruits. Above them smiles the bearded visage of Formosa Chang, icon of a fast-food restaurant next door.
The sweets and the "ghost money" are offerings to ancestral spirits, explain the entrepreneurs, whose company helps other aspiring businesspeople launch start-ups of their own.
Across the highway, strings of fireworks crackle and pop in front of a small hotel — more prayers for prosperity as the Year of the Rooster begins on the lunar calendar.
READ MORE STORIES from Churches of Christ in Asia and the South Pacific.
Two days earlier, the tiny Taipei Church of Christ met in this office building and offered prayers of its own — to a God worshiped by less than 5 percent of the island's nearly 24 million souls.
Hunched over Chinese-language Bibles in a narrow computer classroom they rent for worship, nine Christians read the words of the prophet Zephaniah: "I will change the speech of the peoples to a pure speech, that all of them may call upon the name of the Lord."
Preacher William Chen taught them about what it means to call upon the Lord — and about the essentiality of baptism to salvation.
William Chen teaches a Bible class about baptism and what it means to "call upon the name of the Lord" during the Taipei Church of Christ's Sunday services (PHOTO BY ERIK TRYGGESTAD)
"We need to rightly divide the word of truth," he told the church, echoing Paul's charge in 2 Timothy 2:15, "and I encourage you to teach others what you have learned."
His words are almost prophetic. Chen and his wife, Yolanda Wu — who taught Bible class to two children in the corridor as her husband conducted the Bible class — are moving to Texas. There, the Taiwan-born preacher will serve World Video Bible School, a nonprofit that produces evangelism materials for Churches of Christ.
A 10-YEAR SEARCH FOR SOUND DOCTRINE
Evangelism is difficult in Taiwan, Chen said. Most families practice a mixture of Buddhist and Taoist beliefs.
"Traditional burdens," he said, weigh on new believers and cause tension in families. Some Christians feel they must quit their jobs if their bosses expect them to participate in ritual prayers for the company's prosperity.
A decade-long process, across two continents, brought the minister to faith.
Yolanda Wu teaches a Bible class for children. (PHOTO BY ERIK TRYGGESTAD)
It began with his wife — a spiritual seeker, bewildered by the buffet of Christian denominations promising salvation. She met U.S. missionaries including John Grubb, who patiently worked around her schedule to study the Bible with her.
"I really appreciated the sound doctrine," Yolanda Wu said. "I'm so grateful they taught me about the one true church."
Grubb and his wife lived out what they taught, Wu added. They took in Christian converts disowned by their families. Wu remembered the look of pure joy on the missionary's face as she emerged from the waters of baptism.
"If it weren't for John Grubb, I could've missed heaven," she said.
TAIWAN: Population 23,464,787; Languages: Mandarin Chinese (official), Taiwanese, Hakka dialects
RELIGION: 93 percent of Taiwanese practice a mixture of Buddhism and Taoism, 4.5 percent Christian, 2.5 percent other.

CHURCHES OF CHRIST: American military personnel established congregations in 1957. Missionaries Roy Mullinax and Enoch B. Thweatt Jr. followed in 1959. At least 20 other missionaries have worked in Taiwan. Now small congregations meet in Taipei, Hualien City and a few other locales. John Yo ministers for a congregation in Taichung. Missionary Eugene Brzozowski works with a church in the southern city of Kaohsiung. (MAP AT RIGHT VIA WWW.FREEWORLDMAPS.NET)
For her husband, Wu's conversion set off a wave of excuse-making. No time for church ­— he had to focus on his career. The couple moved to New Jersey, where Chen earned a doctorate in food science from Rutgers University. His wife worshiped with a Church of Christ.
After three years in the U.S., the couple returned to Taiwan in 1997. Wu asked her husband to drive her to church on Sundays. She feared Taipei's fast-paced, bumper-to-bumper traffic, she told him.
The church's preacher offered Chen a Bible. To his wife's surprise, he took it and quickly absorbed it. The preacher later told him he had rarely seen such Bible knowledge in a non-believer.
Chen credits Wu's example — and her prayers — with his willingness to explore God's Word. Finally, nearly 10 years after his wife's immersion, Chen was baptized.
At a Taipei night market, shoppers walk past a Buddhist temple. (PHOTO BY ERIK TRYGGESTAD)
In 2002, couple moved to San Francisco, where Chen worked for a biotech company. They worshiped with the Airport Church of Christ.
Another decade passed, during which Chen felt an increasing desire to share his Christianity — the faith it took so long for him to embrace — with his countrymen.
He earned a preaching degree from the Southwest School of Bible Studies in Austin, Texas, in 2014 before moving again to Taiwan, this time to serve the Taipei Church of Christ.
PRAYING FOR NEW DAYS OF SALVATION
Chen sees a hunger for spirituality among Chinese-language speakers from Taipei to mainland China and beyond. As he seeks support for his new work with World Video Bible School — translating and producing Bible studies in his native tongue — he prays that his efforts will help hungering souls worldwide.
Chao Liang
Leaving Taiwan was a difficult decision, he said, so he also prays for a new, evangelistic spirit among the handful of Churches of Christ on the island, whose combined membership he estimates at fewer than 200 souls.
As Chen moves to Texas, preaching duties fall back to Chao Liang, the church's longtime volunteer minister. Chao is a retiree and a self-styled tour guide, eager to show visitors his island's attractions, including the historic Ta-Wu-Lun Fort and otherworldly Yehliu Geopark.
Driving a U.S. visitor and Yolanda Wu between the two locales recently, he shared the story of his own conversion as Wu translated.
Two missionaries, Tommy Alford and Joe Ruiz, lived in his community and invited him to a Bible study. Over the next six months, he began to see truth in their teaching and started to let go of his inherited beliefs.
He decided to be baptized but wanted to wait until it was "a good day" according to the lunar calendar.
"Today is a fine day," he recalled the missionaries telling him. "Today is the day of salvation. You don't know when the end will come."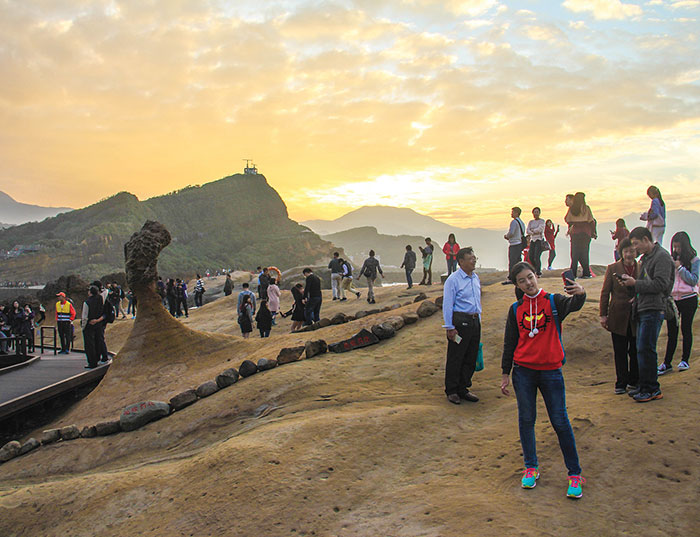 Visitors line up for photos in front of the Queen's Head rock (at left, named for its resemblance, from some angles, to England's Queen Elizabeth I), while others snap selfies at Yehliu Geopark near the northern tip of the island of Taiwan. (PHOTO BY ERIK TRYGGESTAD)
After Chao's baptism, his wife, Sheila Chen, studied the Bible. Two years and many, many questions later, she was baptized.
Chao enjoys preaching to the tiny assembly of believers from the Gospel of Luke. The retelling of the life of Jesus helps him see clearly the will of God and his plan for all mankind, he said.
With kindness, prayer and patience, he believes other souls in Taiwan — who light small fires as prayers for prosperity — will see it, too.