Polishing the Pulpit
Tennessee conference described as "a game changer."
---
Sevierville, Tenn. — Just days apart, George Akpabli attended two Christian conferences — on opposite sides of the Atlantic.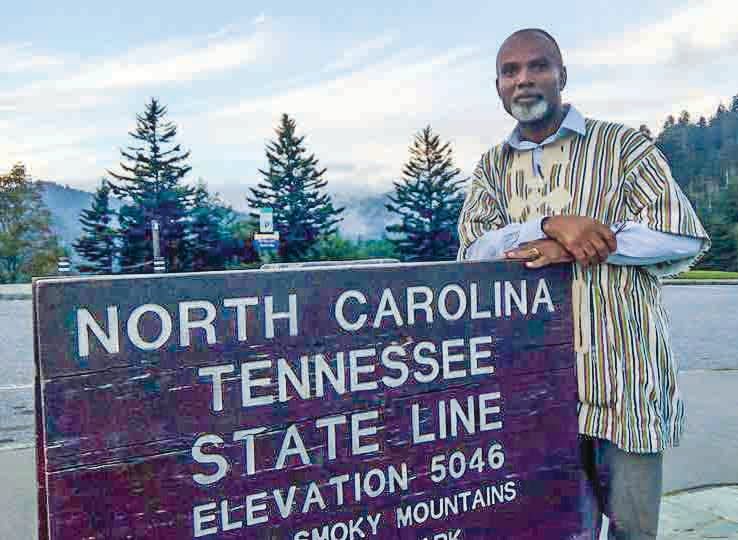 African minister George Akpabli visits the Smoky Mountains. (PHOTO PROVIDED)The evangelist, who directs a ministry training school in the West African nation of Benin, participated in the Africans Claiming Africa for Christ conference in Dakar, Senegal, before traveling to the U.S. to visit ministry supporters. Along the way, he stopped at Polishing the Pulpit, an annual gathering that drew nearly 4,000 members of Churches of Christ to the Smoky Mountains in East Tennessee.
Compared to West Africa, "this is a different world," Akpabli told The Christian Chronicle. "The massive size of the lecture halls, the exhibition hall, the great singing sessions, the scheduling … so on point. It was impossible to get lost finding a class, they were so well labeled."
The diversity of subjects and the speakers' depth of knowledge impressed the African preacher, who grew up in Ghana and moved to Benin to work as a missionary in the small, French-speaking nation.
His only frustration: too many classes he wanted to attend started at the same time. Luckily, conference organizers recorded sessions for him to hear later via flash drive.
"Listening to some of the speakers whose books I have read — Alan Highers, Rod Rutherford, Dan Winkler and many more — it was edifying and uplifting," Akpabli said. "Meeting in person and listening to seasoned ministers with whom I have corresponded over the decades was a plus. I loved the Missionary Rendezvous sessions and the Textual/Doctrine/Scholars' Think Tank."
Organizers describe Polishing the Pulpit as part lectureship, gospel meeting, summer camp, elders' retreat, youth rally, marriage retreat and more. Three ministers launched the gathering as a way to share sermon material. As attendance grew, organizers added classes designed for Christian women and youths.
Akpabli said he would love to return for the next Polishing the Pulpit, scheduled for Aug. 18-24, 2017.
"I was probably the only person coming directly from West Africa," he added. "I just wish several of our people could attend. It is a game-changer."
WEBSITE: polishingthepulpit.com