Arkansas member's 'You Poked My Heart' video goes viral
'It started out as a cute video within my family,' Tara Willmott says of the YouTube sensation, which features her 3-year-old son, Ty.
---
A YouTube video posted by Tara Willmott, a member of the Northside Church of Christ in Harrison, Ark., went viral in a matter of days.
As of today, the "You Poked My Heart" video has more than 9.8 million views.
"I had no idea it was going to do what it did," Tara Willmott told The Christian Chronicle. "It started out as a cute video within my family — that's why I posted it."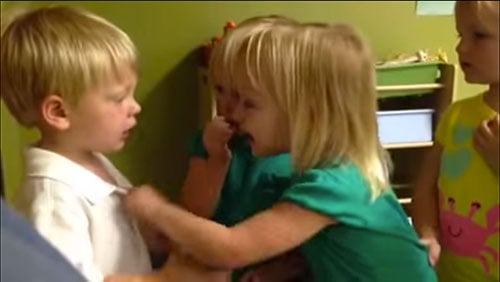 Ty Willmont, 3, and his friends discuss the weather. (VIDEO STILL VIA YOUTUBE.COM)Willmott, who lives in Harrison with her husband Matt, son Ty and daughter Reese, first posted the two-minute video to her private Facebook page.
But after the Facebook version received roughly 2 million views and thousands of shares, a friend suggested she post it on YouTube, the popular video-sharing website. A week later, the video had millions of views.
The video features 3-year-old Ty Willmott and two young girls arguing about the weather. It has been featured on ellentv.com, weather.com and NBC's "Today" show, among others.
Ty is sure it's sprinkling — because that's what his mom told him. One of his friends says it's raining. After going back and forth for a while, the conversation quickly ends when his friend sticks her finger in Ty's chest while making her point.
"You poked my heart," he responds tearfully.
"I've gotten so many messages from people all over," Tara Willmott told the Chronicle. "He's making people smile."
Willmott said the coolest attention came from "The Ellen DeGeneres Show," which interviewed the family via Skype. But not to be left out was their home church, where they are very involved and connected.
Preaching minister Steve Powers said the Sunday after the video went viral, the sky was overcast. So he decided to have a little fun with the family's recent stardom.
"I was a little worried trying to decided if it was sprinkling or raining this morning," he joked to the congregation.
"If you don't already know, we have a famous little boy among us," he quickly added.
But if asked, Ty will tell you, "I'm not famous. I'm 3!"