Photo Friday: Partial eclipse of the sun
---
A view of the Oct. 23 partial solar eclipse from Wichita, Kan. (PHOTO BY MARK YEAKLEY)
Truly, God's glory cannot be eclipsed. 
But the sun can.
Mark Yeakley, involvement minister for the Northside Church of Christ in Wichita, Kan., caught some incredible images of yesterday's partial solar eclipse. Here are a few. (Notice how the clouds make a great, natural camera filter.)
Look closely and you can see what appear to be sunspots. (PHOTO BY MARK YEAKLEY)
And, since our headline likely has a certain 1980s anthem running through your mind, here's a portion of Pslam 19 to help you refocus.
Turn around, bright eyes, and contemplate these words of David:
The heavens declare the glory of God;
    the skies proclaim the work of his hands.
Day after day they pour forth speech;
    night after night they reveal knowledge.
They have no speech, they use no words;
    no sound is heard from them.
Yet their voice goes out into all the earth,
    their words to the ends of the world.
(PHOTO BY MARK YEAKLEY)
In the heavens God has pitched a tent for the sun.
    It is like a bridegroom coming out of his chamber,
    like a champion rejoicing to run his course.
It rises at one end of the heavens
    and makes its circuit to the other;
    nothing is deprived of its warmth.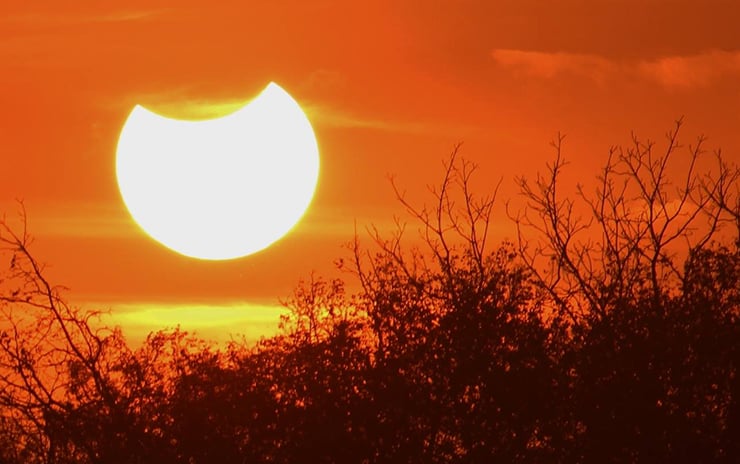 (PHOTO BY MARK YEAKLEY)