Peace in the valley
In Ukraine, Christian refugees pray — and sing — for their divided homeland.
---
IRPIN, Ukraine — "He was oppressed and afflicted … cut off from the land of the living. For the transgression of my people he was punished."
In high, haunting soprano, a chorus of women sings the words of Isaiah 53 in Russian.

• Heroes, Satan and Ukraine: Church elder in Donetsk ministers to separatists who seized his congregation's building

•  See additional videos from the singing camp in Irpin, Ukraine
• As they remember the Cold War, Slovakian Christians pray for Ukraine

Around them, the seated congregation responds, "Holy God, holy strength, holy immortal one, have mercy on us." 
The 120 souls, gathered for a weekend singing camp, represent Churches of Christ across Ukraine, once part of the Soviet Union. Some are widows, orphans. Now, many are refugees.
Militias claiming fealty to Russia drove them from their homes in eastern Ukraine. They watched armed men rip the signs from their church buildings, telling them they should be Russian Orthodox instead. Some were held at gunpoint. Others watched their friends die.
Here, on a cool spring afternoon, they huddle in a pavilion at a forested retreat center west of the capital, Kiev. 
They know not what tomorrow holds for their shattered country.
So, today, they sing.
Julie Strakova and fellow Christians — many of them refugees — participate in a singing camp in Irpin, Ukraine. (PHOTO BY ERIK TRYGGESTAD) 
'We are scattered'
"I feel so good to be around my Christian brothers and sisters," says Tamara Bessarab, as her daughter, Helen Strakhova, translates her words into English. 
Twenty-one years ago, Strakhova translated for a massive gospel campaign as nearly 200 members of Churches of Christ in the U.S. descended on the eastern Ukrainian city of Donetsk. Freed from the yoke of communism, Ukrainians embraced the Good News. Hundreds were baptized — including Strakhova on the campaign's final day.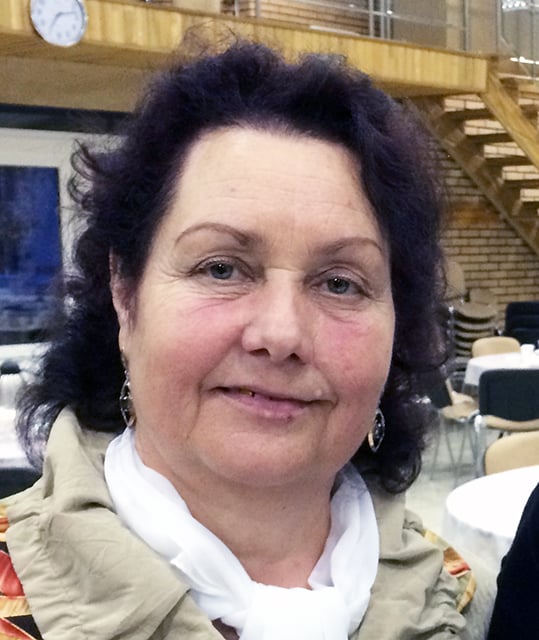 Tamara Bessarab and her husband, members of the Petrovsky Church of Christ, fled their home in Donetsk, Ukraine, in January — as artillery exploded around them. (PHOTO BY ERIK TRYGGESTAD) 
The effort birthed the Petrovsky Church of Christ, which grew to 400 souls, shepherded by Ukrainian elders. Strakhova's husband served as a deacon. By 2001, both of her parents were baptized. Eastern Ukraine, once dominated by atheism, became the country's "Bible belt." Churches of Christ flourished.
Then came the war. It started in Kiev, as masses of protesters forced Ukraine's pro-Russian president from office. To the south, in Crimea, supporters of Russia rejected the new government. Russia annexed the peninsula, though few other nations recognize the action.
Soon after, pro-Russian separatists took up arms in eastern Ukraine. A militia now occupies the Petrovsky church's building in the self-proclaimed Donetsk People's Republic. The church's members who remain worship in secret.
"We are scattered all over the country," says Bessarab, who fled Donetsk in January after watching a bomb kill one of her coworkers.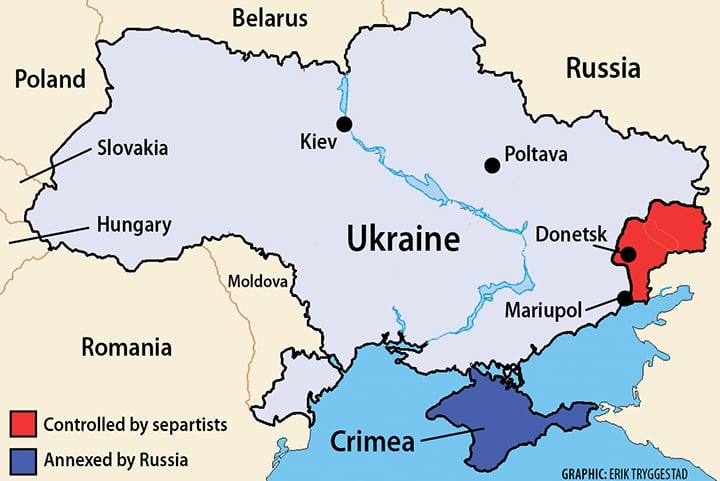 (MAP BY ERIK TRYGGESTAD) 
She and her husband bought tickets for a bus that never arrived. They begged a taxi driver to accept their last 3,000 hryvnia — about $150 — to drive them nine hours west to safety. For the first two hours, artillery exploded around them.
Singing with her fellow Christians distracts Bessarab from those images. 
"It's always good to be in fellowship with one another," she says, "especially in times of troubles."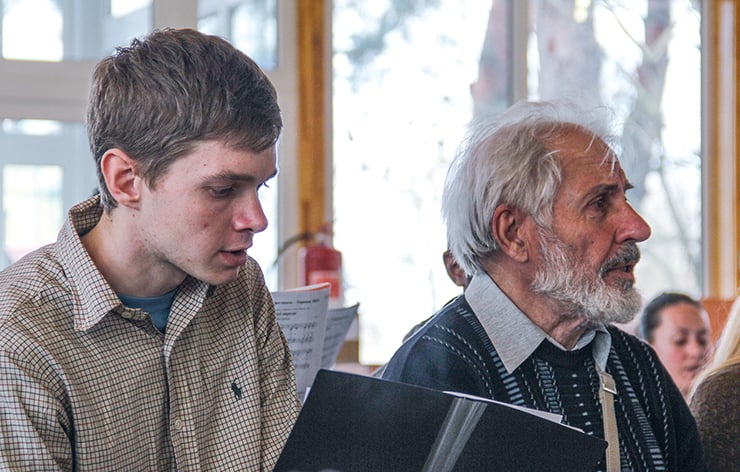 Generations of faith: Denis Bondarenko, 23, and Eugene Gromov, 76, rehearse at the singing camp in Irpin. Bondarenko, a native of Donetsk, and his congregation moved to Kiev. "I don't think God likes big cities," he jokes, but he stays in Kieve "because my church is here." Gromov lives in Poltava, in central Ukraine. God, working through Americans, saved his life twice, he says. During World War II, when Nazis occupied Ukraine, an American pilot was able to get food to his family. Fifty years later, American Christians brought the Gospel.
'what it means to trust god'
Stan Bryan was part of that 1994 campaign. A rancher in northeastern Oklahoma, he preaches for a small Church of Christ in Cherryvale, Kan., and returns to Ukraine to coordinate the singing camps.
"We train preachers extensively, which is good," he says. "I believe we also need to invest equally in training churches to sing."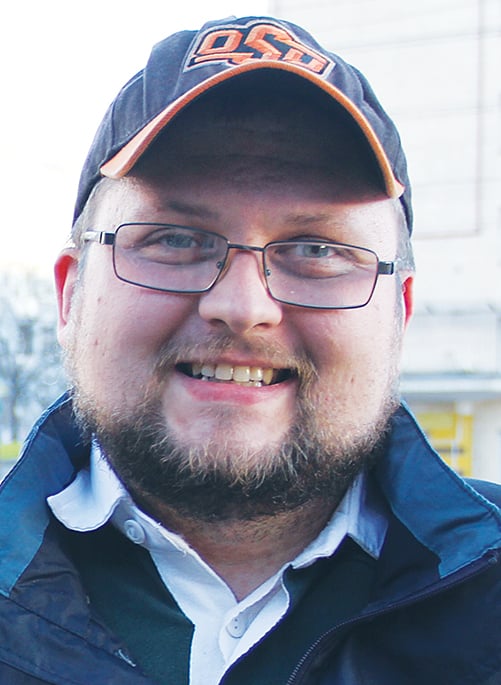 Dmitry "Dima" Grischuk oversees a ministry called Let's Love, which supplies refugees with food and aid. (PHOTO BY ERIK TRYGGESTAD)
Among the attendees are students and graduates of the Ukrainian Bible Institute — which recently relocated from Donetsk to Kiev. Dmitriy Grischuk, who teaches at the school, operates a ministry called Let's Love, which provides aid to thousands of refugees from the east and Crimea, now living in central Ukraine. Through the ministry, church members distribute food, clothing and Bibles to the refugees.
Across Kiev, congregations including the Vinograder Church of Christ are reaching out to serve the refugees in their neighborhoods.
"God is expanding the borders of his glory," Grischuk says. As they serve, he says, Christians learn "what it means to trust God." 
for church's future, 'We need to survive'
"Yet it was the Lord's will to crush him and cause him to suffer, and though the Lord makes his life an offering for sin … the will of the Lord will prosper in his hand."
The Ukrainians who sing these words from Isaiah see God's hand at work in spite of their troubles. 
Refugees who never knew God are asking about the hereafter — and opening Bibles.
And church members from the east are revitalizing congregations in central Ukraine. Bessarab and her husband have settled in Poltava, where a small Church of Christ had split over doctrinal issues. 
A minister from Donetsk, who graduated from the Ukrainian Bible Institute, also moved to Poltava as a refugee. He reunited the Christians and helped them resolve their differences. Now the congregation is growing again, Bessarab says.
As the camp concludes, a small group sings the classic hymn "Peace in the Valley" in English. Bessarab's daughter, Strakhova, says it's the collective prayer of every attendee.
After the camp, Strakhova will return to Crimea, where she helps oversee a program for orphans. 
Life is hard on the Russian-controlled peninsula, she says, but she feels a burden to serve the Church of Christ she helped plant there. Nearly half of its 40 or so attendees are orphans.
Jenya Chugayev and Artum Kirilanko worship with a Church of Christ in the besieged city of Mariupol. (PHOTO BY ERIK TRYGGESTAD)
"Anything may happen — only God knows," Strakhova says. "We need to survive for the sake of the future generation. We have some young people in the church. For their sake, we need to stay and survive, to help them to develop as Christians."
A small group from a Church of Christ in Mariupol also will return to their city in eastern Ukraine, where shelling and gunfire have claimed hundreds of lives.
"We've seen people torn apart," says Jenya Chugayev, one of the church members. "If not for the church, if not for the volunteers, Mariupol would cease to exist. All of us are united in prayer — Orthodox, charismatics, Baptists. We all gather to pray, crying out to God."
The Bible tells them there will be wars, that "brother will attack brother," says Artum Kirilanko, another church member. God's Word also assures them not to worry, that he will not abandon them in their time of need. 
As they pray for peace, they plan for the day when God, working through his church, will restore their city.