CAMPUS MINISTRY
AMBASSADORS FOR CHRIST

Ambassadors for Christ pray after the game. (PHOTO FROM SAMANTHA WHITE)
TUCSON, Ariz. — The University of Arizona's Ambassadors for Christ softball team lost the recent intramural championship game, 11-10.
But even though campus minister Jesse Warren was out of town, the team — comprised mainly of players recruited from the campus recreation center — gathered in a circle to pray after the game.
A teammate asked Benjie Parsalaw, the only player who is a member of the A4C ministry, to lead the prayer. The ministry is associated with Churches of Christ.
child and family services
FAIR HAVEN CHILDREN'S HOME
STRAFFORD, Mo. — The youth group from the Liberty Church of Christ in Conway, Ark., worked to organize and clean the Fair Haven campus and Thrift Haven, the home's affordable clothing and household goods store.
Twelve students and their adult chaperones spent a week at Fair Haven for the second straight year. At night, the teens ate with Fair Haven residents and played with the children in care.
"We love doing this," minister Jonathan House said. "It's a great opportunity for our young people to interact with the children at Fair Haven and to be involved in God's mission."
HIGHER EDUCATION
LIPSCOMB UNIVERSITY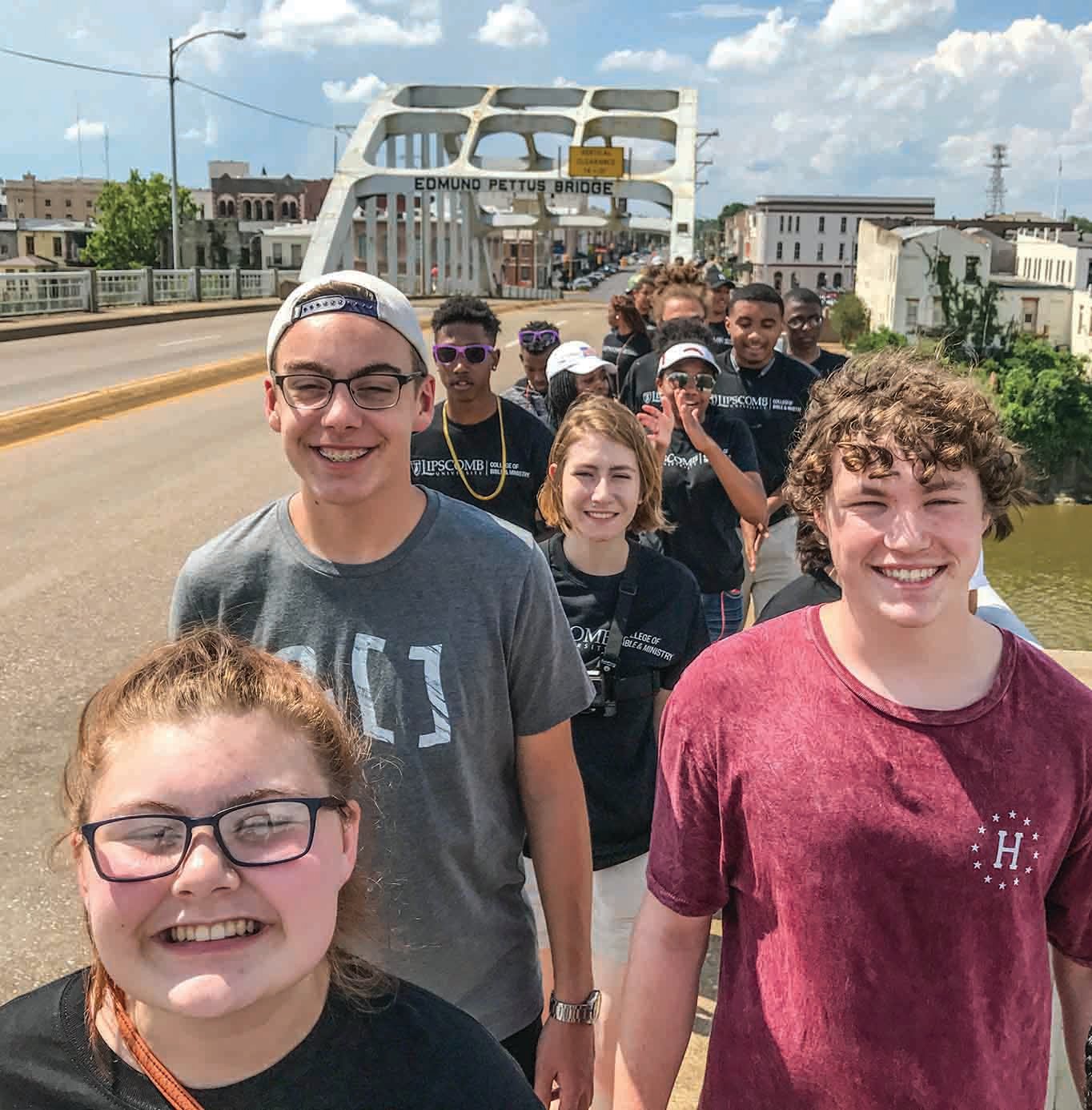 High school students walk across the Edmund Pettus Bridge in Selma, Ala., during a "Bus Ride to Justice" program. (PHOTOS PROVIDED BY LIPSCOMB UNIVERSITY)


NASHVILLE, Tenn. — A 10-day camp, presented by Lipscomb University, took high schools students on a walk across the Edmund Pettus Bridge in Selma, Ala. and taught them about theology and history. The "Bus Ride to Justice" was taken as part of "Engage," a youth theology program offered by the university. During the camp, 26 students from across the U.S. spent eight days on Lipscomb's campus studying theology and history. The other two days featured tours of significant sites of the U.S. Civil Rights Movement throughout Alabama.
FOR MORE INFORMATION, see www.lipscomb.edu/bible/special-programs/engage.
Participants of all ages come together at 'Engage,' funded by a Lilly grant.
FAULKNER UNIVERSITY
MONTGOMERY, Ala. — Faulkner is building a new entryway facing Atlanta Highway.
The current entrance is set back from the road and obscured by trees, President Mike Williams said.
The renovation project, which will include burying power lines, will serve to highlight the university and the Atlanta Highway corridor, Williams said.
HARDING SCHOOL OF THEOLOGY
MEMPHIS, Tenn. — Harding has introduced a Live Interactive Video Education — dubbed LIVE — classroom setup for its master's degree programs in Bible, ministry and theology.
It's formatted to allow distance learners to better engage with peers in the classroom. Using two-way audio and visual streaming, students virtually attend weekly classes with local students via their computer and webcam. LIVE allows distance students to engage in class discussions in real time and see their classmates and professor on screen.
"Unlike online programs that rely on recorded lectures and typed discussion forums, HST LIVE brings students to an actual classroom," said Matt Carter, director of admissions. "As students participate in discussions, their ideas are sharpened, and they help sharpen their classmate's ideas. Real-time, immediate feedback helps them learn and grow."
LUBBOCK CHRISTIAN UNIVERSITY
LUBBOCK, Texas — Sixty trees for 60 years.
LCU students, faculty and staff recently planted 60 trees across campus in celebration of the university's 60th anniversary.
"We seek to demonstrate our continuing commitment to good stewardship while creating beautiful spaces on campus where relationships and community can be fostered," President Tim Perrin said.
OKLAHOMA CHRISTIAN UNIVERSITY
deSteiguer OKLAHOMA CITY — Three years ago, Oklahoma Christian launched a campaign called "Thrive." The goal was to raise $30 million for projects that would enhance students' college experience.
More than 9,300 donors helped the university meet the goal ahead of schedule. The campaign recently ended with $33,940,222 raised or pledged, and 15 major projects already completed.
"We're thrilled so many people embraced the idea of making quick, tangible things happen for our students," President John deSteiguer said. "Thrive was the perfect way to do a lot of important things that touched a lot of areas on campus."
RELATED:
• See more stories from our Partners HERE.