Painting for Jesus
At work camps across the nation, teens put their faith into action.
---
WICHITA, Kan.
— Teens from Churches of Christ sure know how to paint the town.
From West Virginia to Texas, dozens of annual summer work camps bring together young Christians to scrape and paint houses.
Here in Kansas' largest city, 200 teens and 60 adults participated in the recent eighth annual Wichita Work Camp, organized by the Northside Church of Christ.
"We're not here doing work to show ourselves off," said Colton Quall, 17, a member of the Central Church of Christ in Topeka, Kan., two hours northeast of Wichita. "We're here to be servants for God."
A dozen congregations in Arkansas, Kansas and Oklahoma sent youth groups to Wichita. Teams came, too, from Oklahoma Christian University in Oklahoma City and York College in Nebraska.
Teens show off the paint stains on their hands during the eighth annual Wichita Work Camp, hosted by the Northside Church of Christ in Kansas' largest city. (PHOTO BY BOBBY ROSS JR.)
"It's a lot of work, definitely," said Laura Weber, 16, a member of the Northside church. "You don't really get a lot of breaks. But when you do, there's a lot of talk about God, and you get to meet a lot of people who share the same faith as you, which is really amazing."
Besides putting fresh coats on houses, the painters saved the city of Wichita thousands of dollars by covering gang graffiti under bridges and sprucing up playground equipment at a park, said Toby Levering, the camp's director.
"The goal is to get teenagers to take on Jesus' call to be a servant," said Levering, a former youth minister who now preaches for the Northside church.
Like a number of work camps across the nation, the Wichita effort — which this summer required 200 gallons of paint — traces its roots to the Memphis Work Camp in Tennessee.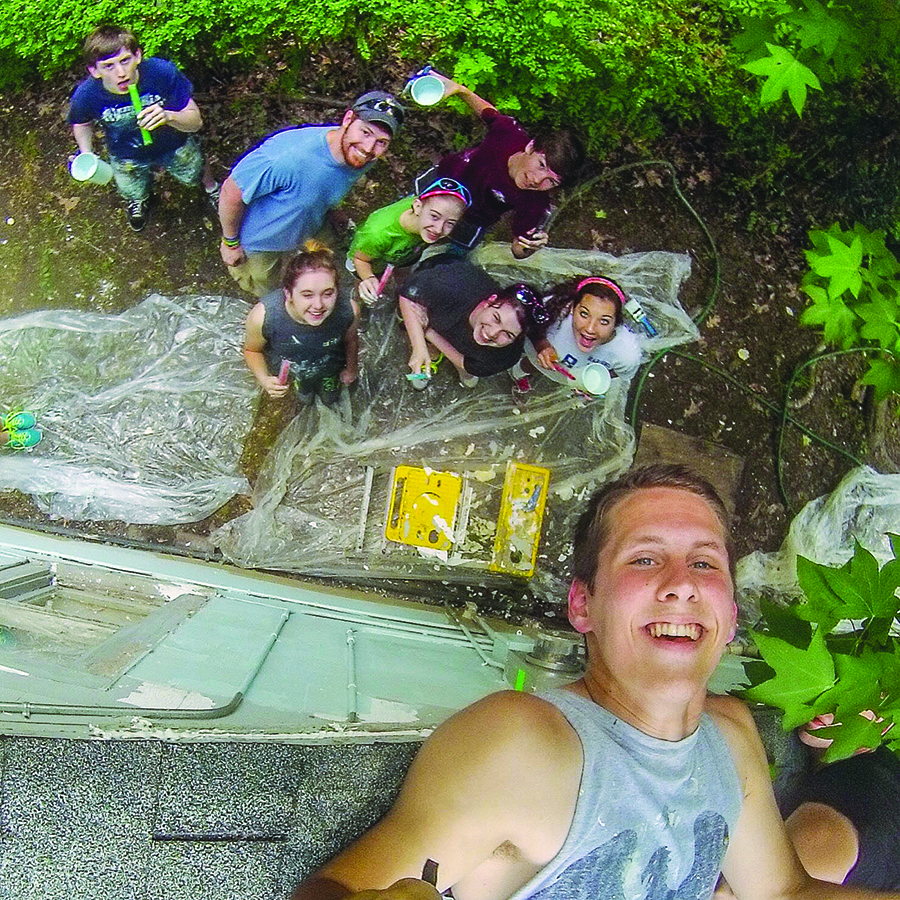 Working up high during the Memphis Work Camp, Garrett Roberts, 18, uses a selfie stick to take a photo of himself and teens painting below him. (PHOTO BY GARRETT ROBERTS)
"I believe there are close to 20 work camps that have branched off from the one in Memphis, including ours," said Ryan Ice, coordinator of the 17-year-old Mid-Ohio Valley Work Camp and youth minister for the Grand Central Church of Christ in Vienna, W.Va.
In the 26-year history of the Memphis Work Camp, volunteers have painted 781 homes, director Buster Clemens said.
"We think our students learn a great deal about service and being Christ-like and also about culture and relating to people who are not like us as far as socioeconomic differences, racial differences and different areas of town," said Clemens, youth minister for the Highland Church of Christ in Cordova, Tenn., east of Memphis.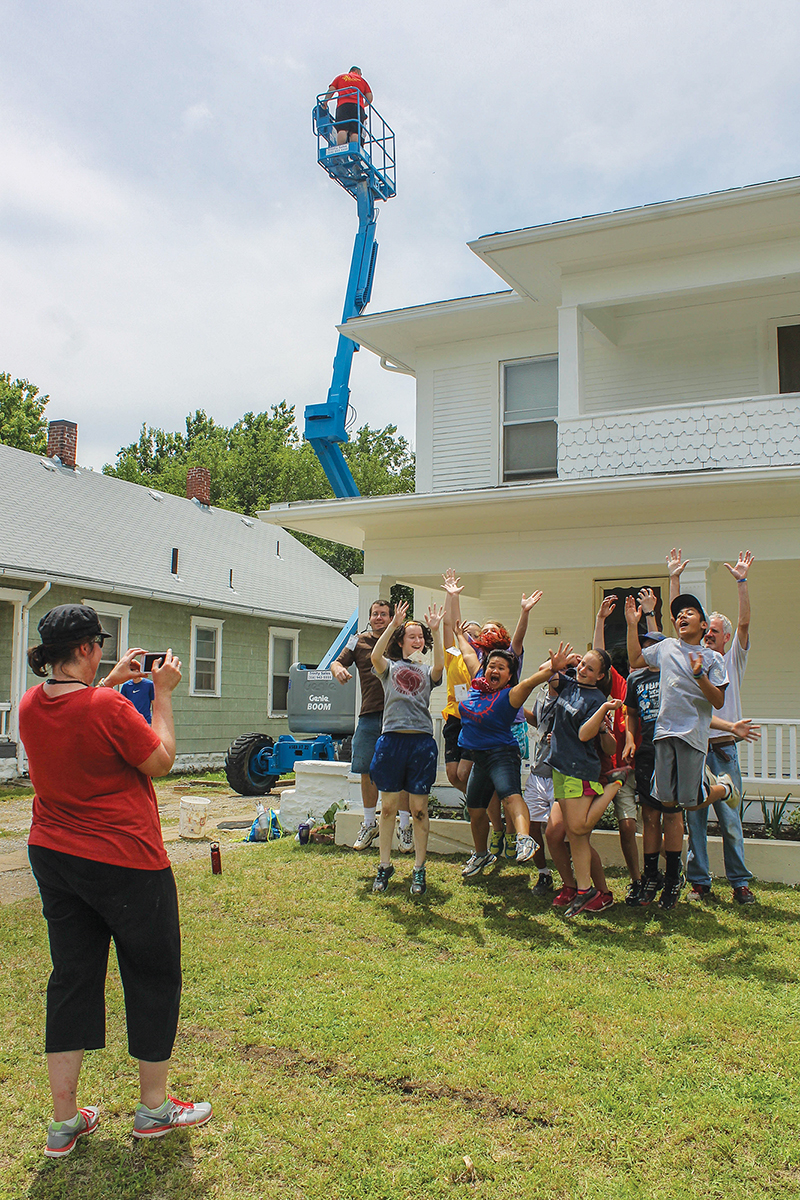 Stephanie Langley snaps a picture as a Wichita Work Camp crew celebrates the completion of a painting project by jumping in the air. (PHOTO BY BOBBY ROSS JR.)More than 300 teens painted 22 houses in Memphis this summer.
"We don't just paint homes," said Garrett Roberts, 18, from the Church of Christ at Trenton Crossing in Clarksville, Tenn. "We paint God's love on the city of Memphis."
Ansley Roberts, Garrett's 16-year-old sister, said the change of atmosphere benefits her.
"You're in a part of town you might not normally be in, around people you may not normally hang out with," she said. "Still, you accomplish something pretty amazing together because you've got a common goal: serving God by serving people."
Elsewhere, 65 teens and 25 adults painted nine houses in Columbus, Ohio.
This summer marked the 11th year of the Central Ohio Work Camp, said Adam Metz, minister for the Alum Creek Church of Christ in Lewis Center, Ohio, north of Columbus.
"Unfortunately, the Churches of Christ have not been very active in the city, and this has marked a small step forward," Metz said. "The planning board has worked hard, with varying levels of success, to maintain relationships with our homeowners from year to year."
Noah Clothier, 13, attends the Northside Church of Christ in Wichita. (PHOTO BY BOBBY ROSS JR.)The goal: "solidifying relationships for future ministry opportunities."
Back in Wichita, campers gather each day at 8 a.m. and start work by 9.
Crews labor in the sun through midafternoon, then break for recreational activities such as bowling and visiting the zoo. Dinner is at 6 p.m., followed by a devotional at 7.
The work camp approach seems to appeal to the younger generation, Levering said.
"They want to put into practice what they see played out in Scriptures," he said. "They don't just want to learn about it. They want to go and do."
As Northside member Noah Clothier, 13, put it, "I feel pretty good about doing nice things for other people to get them to know about God and possibly put Christ on in baptism."
RELATED STORY
• Where We've Been: Summer camp photos