Online wars over doctrine spark concern
Amid heated talk on social media, two-day symposium brings together leaders for face-to-face dialogue.
---
NEW ORLEANS — And they'll know we are Christians by our … vitriol on Facebook?
Scriptural and responsible use of the Internet was a key point of discussion as more than 100 ministers and church leaders gathered for the recent "We Be Brethren Symposium."
Organizers described the two-day event — hosted by the Elysian Fields Church of Christ in the heart of the Big Easy — as an effort to foster unity and face-to-face dialogue on doctrinal issues sparking heated debate online.
"All of us can become victims of Facebook bullying," said Herman Wesley III, minister for the NorthPointe Church of Christ in Montgomery, Ala. "Facebook is not the proper forum to expose people's sins, and Facebook is not the proper forum to correct people's sins."
Antwan BrownTim Anderson, minister for the Southside Church of Christ in Montgomery, said younger Christians wonder, "How is this the church that Jesus died for when we kill each other on social media?"
The symposium was developed "to give a last-ditch effort to help bring together a brotherhood we saw splitting right before our very eyes," said directors Antwan Brown, minister for the Barton Avenue Church of Christ in Luling, La., and R.L. Clark Jr., minister for the Crowder Boulevard Church of Christ in New Orleans.
In a written statement of purpose, Brown and Clark voiced hope the undertaking "will start a national dialogue among the African-American Churches of Christ to bring us closer together than the current trend which has seen us driven further apart."
Genesis 13:8 (King James Version) inspired the event's name: "And Abram said unto Lot, Let there be no strife, I pray thee, between me and thee, and between my herdmen and thy herdmen; for we be brethren."
R.L. Clark Jr.Emphasizing dialogue — as opposed to debate — the symposium gave panelists with diverse viewpoints an opportunity to discuss what the Scriptures say or don't say concerning divisive issues.
Biblically acceptable worship, lines of fellowship and whether clergy robes are sinful were among the topics addressed in mostly cordial but sometimes testy presentations.
"What we set out to do was to get those men from different sides of the aisle to have the conversation," Brown told The Christian Chronicle. "So, in that point, the objective was reached."
John Lewis, minister for the West Fifth Street Church of Christ in Summerville, Ga., said he welcomed the symposium's emphasis on respectful dialogue.
"Facebook can get out of control, and people can be really mean and nasty," Lewis said. "That's what's happening."
Talking in person benefits the tone of conversation, he added: "We can disagree with each other and not be disagreeable."
A desire for unity drew Jeffrey Pointer, minister for the Southern Hills Church of Christ in Charlotte, N.C., to the symposium.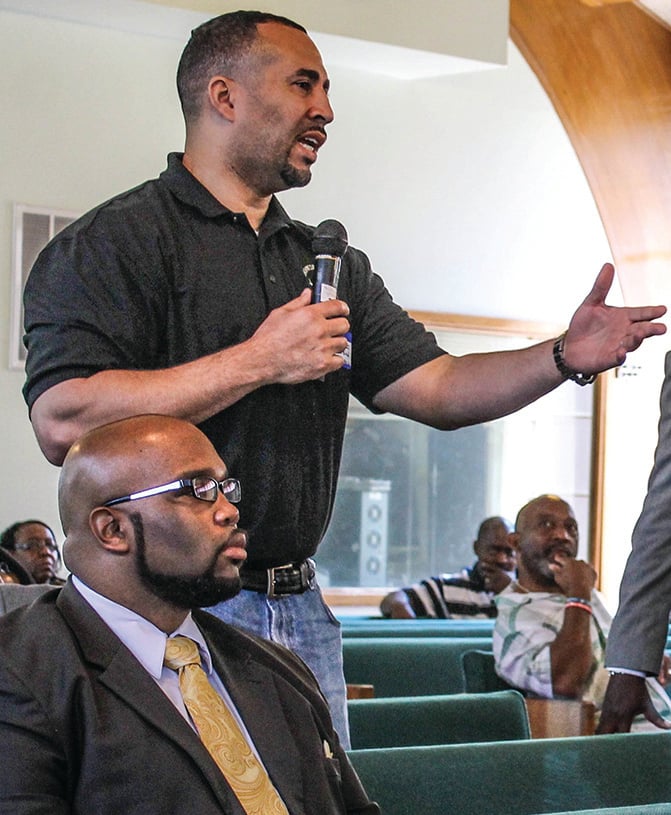 Attendee Malachi Hull asks a question during the recent "We Are Brethren Symposium" at the Elysian Fields Church of Christ in New Orleans. (PHOTO BY BOBBY ROSS JR.)"I would hope that rather than picking a side, we would use the biblical references and Scriptures to draw conclusions," Pointer said. "We don't have an issue with any of the churches here, even though we may not do some of the things that they do in worship.
"But some people want to make it a test of fellowship," he added, "and hopefully this weekend we can come up with an idea that, 'Look, we're different in different areas, but we are all on a united front, and we're going to support the work of the Kingdom.' That's what I'm hoping comes out of here."
But on Facebook, purported defenders of the faith frequently call out certain ministers and leaders as "heretics" and "false teachers," panelists lamented.
"Just a few weeks ago, there was a long list of brethren who were considered heretics in the church," Wesley said, "and I think we ought to be very careful about throwing out these types of labels.
"What we're seeing now is, if you are associated with somebody who is doing something that is questionable, you are being labeled a heretic on Facebook," he added. "You haven't received a call. You haven't received a letter. There's been no conversation, I'm sure."
Attendees bow in prayer during the "We Be Brethren Symposium." (PHOTO BY BOBBY ROSS JR.)
Wesley said he appreciated the symposium bringing together disagreeing brothers to dialogue "from their hearts … in a spirit of love."
Omari French, minister for the Uptown Church of Christ in San Francisco, said a Facebook group with which he is associated publicly apologized for a false accusation made against a Christian woman.
"We want to make sure that there are men striving for integrity," French said of that group's online activity.
But French said, "My question is, when there is something that offends the doctrine, whether it's fellowship with a denomination or whatever have you, is it not outside of the purview of Matthew 18:15 if something is sin?" (That verse concerns the need to confront a brother or sister who sins one on one.)
A doctrinal issue, French suggested, should be an appropriate subject for a biblical dialogue in a public forum.
But Michael Crusoe, minister for the East End Church of Christ in Memphis, Tenn., said, "I'm not so sure I can take care of a doctrinal issue in California from Tennessee. … When Paul wrote to the church in Corinth, you know they had all kinds of problems, but he's writing to the church at Corinth. He's not writing to the church at Rome about Corinth's problem."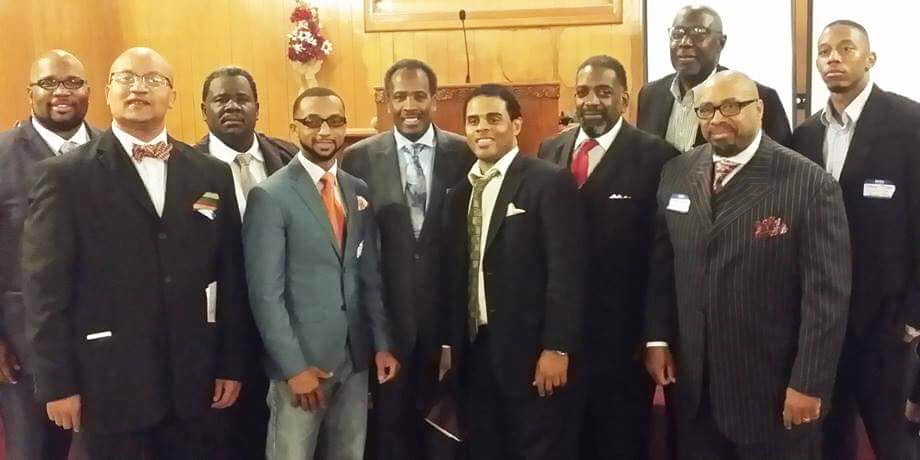 Speakers pose for a group photo. (PHOTO BY MONICA CARTER CLARK, VIA FACEBOOK.COM)
Discussions with — and about — fellow believers ought to be seasoned with "an overwhelming amount of love," Anderson said.
Younger Christians can't distinguish between nasty words on social media and declarations of love on Sunday, he cautioned.
Without a change in tone, Churches of Christ risk losing that generation, he said.
"We have got to find a way," Anderson said, "to be positive and loving in the way we communicate on social media."
And they'll know we are Christians by our … love.
MORE NEWS FROM NEW ORLEANS
• 10-year anniversary of Katrina: 'God allowed us to make it through'