On Russia, Ukraine and Jeff Sessions
A minister for a Church of Christ in Alabama had discussions with the former U.S. senator — now attorney general — about the plight of Ukraine's war-torn east.
---
A minister for a Church of Christ in Alabama had multiple conversations with former U.S. Sen. Jeff Sessions about the plight of Christians in war-torn Ukraine.
U.S. Attorney General Jeff Sessions (UNITED STATES CONGRESS)
The minister, Jeff Abrams, doesn't believe that the Republican lawmaker — now U.S. Attorney General — had improper dealings with a Russian official on behalf of Donald Trump's presidential campaign.
"Never, never, never. That's not him," Abrams, who preaches for the Tuscumbia Church of Christ in northern Alabama, said of Sessions in an interview with The Christian Chronicle.
Sessions recently recused himself from an investigation of Russian interference in the 2016 U.S. presidential election. The reason: two meetings Sessions had last year with a Russian ambassador — meetings Sessions didn't disclose during his confirmation hearing to become attorney general.
One of those meetings included a discussion of Ukraine — at which point the conversation "got a little testy," Sessions said during a recent news conference.
Jeff Abrams surveys the war-ravaged region in the eastern Ukrainian town of Adiivka in 2016. (PHOTO PROVIDED)
Abrams began corresponding with Sessions in the 1990s when Sessions, then Attorney General of Alabama, began his campaign for a Senate seat.
In recent years, Abrams has spoken with Sessions and his staff about eastern Ukraine — where pro-Russian separatists broke away from the country after the ouster of Ukrainian president Viktor Yanukovych in 2014.
Dozens of Churches of Christ met in the region before the conflict. Church members have seen their buildings seized by separatists, some of whom claim that the Russian Orthodox church is the region's only legitimate faith.
Ukrainians accuse Russia of supporting the separatists. Russian officials deny that claim.
More from Ukraine
• 'Peace in the Valley' —  In Ukraine, Christian refugees pray — and sing — for their divided homeland

• Ukraine's refugees share stories of loss, hope, new life
• Heroes, Satan and Ukraine: Church elder in Donetsk ministers to separatists who seized his congregation's building
Sessions has "always been very sympathetic" to the suffering people caught in the middle of the conflict, said Abrams, who makes regular trips to Ukraine to work with Christians there. Abrams also has served as a correspondent for the Chronicle.
During his Senate years, Sessions was instrumental in helping Abrams meet with officials at the U.S. embassy in Ukraine's capital, Kiev, in 2015, the minister said. The meeting, he added, seemed to have little effect on the conflict or the U.S. response to it.
Now, as Democrats call for Sessions to resign, the attorney general defends the two meetings he had with the Russian ambassador as part of his duties as a member of the Senate Armed Services Committee — not as a surrogate for the Trump campaign.
In the following transcript from a news conference, Sessions describes the meeting where Ukraine was discussed:
"Well, it was just normal things, such as, I started off by saying — I don't remember a lot of it, but I do remember saying I had gone to Russia with a church group in 1991, and he said he was not a believer himself, but he was glad to have church people come there. Indeed, I thought he was pretty much of an old-style, Soviet-type ambassador.

"And so, we talked a little bit about terrorism as I recall. And somehow the subject of the Ukraine came up. I had had the Ukrainian ambassador in my office the day before. And to listen to him … Russia had done nothing that was wrong in any area, and everybody else was wrong, with regard to the Ukraine. It got to be a little bit of a testy conversation at that point. It wrapped up. He said something about inviting me to have lunch. I did not accept that, and that never occurred."
The controversy, Abrams said, distracts American Christians from the ongoing conflict in Ukraine, which has intensified in recent weeks.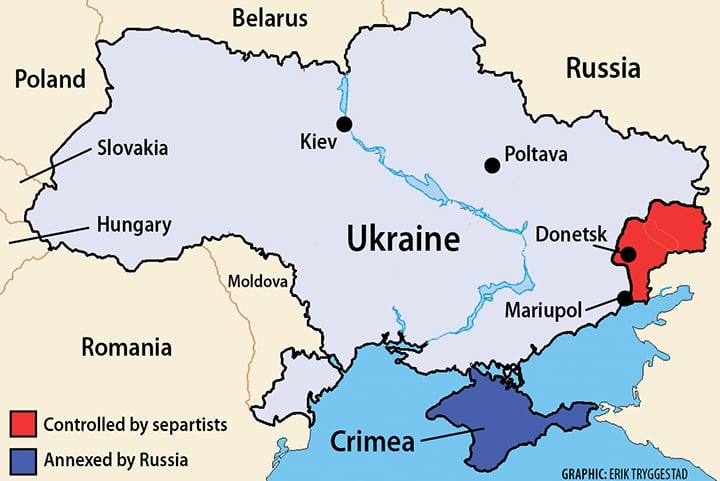 The minister shared a message from a Ukrainian preacher — forced to flee his home in eastern Ukraine — who remains in contact with church members in the besieged region.
"They are very tired of the shellings that have become quite frequent recently," the Ukrainian preacher wrote. "They are morally exhausted and in great need of spiritual support."