On a Christmas Eve layover, 'Lord, give me your eyes'
---
Touch down on the cold blacktop. 
Hold on for the sudden stop. 
Breathe in the familiar shock of confusion … and chaos.
This airport
serves nearly 67 million passengers per year. It's a hot maze of frustration (though it has nothing on
Frankfurt International
in Germany or Jomo Kenyatta in Nairobi, trust me).
It's hard to describe the profound loneliness I've felt here, just before taking off for London, Hong Kong or New Delhi. I adore seeing the world as I cover international news for
The Christian Chronicle
, but I hate leaving my wife and two girls.
Here, adrift in a sea of souls, I am stabbed with guilt for loving a job that takes me so far from home.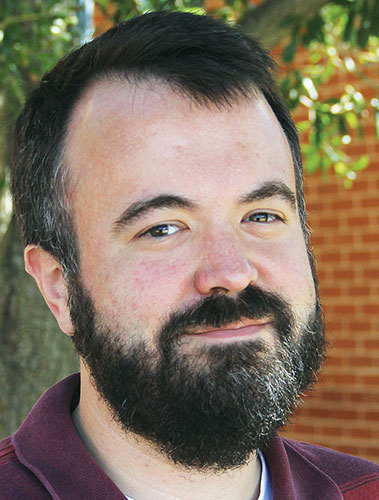 Inside Story | Erik Tryggestad

All those people … going somewhere.
Why have I never cared?
Then there are the times when I travel with my family to see my dad and sister in Tennessee. No loneliness, just flight delays, short connections, a gate-checked stroller and more carry-ons than it's humanly possible to lift.
But something happened in this airport three years ago that trumps all of the negative emotions I associate with it.
It was Christmas Eve, and we had an hour-long connection. We picked up cheeseburgers at a triangle-shaped McDonald's between concourses and sat at our gate — on the floor — scarfing them down.
On that same, worn, dark blue carpet stood a toddler, maybe 18 months old, crying for his mother. She was lying, cramped, across two vinyl bench seats, attempting to sleep. (I've tried it many times. Never works.)
She was Asian, with grizzled features that made her look too old to have a young child. She patiently motioned the boy away, seeking a few moments of peace before the flight — an equally vain endeavor. He just cried louder.
She was part of a group — deeply weary, huddled together — holding white plastic bags with the letters "I.O.M." emblazoned in blue. I grabbed my phone and did a quick search. "International Organization for Migration."
Maggie, our oldest, was 3 at the time. I fished through her Happy Meal sack and grabbed the toy. "You already have this one," I told her. "Why don't you give it to that boy?"
I'll never forget watching Maggie walk those few, timid steps to the toddler — a host of foreign eyes suddenly transfixed on her. There were no thank-you's as he took the gift, just slight smiles and nods. The boy stopped crying … for about 90 seconds. He wanted mom, not a toy.
In the 2014 film "The Good Lie," refugees from Sudan show their "luggage" to Carrie (Reese Witherspoon). The white bags come from the International Organization for Migration. Read Erik Tryggestad's review of the film. (PHOTO BY BOB MAHONEY, ALCON ENTERTAINMENT)
"Had they ever been on a plane?" I thought. I've flown those long hours from Southeast Asia back home. I know how brutal those final layovers can be. What else had they endured to reach this place? How different this dingy airport must look to them, these souls seated a few chairs — and another life — away from us.
Suddenly, one of them was standing in front of me, thrusting a cell phone at my ear. She seemed ancient — the family matriarch, perhaps, afraid but assertive. I took the phone, almost dutifully, and heard a man chattering in broken English on the other end. A translator. He quickly handed his phone to a man with a southern accent who identified himself as a pastor.
The refugees were Burmese, he explained, and his church was assisting them as they resettled in Tennessee. Burma, or Myanmar, was ruled by a military junta until 2011. It has a bad record on human rights and has restricted freedom of religion — though things have improved in the years since I met these refugees.
The minister and the translator were waiting for the new arrivals in Nashville — and didn't even know if they had made it to the right gate in Chicago. Could I check?
I did. Everything was fine. I told the minister I'd make sure they got on the plane. He thanked me.
"Uh, no problem," I said. "And God bless you for doing this."
"Thank you," he said. "Merry Christmas."
Christmas. I'd almost forgotten. A day of gift-giving, feasting, celebration. A day when we think of home.
And now a day when a huddled mass of tired, poor souls, yearning to breathe free, would see their first sunrise in a new world.
Give me your eyes for just one second. 
Give me your eyes so I can see, 
everything that I keep missing. 
Give me your love for humanity.
Give me your arms for the brokenhearted,
the ones that are far beyond my reach. 
Give me you heart for the ones forgotten. 
Give me your eyes so I can see.
To all of you, Merry Christmas. Happy New Year. May we all use what we've been given to his glory.

Contact [email protected].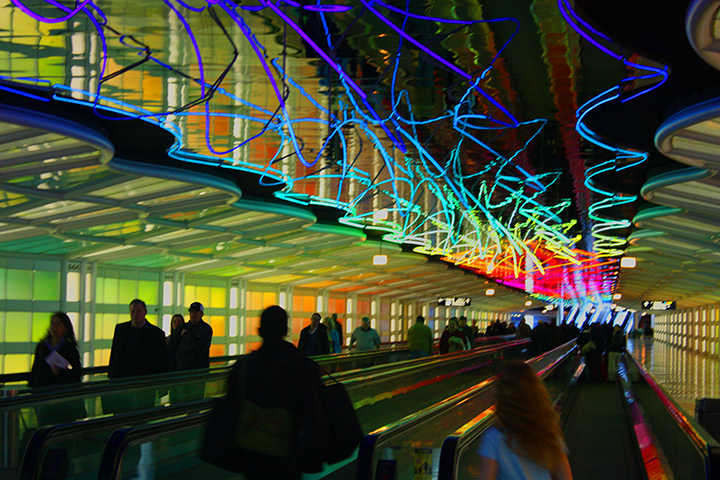 The "Sky's the Limit" light sculpture between concourses B and C at O'Hare International. (PHOTO BY ERIK TRYGGESTAD)