Olympic gold medal winner touts bone marrow registry at York
---
YORK, Neb. — Earl Young, a 1960 Olympic gold medal winner in the 4-by-400-meter relay, is a bone marrow recipient who focuses on recruiting more donors onto the national registry. 
An alumnus of Abilene Christian University in Texas, Young recently visited York College.
At York, he discussed his journey to the winner's platform and the faith that got him through his 2011 bout with acute myeloid leukemia. 
Meanwhile, Young recently got a surprise visit from the donor who saved his life. Harding University President Bruce McLarty shared the link on Twitter:
Remember when 1960 Olympic gold medal winner, Earl Young, spoke in chapel? You'll love this: http://t.co/zTFBYBVJWW pic.twitter.com/E5jNOnzjb1

— Bruce McLarty (@BruceMcLarty) May 19, 2015
For more information, see www.earlyoungsteam.com.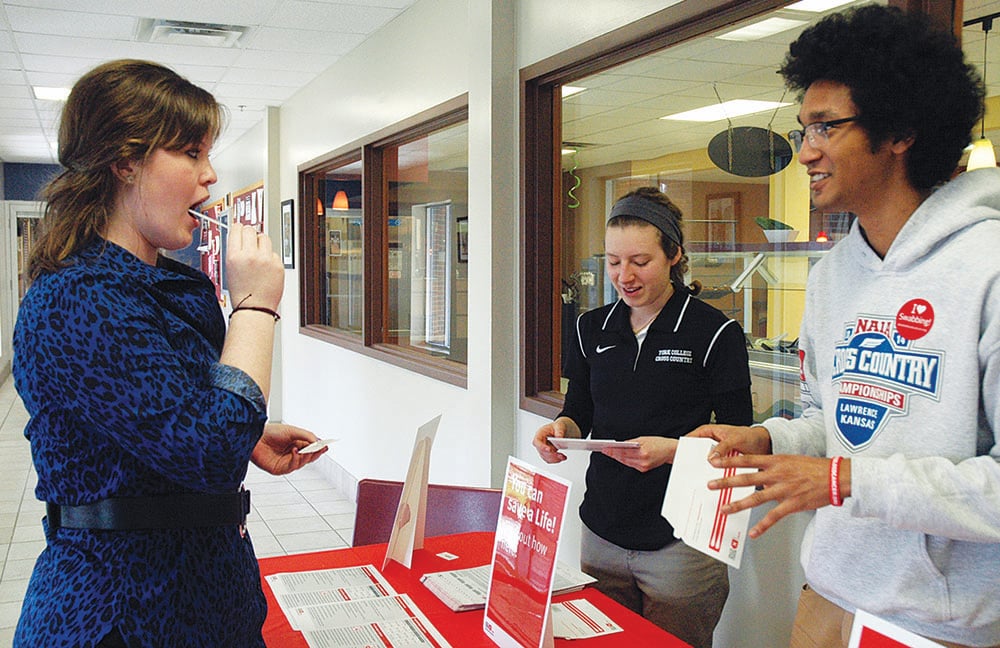 Student Emily Lutz swabs her cheek to register as a bone marrow donor during a drive hosted by York in partnership with Earl Young's Team and Delete Blood Cancer. Morgan DeBoer and Troy Kelly volunteer their time to register donors. (PHOTO BY CHRYSTAL HOUSTON)