Oklahoma Christian lectures begin with '728b,' Alan Robertson of 'Duck Dynasty'
Stafford North honored, Acappella performs.
---
"And now let's turn in our hymnals to 728b," said Keith Lancaster as the annual
Oklahoma Christian University lectureship
began Sunday night. The "musicianary" and founder of
Acappella Ministries
led the packed auditorium of worshipers in "Our God, He Is Alive."
"And now let's turn in our hymnals to 728b," says Keith Lancaster as the annual Oklahoma Christian University lectures begin.

Posted by The Christian Chronicle on Sunday, October 4, 2015
Alan Robertson, former minister for the White's Ferry Road Church of Christ in West Monroe, La., and occasional cast member on his family's reality TV show, "Duck Dynasty," spoke on the theme of "Opening Acts," focusing on the first verses of Luke's account. (Acts 1:15)
Robertson recalled preaching his first sermon at age 7, when he talked to his mother, Kay, through a closed door and assured her, "Mom, it's OK. One day the devil will leave dad." His father, Phil Robertson, was awash in alcohol and sin at the time, the younger Robertson said. (Family members discuss their addictions and redemption in this video.)
Later, the family patriarch turned his life over to Christ and became a "spokesman for God and duck calls," Alan Robertson said.
Alan Robertson speaks on "Opening Acts." (PHOTO BY ERIK TRYGGESTAD)
He talked about the 11 apostles and their lack of understanding about the Kingdom of God, even as Christ ascended into heaven. He shared a story from his Uncle Si, who once was convinced he had seen a black panther in northern Louisiana (though the rest of the family is convinced it was a house cat).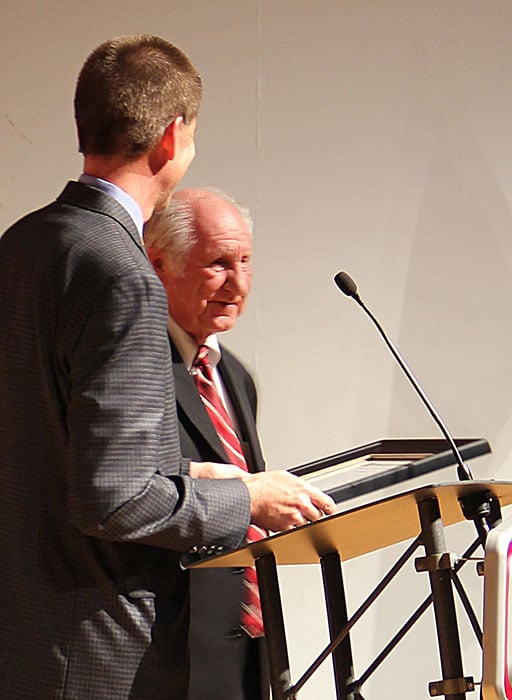 Oklahoma Christian University president John deSteiguer, left, presents Stafford North with a recognition of his many years of service to the university. (PHOTO BY ERIK TRYGGESTAD)
The lesson: "You don't have to be smart to be a disciple. You just have to believe."
Alan Robertson concluded his sermon with three points:

• You can't show and tell what you haven't seen and don't know
• You conflict and confuse others when you are a false witness (that doesn't mean you can't sin, just be honest)
• Don't be stingy with God's victories.
Before the sermon, Oklahoma Christian President John deSteiguer honored Stafford North for his decades of service to the university. North, a longtime Bible professor, has served in a variety of roles, most recently as church relations director. North announced his retirement earlier this year, though he plans to continue teaching part time, student newspaper The Talon reported.
Acappella performs after the OC lectureship's opening service. (PHOTO BY ERIK TRYGGESTAD)