Northeastern Christian Junior College still special to former students, faculty
---
Twenty-one years have passed since
Northeastern Christian Junior College
in Villanova, Pa., closed.
However, those who loved the Philadelphia-area college — which was associated with Churches of Christ — refuse to let its memory die.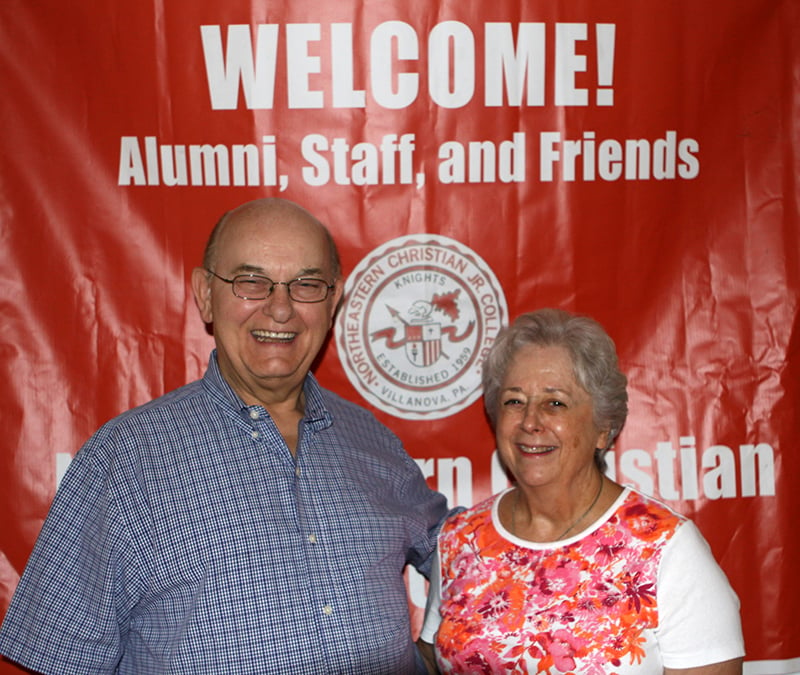 Doug and Janet Edwards enjoy the reunion. (PHOTO BY DAVE SMITH)
"It was so much loved that every two or three years, alumni continue to gather to celebrate what it was and what it meant to their lives," said Doug Edwards, a former longtime administrator who helped organize the first reunion in 2009. 
The school was founded in 1957 as the Northeastern Institute for Christian Education. It became Northeastern Christian Junior College in 1964. 
Facing financial difficulties, Northeastern sold its campus and merged with then-
Ohio Valley College
in Vienna, W.Va., in 1993. 
More than 100 people from 14 states and South Africa attended the most recent reunion at
Camp Manatawny
in Berks County, Pa.
Roger Woods leads singing at the reunion. (PHOTO BY DAVE SMITH)
Speakers included alumnus Keith Lape, minister for the River City Church of Christ in North Little Rock, Ark., and former professor John Barton, an elder of the
Hillcrest Church of Christ
in Abilene, Texas. 
Alumnus Roger Woods, minister and elder of the
Walled Lake Church of Christ
in Michigan, led singing, and former choral director Larry Bills taught a hymn that he arranged. 
Jack Thorn, director of planned giving at
Ohio Valley University
, highlighted OVU's ongoing efforts to connect with Northeastern alumni.
"There is just something wonderfully family-like about being with 'small Christian college' people," said Don Middleton, minister for the
Cross Timbers Church of Christ
in Stephenville, Texas, who attended the reunion with his wife, Kimberly, a former Northeastern student. 
"What a terrific bunch of folks in the Northeast," added Middleton, who has his own fond memories of attending the
now-defunct
Columbia Christian College in Portland, Ore. "They sing so incredibly well. It so reminds me of my CCC days."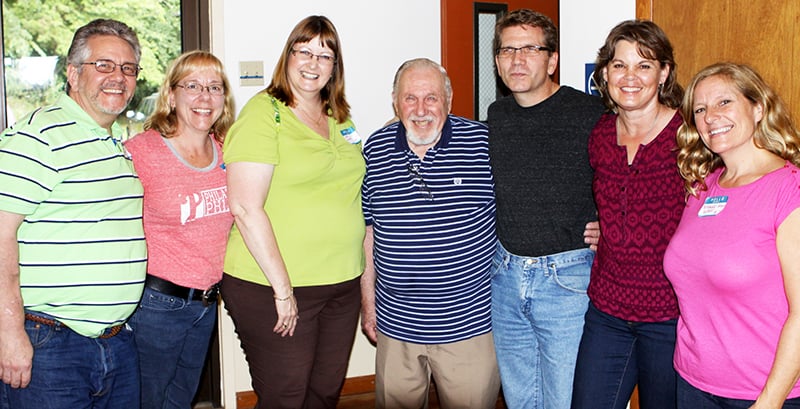 Paul Graefe, Audrey Wilson Alexander, Kim Greafe, Paul Graefe, Tim Graefe, Trudy Graefe and Bethanne Graefe Seufert enjoy the reunion. (PHOTO BY DAVE SMITH)

THE NEXT REUNION will be in 2017. To be added to the mailing list or join the planning committee, contact alumnus Laurie Shirey at [email protected]