Family mission trips on the rise
An Oklahoma group's 1,200-mile journey to Utah exemplifies a growing trend of Christian parents introducing children to mission work.
---
LOGAN, Utah — Asked what excited her about going on a mission trip to Utah, 5-year-old Lainey Foster smiled.
"I might go swimming today or every day that I'm here," the blond-haired cutie replied. "So that's really good."
But as Lainey grows up, her parents pray she'll recall more than taking nightly dips in a hotel pool, roasting s'mores at a campfire devotional or even running into rattlesnakes on a hiking excursion.
Ty Foster, 9, helps with a renovation project for the Logan Church of Christ in Utah. His father, Josh Foster, can be seen in the background. (PHOTO BY BOBBY ROSS JR.) For Josh and Jen Foster and their four young children, this summer's 1,200-mile journey was no ordinary road trip.
Rather than enjoy a traditional vacation, the Fosters and other families from the Edmond Church of Christ in Oklahoma decided to go on a mission trip.
Their destination: the Logan Church of Christ, a small-but-growing congregation in this predominantly Mormon community 85 miles north of Salt Lake City.
"We are going to help out a bit and just have fun while we're doing it," said 9-year-old Ty Foster.
Like the Fosters, a growing number of Christian parents take advantage of opportunities to expose their children to mission work, said Steven Bonner, who directs the youth and family ministry program at Lubbock Christian University in Texas.
"Family mission trips have seen a marked increase in the last several years," Bonner said. "I believe this is, in part, due to an increase in the realization that the best discipleship experiences occur in the context of intergenerational relationships."
Moreover, various studies have shown that the greatest impact on young people's faith development stems from family activities, said Holly Allen, co-author of "Intergenerational Christian Formation: Bringing the Whole Church Together in Ministry, Community and Worship."
Haley Dacus, 8, climbs on the sign outside the Logan Church of Christ in Utah while Alto Pirtle, 7, watches. (PHOTO BY BOBBY ROSS JR.)

"Youth from families that talk about faith together, participate in family prayer or devotions and … participate together in service projects are more likely to have a mature faith than youth whose families do not partake of any of these activities," said Allen, director of the child and family studies program at John Brown University in Siloam Springs, Ark., and a member of the Siloam Church of Christ.
In all, 31 people from the Edmond church — ranging in age from 3 to 75 — trekked north through Kansas and then west across Nebraska and Wyoming, with an overnight stay in Cheyenne. The two-day caravan by three white rental vans involved nonstop chatter, occasional tears and plenty of snacks, not to mention frequent restroom stops.
"We just really want to teach them what it means to do missions," said Courtney Curtis, mother of 5-year-old Dax, one of 10 children who made the trip.
"When I was younger, I didn't get to go on any kind of mission trips," Curtis added. "I hope they really learn what it means to serve others and to teach them about Jesus."
'A HUGE BLESSING'
With attendance of 1,200, the Edmond church — a Bible Belt congregation north of Oklahoma City — boasts more men, women and children in its pews than all the Churches of Christ in Utah combined.
Adherents of the Church of Jesus Christ of Latter-day Saints — known as Mormons — comprise roughly 60 percent of Utah's 2.9 million total residents.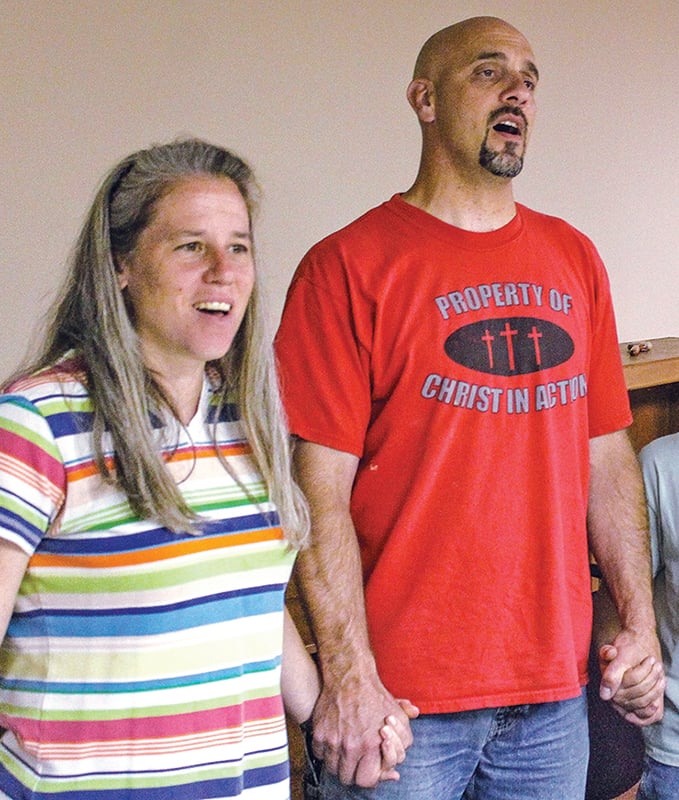 Missionaries Jill and John Schadegg sing during a devo. (PHOTO BY BOBBY ROSS JR.)
However, only 1,126 souls make up Utah's 19 a cappella Churches of Christ, according to a
2012 national directory
published by 21st Century Christian.
The Edmond church helps support John and Jill Schadegg, who serve as missionaries in Logan, where at night an opulent Mormon temple built in the late 1800s lights up the mountain-adorned skyline.
Trip organizers Caleb and Deidra Dacus know the Schadeggs through both families' involvement with the
Wyoming Bible Camp
— the state where Caleb grew up before leaving to attend Oklahoma Christian University.
"I don't know if we'll ever grow to be a self-supporting congregation, honestly, because of the demographics," said John Schadegg, a father of six who met his wife at the University of Wyoming, where both became Christians. "It's such a high Mormon population. But it's a mission field."
A decade ago, the Logan church had just a handful of active members, including Tony and Tanya Pirtle.
"Tony would preach, do the Lord's Supper, lead singing and baptize people," Tanya Pirtle said of her husband, who recruited the Schadeggs.
In recent years, the church has grown to an average Sunday attendance of 60 to 75 — in part because of a focus on campus ministry at nearby Utah State University. However, the church building's poor condition — including a ceiling damaged by water leaks — turned away potential visitors, leaders said.
"With the Edmond group coming, this has been a huge blessing to us," said Logan member Susan Bryner, whose husband, Joshua, grew up Mormon.
For nearly a week, the short-term missionaries from Oklahoma worked alongside their Utah brothers and sisters to renovate the Logan church's auditorium, refurbish its classroom floors and reinvigorate its flower garden. 
Utah and Oklahoma church members fill out name tags before a Sunday assembly at a Logan picnic pavilion. (PHOTO BY BOBBY ROSS JR.)
White specks of plaster dotted Jen Foster's forehead and covered her dark blue Oklahoma City Thunder T-shirt as she enjoyed a short break, not bothering to take off her work gloves.
"So we've been working on taking the popcorn ceiling down in the auditorium," Jen Foster said. "I didn't think it was that big of a deal. But actually, when I was talking to one of the members … she started tearing up when she saw what we were doing.
"She just said, 'It means so much that you guys are willing to come here and do this for us,'" the mother of four added. "So that's why I'm here, not home … just meeting and fellowshipping with other Christians and blessing them in a little way."
Lainey Foster scampered beside her father as he pushed a wheelbarrow full of mulch.
"Every morning we wake up, and we remind the kids why we're here," Josh Foster said. "It's not about the fun things we get to do on the side, but it's about the service-oriented things we do while still enjoying each other as a Christian family."
A FAMILY-FRIENDLY MISSION TRIP
The Edmond church covers 80 percent of the cost for members to go on short-term mission trips to places such as Haiti, Nicaragua and upstate New York.
Utah trip participants paid $90 each.
Rick Owens and his son Carter Owens, 9, work on a ceiling project at the Logan Church of Christ. (PHOTO BY BOBBY ROSS JR.)
"By funding a large percentage of each person's mission trip, we want to remove finances as an obstacle that might keep someone or an entire family from going," preaching minister Randy Roper said.
In their book, Allen and co-author Christine Lawson Ross write that "providing whole families … with opportunities to join the same mission trip can create common ground for discussion and … increase and extend the spiritual growth."
But a family mission trip can make for a miserable experience if not planned with the children in mind, Lubbock Christian's Bonner said.
"I have been a part of trips that did not take into account the physical and emotional limits of the children," he said.
The children must be seen as active participants and not as obstacles that must be negotiated so the "real work" can take place, Bonner said.
That wasn't a problem in Logan, said Maudie Surber, a longtime Edmond member who made her first mission trip.
At home, Surber teaches a first-grade Bible class and organizes a children's service challenge as part of the Leadership Training for Christ program.
In Utah, she kept the children busy pulling weeds and shoveling piles of mulch.
"They have been here every morning at 9 o'clock ready to go," Surber said. "They have literally fought to be the ones to assist and get their hands dirty."
Short-term missionaries from Oklahoma and their Utah hosts pray during a campfire devotional. Before singing, the group made s'mores — a campfire dessert of roasted marshmallow and chocolate between graham crackers. (PHOTO BY BOBBY ROSS JR.)
RELATED STORIES