No R-rated movies shown at this family-friendly drive-in
Kentucky church members stay true to their Christian values while operating one of the nation's few remaining outdoor theaters.
---
CALVERT CITY, Ky. — As the sun sets in rural western Kentucky, the marquee lights shine at the Calvert Drive-in Theatre.
For many who enjoy the outdoor movie experience, the nightly double features stir nostalgia and fond memories of simpler times.
But for theater manager John Harrington and his wife, Paula — faithful members of the
Calvert City Church of Christ
— the 61-year-old drive-in represents more than a fading icon of Americana.
It's a way of life.
"It's a family business that was built by John's grandfather," Paula Harrington said.
As their Christian faith influences their business, the Harringtons refuse to show R-rated films.
"The last R-rated movie we ran was
'Passion of the Christ,'
" John Harrington said, referring to Mel Gibson's graphic portrayal of Jesus' final hours and crucifixion.
"What's great … is that they do have a very family-friendly atmosphere," Scherer said. "Families are mostly who you see there."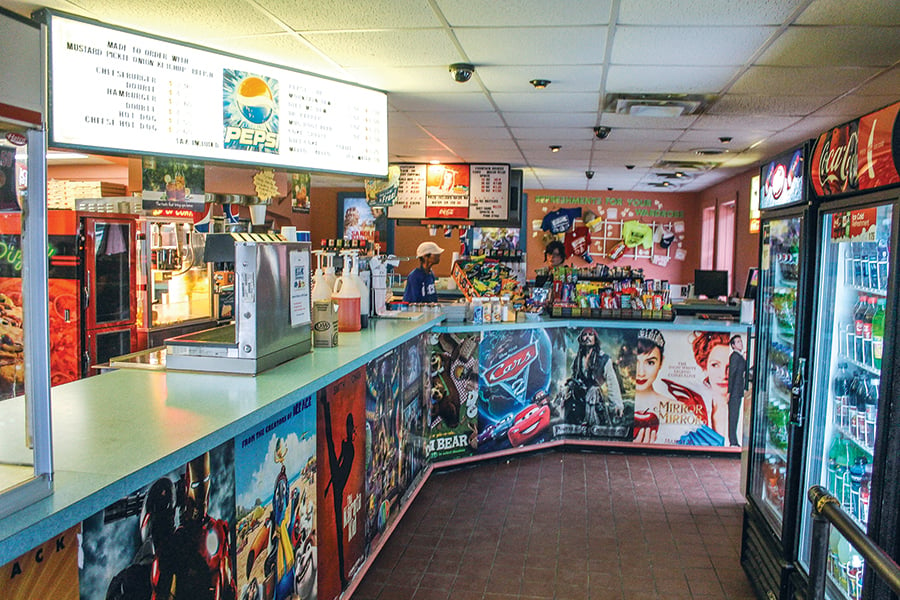 Movie posters can be seen in the concession area.
In 1953, when Paul and Evelyn Harrington
opened
the Calvert Drive-in Theatre, more than 4,000 drive-in theaters dotted the U.S. entertainment landscape. Today, that number
has dwindled
to about 350.
Like four generations of Harringtons, Evelyn, now 103, remains active in the operations.
"She signs our paychecks and wants daily reports," said John Harrington, who grew up making popcorn and chuckling at the cartoons that preceded the movies. "She's very active."
In recent years, the drive-in has installed a new, 40-by-80-foot screen, tripled the size of the concession area and spent $80,000-plus to move from 35mm film to
digital projection.
A truck driver stops at the gate to buy a ticket.
On weekends, the theater draws 200 to 300 cars per night.
Admission is $7 per person with children 11 and under admitted for free.
Food prices
range from $1.50 for a hot dog to $20 for a large specialty pizza.
"Granny's hamburger has always been something people came out to get, and we sell a lot of hamburgers to people who don't even stay for the movie," John Harrington said. "The hamburger saved the drive-in."
Jacob Sirls, 21, a member of the Oak Valley Church of Christ in Benton, Ky., works in the concession area making specialties such as "chili dog pizza."
"They're just really nice people," Sirls said of the Harringtons. "They're good Christians, and they understand that I like off on Wednesdays and Sundays."
The Calvert Drive-in Theatre opened on a 10-acre plot in 1953. It still shows two movies a night, drawing crowds from hours away to see first-run, family-friendly films.