'No Makeup November' catches on
Christian teens, women endeavor to see themselves through God's eyes.
---
My sister Lauren called me unexpectedly one day last year with a proposal that I couldn't believe.
Lauren is a team leader for RAVE, a ministry for teenage girls that tackles subjects such as sexual purity, self-image and gossip. She said to me, "Becca, I think we need to do a challenge as a leadership team. We need to go without makeup for a month to really let God speak confidence into us." I thought she had lost her mind!
Jenna Lupo | Huntsville, Ala.
"If we don't make a conscious effort to remember HIS truth about who we are, then we make ourselves an easy target for the enemy's lies. There is too much at stake when we forget HIS truth. No Makeup November helps me remember and allows me to remind others."
As it turns out, Lauren was inspired by Brooke Ferguson, a sophomore at
Lipscomb University
in Nashville, Tenn., who had gone without makeup for a month in the summer of 2012. Brooke made videos telling about her experience and the impact on her life. Lauren was so moved by what she had seen and heard from Brooke that she wanted those of us involved with RAVE to take on this challenge, too.At first I really struggled to embrace Lauren's idea. Maybe I could just sit this one out, I thought. After all, I am the older sister! But God had other plans. He kept tugging at my heart. I finally concluded that if it was so hard for me to say yes to this, it was obviously something I needed to do.
I called Janna Beth Hunt, my ministry partner and best friend, and told her about the challenge. She had the same initial thought that I did.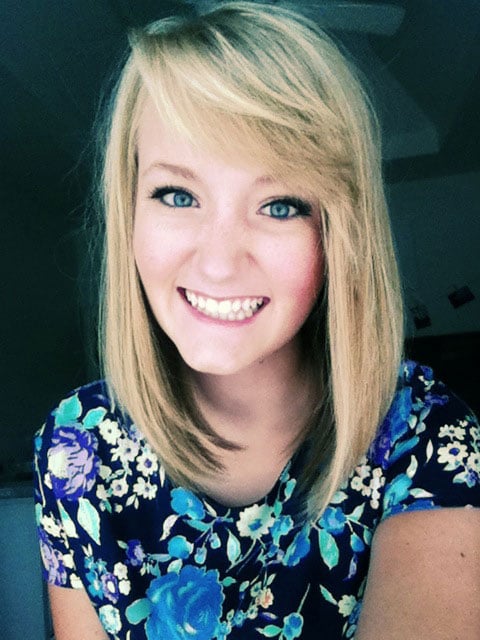 Darby Riley | Ozark, Mo.
"The worldly standards of outward 'beauty' that we set for ourselves are ridiculous, and society needs to realize that our true beauty is found in Christ alone. I'm doing No Makeup November because I want to challenge myself to stop finding my identity in makeup and start finding my identity in Christ."

"This is crazy!" she said.
But as we talked, we grew to understand that God could use this concept to create a place for girls to gather under a common goal. We agreed to the challenge on one condition: We wanted to invite others to join us.
Admittedly, our goal was lofty: Convince girls in a culture that is so heavy with perfection to fast from makeup for 30 days. But as we worked through the obstacles in our own minds, we began to talk and share ideas. We discussed the way we continually speak to girls about Psalm 139, but as leaders in a girls' ministry, do we really believe that we are fearfully and wonderfully made? We knew the challenge would be hard, but we also believed the power of community is huge! We chose for our name a spinoff of the men's popular No Shave November. We named our effort No Makeup November.
Even after I agreed to participate, it wasn't easy at first for me to jump wholeheartedly into this challenge. After all, I wasn't a
Martha Rogers | Lubbock, Texas
"I love No Makeup November! It's a beautiful way to see myself through
the Good Lord's eyes, to cast down the enemy's lies that are rampant in
our culture, to learn to love myself in purity and to teach my daughters
that they don't have to add to themselves to be beautiful."
teenage girl with fresh skin. I'm a woman in my 30s. What will my friends think, I wondered? What will other women think of me, especially at church on Sunday? It was then that a revelation struck me: Aren't we into beauty sometimes more to please other women in our lives, especially church women?
Once we put out the word late last summer, we had hundreds join  from all over the nation. God exceeded our dreams with the participation and feedback we received from the first year alone. Already, before November begins, God is doing big things with this year's second No Makeup November.
As I write this, 21 states are represented. We have moms and daughters both young and old committing to sharing in 30 days of no makeup in hopes that they will take to heart what Song of Solomon 4:7 means when it says "there is no flaw in you."
Rikki Hagerty | Douglasville, Ga.
"I'm doing No Makeup November because it's been a while since I've had
that total reassurance that I am pretty enough and good enough for God
even with no makeup. It will also be an outreach opportunity to show
other girls that they are beautiful and don't need makeup to tell them
that they are."
We want everyone to know that No Makeup November is not an anti-makeup campaign. It is not about the word "no." It is about:
•
Gaining confidence,
no matter how often you wear makeup, so that you can "praise him because you are fearfully and wonderfully made."
•
Fasting from something
so that you are more aware and can concentrate on what God is revealing to you.
•
Creating a community
of which girls can be a part. For when we feel a part of something larger than ourselves, we really are able to learn about ourselves.
That is what RAVE is all about, a community of girls. We want to provide a place for girls to belong. Whether we struggle with gossip, sexual temptation, depression, peer pressure or self-confidence, that struggle is made easier when we gain strength in numbers.
Our prayer is that through No Makeup November, girls everywhere will be able to answer tough questions about how God sees them — altogether beautiful, inside and out.
BECCA DANIEL is a team leader with RAVE. She, husband Nathan and daughter Fenley just relocated from Nashville, Tenn., to Destin, Fla. For more information, see ravenomakeupnov.com and raveministries.org.


RELATED STORY