Sketching the Good News — nightly
At a low point in his life, Bill Wiist found comfort in giving visual expression to holy words.
---
SHAMOKIN DAM, Pa.
— 
When Matthew A. Wiist left home for U.S. Marine Corps boot camp in 2009, he asked a favor of his father, Bill, a talented artist.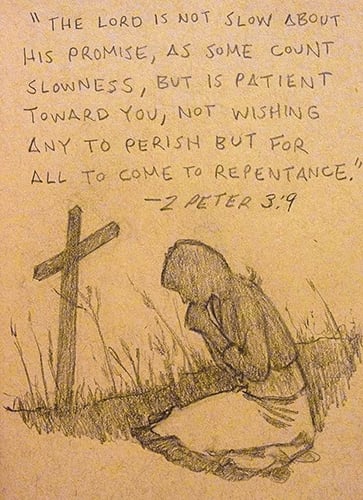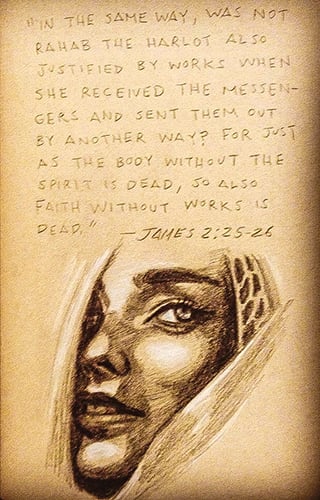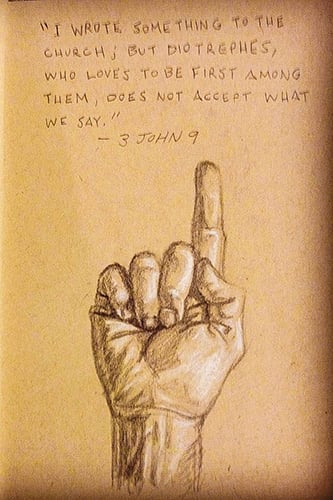 A sampling of the Bible verse sketches that Bill Wiist posts on Facebook each night. Illustrating the Scriptures in pencil and chalk is a passion of the Pennsylvania church member. (IMAGES PROVIDED BY BILL WIIST)
The son requested that his dad pick an inspirational quote each day, draw a sketch illustrating the words and send the artwork to the young Marine as motivation.
For Bill Wiist, that daily exercise turned into a spiritual discipline.
Faced with a failed marriage and a lost job, the father — a former preacher who later worked as a newspaper advertising designer — sought comfort in the Psalms and poured his soul into nightly drawings depicting specific verses.
Starting in 2010, Bill Wiist began illustrating a Scripture each night for himself. But when he started posting the Old and New Testament images on
Facebook,
 he found that they encouraged others, too. 
"I remember the day he began these daily illustrations of Scripture," said Mike Wiist, Bill's younger brother, who preaches for the
Murray Park Church of Christ
in Murray, Utah. "It seemed like a sort of lifeline for him."
After he relocated to Pennsylvania to be near her, a fellow church member told him about an opening for a graphic artist at nearby
Bloomsburg University.
 When he left Indiana, Bill Wiist didn't bring a formal portfolio with him. But he did have a self-published book of his Bible verse drawings, which he showed the hiring manager. He got the job.
Despite his busy schedule, his nightly routine remains the same: He uses pencil, chalk and toned paper to give visual expression to God's holy words.
Reading, reflecting and drawing the sketches takes Wiist roughly an hour a night — a time commitment that has the full support of his wife, who believes the exercise benefits his spiritual walk.
"You can't just draw something you didn't think about," Nancy Wiist said. "It does make you think a lot more about the detail of the verse."
Said Bill Wiist of the drawings: "No matter what else has happened, at the end of the day I still feel like I've done something positive with my life." 

THE ARTIST IS DONATING proceeds from 2015 sales of his Bible sketch books to benefit Amanda Eisenhauer, a 29-year-old church member in need of a life-saving lung transplant. Search "wiist 365" on Amazon.com.