New director, same AIM
Adventures in Missions' Cory Burns prays that the short-term program will have lasting Kingdom results.
---
From the dusty West Texas city of Lubbock, more than 1,400 young Christians have set out to spread the Gospel to the farthest reaches of the globe.
Adventures in Missions, or AIM, an apprentice program of Lubbock-based Sunset International Bible Institute, provides college-age believers with about 600 hours of intense Bible study — spread across eight months. The program then sends students to serve Churches of Christ in domestic and international locales for two years.
"They want to know the Bible better; they want to build a closer relationship with God, and they want to build more confidence in teaching others about Jesus," said Kris Smith, a former AIMer, about the top three reasons students choose the program.
For 18 years Smith served as director of AIM before handing the reins to another former student in the program, Cory Burns.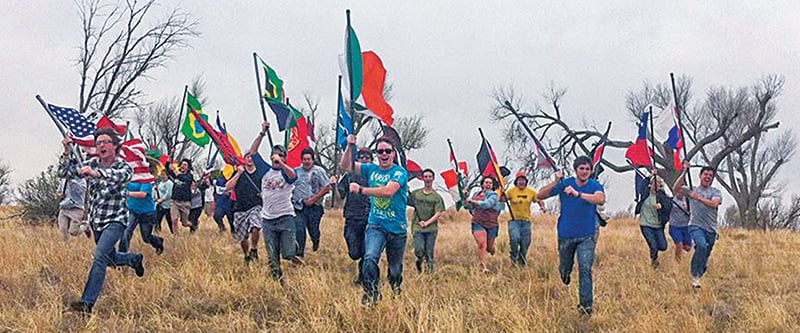 Since 1973, the Adventures in Missions program has sent more than 1,400 young Christians to serve churches in 47 countries. (PHOTO VIA FACEBOOK.COM/AIMSUNSET)
The program started in 1973, when a group of 16 young Christians traveled to Dublin, Ireland, to assist missionaries there. Upon returning and sharing their stories, the program was born. In the past 44 years, AIM students have served in 47 countries.
Smith, who grew up in Lubbock, moved to the southern African nation of Botswana at age 15 with his family. After training in the AIM program, he returned to southern Africa, serving as a missionary apprentice in the tiny nation of Lesotho. He followed previous AIM directors Jay Jarboe, Rex Boyles and Don Solomon.
Burns, a native of Clovis, N.M., grew up at the West 21st Street Church of Christ. He enrolled in AIM in 1996 and served as an apprentice in Moscow, working alongside missionaries Gary and Danita Jackson.
"It was amazing," he said of the experience. "It was very difficult, but very fulfilling at the same time.
"I was there a few years after communism fell. Lots of people were interested in studying the Bible. It was the time in my life that I had the most Bible studies going on."
In Russia, Burns had multiple, one-on-one Bible studies each day. He assisted teams from Let's Start Talking, another church-supported ministry that teaches non-native speakers to improve their English using the Bible.
"I remember our having a portable PVC baptistry in my kitchen," Burns said. "It was fun seeing so many give their lives to the Lord.
"Gary and Danita really invested in me. They are a big part of why I am in ministry today. They are also where a lot of principles of being a good AIM coordinator comes from."


After his time in Moscow, Burns moved to Guadalajara, Mexico, with his wife, Toni, and their young family in 2005. They worked with a network of house churches, alongside missionaries Chad and Nancy Schroeder, Joe and Elaine Pruett, Robert and Shelly Herrera, and Tim and Kim Rush.
Mexican Christians Gerardo and Carola Garcia also assisted in the work, which including serving the homeless, micro-lending and ministering with the Hope Foundation, which helps people with diabetes.
"God blessed us to see churches started in several parts of the city," said Burns, who returned with his family to the U.S. in 2014.
As he worked alongside Smith, training new generations of AIMers, Burns praised his mentor.
"If I only had two ways to describe Kris, I would say that he is full of wisdom and integrity," Burns said.
"We have always said that God is the director of AIM, and we intend to prayerfully go where we feel he is leading us," the new director added. "My prayer is that what each student accomplishes for the Kingdom in his or her short time in AIM is only a fraction of what he or she is accomplishing for the Kingdom 10 and 15 years from now."
Kris Smith, above, the AIM program's former director, served as a mentor to the new director, Cory Burns. (PHOTO VIA FACEBOOK.COM/SUNSETAIM)
Kiera Kinnaird, a member of the 12th Street Church of Christ in Seagraves, Texas, and an AIMer serving in Mexico City, said that both Smith and Burns "played a huge role in my life, faith and life of faith."
During her training in Lubbock, both men "poured into us love, encouragement, advice, experiences, discipline and a whole lot of Jesus," Kinnaird said. "They did this all with humility, gentleness, care and laughter. Their families are no different.
"Our class was spoiled, to say the least, to have had the overlap of Kris and Cory. Words cannot express how excited I am for Cory to be taking the reins beginning with this next class in August."
RELATED
• Voices-only: AIM students singing in Mexico City