National Lectureship brings out its best
---
MEMPHIS, Tenn. — 
These days I don't wear a suit and tie as often as I did in the past. But I wouldn't be caught dead without them at the
National Lectureship
.
Road Notes | Lynn McMillon
Even in a suit, I often feel underdressed at this event. As one speaker stated, "When you come before the Lord, you bring your best!"
Of the many church events my wife Joy and I attend each year, one of our favorites is the National Lectureship. The 72nd annual gathering of predominantly African-American churches was led by the SouthEastSide and Norris Road Churches of Christ, both in Memphis, and hosted by DonBurnell Holly. More than 1,400 people attended. 
It is, of course, a sartorial delight — beautiful suits and dresses as well as gorgeous ladies' hats abound. (We love the hats.)  
But there is far more to this lectureship than attractive attire. Great preaching, singing and powerful teaching challenge and inspire the attendees. And the warmth of the fellowship among Christians from all around the country is evident.
I confess that I listened from the hallway to the incredible singing in the Ladies' program. What evidence that the most beautiful instrument is the human voice!

Christian women from across the country listen during a ladies' event at the lectureship. (PHOTO BY LYNN MCMILLON)
A special blessing to us was lunch with former Oklahoma Christian University students Bruce McClure, now minister for the Prince George Church of Christ in Landover, Md., and Harold Redd, minister for the Midtown Church of Christ in Memphis. Along with our wives, we had a marvelous time sharing and catching up. I am proud and so thankful for these servants of the Lord, along with other former students such as Dwayne Case, the young preacher for the Northeast Church of Christ in Oklahoma City and David Wilson of the King's Church of Christ in Brooklyn, N.Y. I don't plan to get into a "preach off" with these fine students of the Word.
I visited with many other minister and elder friends: Billy Curl, Jack Evans Jr., David Lane, Kevin Bethea and Andrew Hairston. And Joy spent time with several special women, including our friend Faith Taylor, who operates a popular, custom-made clothing booth at every lectureship. 
To say that this lectureship includes preaching is an understatement. There are 10 sermons per day — three consecutive ones in the morning, plus classes, three in the afternoon and four consecutive sermons in the evening. Add in gifted song leaders, and one is so inspired by the end of the day you can almost fly to your room.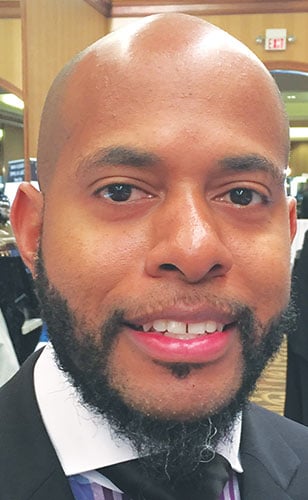 Orpheus J. Heyward will host the 2017 National Lectureship in Atlanta. (PHOTO BY LYNN MCMILLON)
Organizers use time cards to help preachers from running over their allotted minutes. Sometimes they work. After one preacher overran the clock, passionately declaring the death and burial of Jesus, the emcee said, "I couldn't cut him off until he got Jesus out of the grave!" Understanding laughter erupted. 
The lectureship began in 1945 at the suggestion of well-known minister R.N. Hogan as a way of "synchronizing" doctrinal teaching among African-American preachers who were denied admission to our Christian colleges. From that sprang the Paul-Timothy model of older preachers mentoring younger men. But a gap remained, which the National Lectureship intended to fill. 
This year featured a special tribute to R.C. Wells, minister emeritus for the Harlem Church of Christ in New York. Wells, described by attendees as a man "truly set for the defense of the Gospel of Christ," received the lectureship's second-ever 21st Century Defender of the Faith Award.
The 73rd National Lectureship will be in Atlanta in 2017, led by the West End Church of Christ and hosted by Orpheus J. Heyward. The theme is "This Means War: Effective Strategies for Spiritual Warfare" from Ephesians 6:10-13. Lord willing, we look forward to another inspiring week with our brothers and sisters.
CONTACT [email protected].