National campus ministry group adopts new name
Rebranding is part of effort to expand vision.
---
NEWARK, Del. — Facing a sort of midlife crisis, a national campus ministry organization intends to reinvent itself as "Campus for Christ."
The rebranding plays off the preponderance of Church of Christ campus groups with names such as Aggies for Christ, Buckeyes for Christ, Gators for Christ, Mountaineers for Christ and Tide 4 Christ.
Leaders unveiled the new name — with a logo and a website at campusforchrist.net — during the group's recent 57th annual national conference, held near the University of Delaware, home of the Blue Hens for Christ.
"The board wanted a name that was more closely tied to their mission and was easily recognizable to the general observer," said Paul Smith, a conference organizer and an elder of the Woodmont Hills Church of Christ in Nashville, Tenn.
For many years, the conference was known as the National Campus Ministry Seminar, or NCMS. But in recent years, organizers dubbed it the Connect Conference.
"At times, people were confused as to whether it was the same group or separate entities," Smith said. 
"The board wanted a name that was more closely tied to their mission and was easily recognizable to the general observer."Paul Smith, elder, Woodmont Hills Church of Christ
'A BRAND IDENTITY NATIONWIDE'
Adding to the confusion, the organization published a newsletter with another name — Campus Crosswalk. Now, all materials and resources will fall under the Campus for Christ banner.
"Among Church of Christ-affiliated campus ministries, the 'School Mascot for Christ' name is the closest thing we have to a brand identity nationwide," said Chris Buxton, who directs the Wolflife campus ministry at Arkansas State University. "So it fits us well. It also quickly and succinctly sums up who we are and what we're about.
"I think everyone on our board agrees we're being called to expand our vision in an effort to better support and increase campus ministry everywhere," Buxton added. "There are hundreds of colleges and universities just in the U.S.A. that have no campus ministry presence at all. There is something terribly wrong with that."
Morgan Hines, Lacey Hines, Monica Buxton and Chris Buxton enjoy fellowship at the campus ministry event, held near the University of Delaware, home of the Blue Hens for Christ. (PHOTO BY TYLER ELLIS)
Between 30 and 40 campus ministry leaders attended the Delaware conference.
Buxton came for the eighth time.
"While there may be multiple preachers or youth ministers in a given town, there may be only one or two campus ministers within an entire state," he said. "So time together, like we had in Delaware, is especially valuable for us.
"I always leave the conference with a new strategy idea, leadership tip or biblical insight," he added. "But what I value the most is simply the encouragement I get from meaningful interaction with others who do what we do and who understand the life that we live."
However, longtime participant Milton Jones described this year's attendance as perhaps the lowest he had seen in 39 years.
Jones, a former campus minister, serves as president of the Christian Relief Fund, a relief organization based in Amarillo, Texas.
"One thing, it reflects the location because Churches of Christ don't have as many congregations up here," Jones said of the low attendance. "And secondly, it's not the popular ministry in our brotherhood like it used to be."
The Christian Relief Fund provides funding for the conference.
"We're kind of the title sponsor … and that may seem odd that a relief agency would be," Jones said. "But we believe in campus ministry. They do mission trips with us. They support orphans with us. So they're a good partner for us, but we believe in it so much that we think it should last, and we thought the seminar might just die off."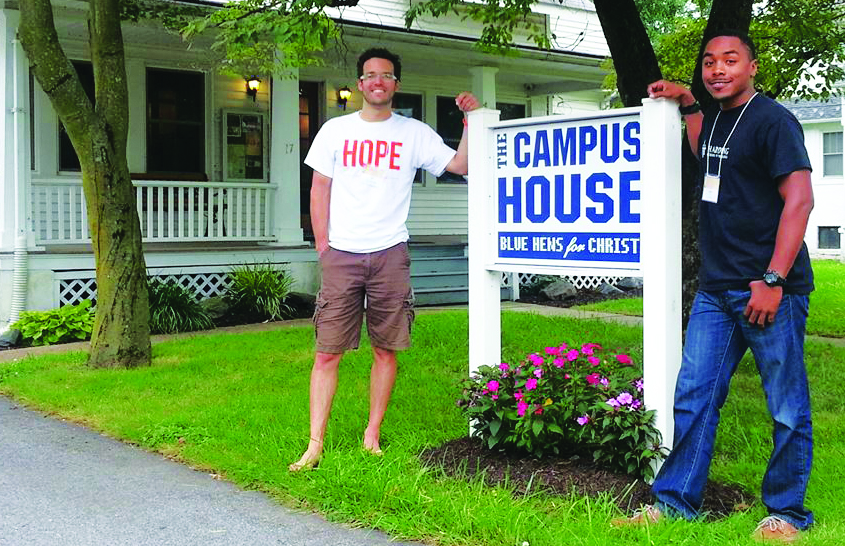 Tyler Ellis and Deonte Watkins pose outside the Blue Hens for Christ  campus ministry house at the University of Delaware in Newark. (PHOTO PROVIDED BY TYLER ELLIS)
A NEW NATIONAL CONFERENCE
Another likely influence on the attendance: the emergence of a new national conference by an organization known as Campus Ministry United.
This summer's eighth annual CMU Workshop, conducted at Harding University in Searcy, Ark., drew 150 people.
The CMU Workshop focuses on practical evangelism, discipleship and church/ministry planting, said Wes Woodell, a Missouri church planter who helped found CMU.
CAMPUSMINISTRYUNITED.COM
"We intentionally schedule our event at a time that doesn't conflict with NCMS for ministers who want to attend both," Woodell said.
"Change the Campus, Change the World" served as the theme for the Delaware conference.
The number of international students enrolled in U.S. colleges hit a record 764,495 in 2011, according to the Institute of International Education.
The University of Delaware has about 3,000 international students, said Tyler Ellis, Blue Hens for Christ campus minister.
"We need a paradigm shift to not just approaching mission work in the traditional route of sending people overseas but to realize there are people from overseas who come here," Ellis said.
Janet Swanson, a member of the Newark Church of Christ, lives a half-mile from the Blue Hens for Christ campus house.
In the past 20 years, she has studied with 250 students from 14 countries — most from China and other Asian countries but some from Muslim-dominated nations such as Saudi Arabia.
"She has students come into her home five days a week, and she teaches them the Bible to help them practice their English," Ellis said. "She's in her 70s, and she thrives. If we just had more people like her."
"We need a paradigm shift to not just approaching mission work in the traditional route of sending people overseas but to realize there are people from overseas who come here." Tyler Ellis, campus minister, Blue Hens for Christ