Music for the soul
Gospel songs still resonate with dementia patients.
---
MESQUITE, Texas — Music can reach Alzheimer's patients where nothing else can.
That's what makes the regular devotionals at The Courtyard — a memory-care unit of Christian Care Senior Living Community in this Dallas suburb — so important, organizers say.

More stories in this series "If they went to church and learned 'Jesus Loves Me' or 'At Calvary' as a child or even as a beginning adult, that memory is still there," said Hope Bovee, activity director at The Courtyard, home to 44 men and women with varying levels of dementia.
For 10 years, minister Ray Hunter has served as the chaplain for Christian Care's Mesquite location, which serves more than 450 residents. He preaches for the Church of Christ that meets on campus.

The church's Sunday service is shown on closed-circuit television for residents who can't leave their units. The Lord's Supper is distributed to individual rooms of those who request it.
A sign at Christian Care's Mesquite, Texas, location touts this motto: "CARING is our calling!" (PHOTO BY BOBBY ROSS JR.)On Monday and Friday afternoons, Hunter offers a Bible lesson at The Courtyard. He leads hymns such as "Anywhere with Jesus," "Leaning on the Everlasting Arms" and "What a Friend We Have in Jesus." After a closing prayer, he typically shares a few silly stories to help lift residents' spirits.
"They don't miss a word Ray says," Bovee said. "It's very meaningful to them and important to them that their faith is kept alive."
A resident might forget what he or she had for breakfast but know every verse of "Amazing Grace."
"They may not know me, but they know my face," Hunter said. "A lot of times, they will begin to associate me with somebody else they've known — some preacher or minister that has helped them."
And that's fine with Hunter, whose late mother, Helen, battled dementia.
"I really have a heart for these folks," the chaplain said.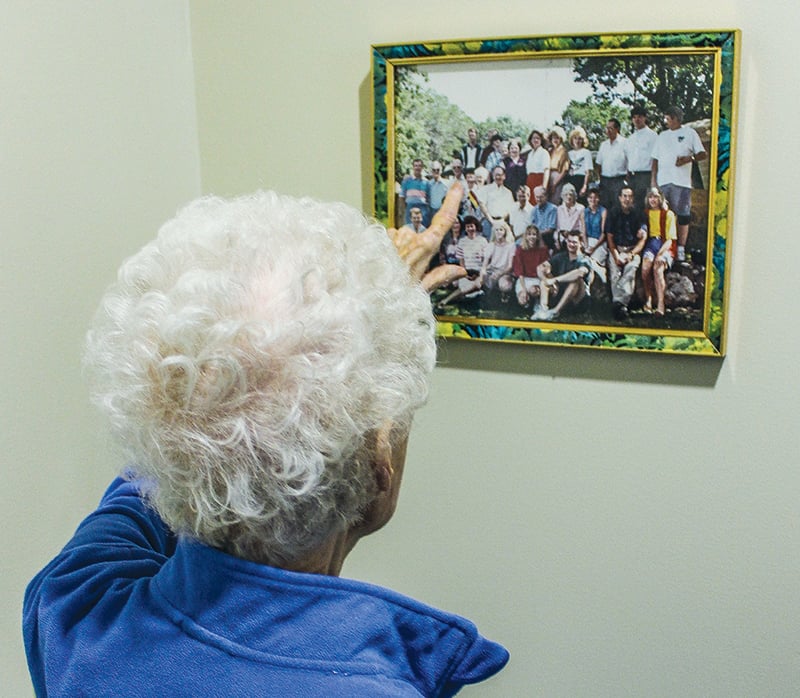 Aunt Melba has lived a full life. Now she battles Alzheimer's. Read the full story by Bobby Ross Jr.