Morgan Freeman hears Katrina survivors' 'Story of God'
New Orleans minister Charles Marsalis and his wife, Angela, share their faith on National Geographic Channel series.
---
God doesn't play favorites.
Charles Marsalis stresses that message at the Hollygrove Church of Christ, the New Orleans congregation he and his wife, Angela, planted in a high-crime neighborhood after Hurricane Katrina.
"I'm just plain ol' Charles," the minister said. "I'm not going to treat anybody differently, no matter who you are."
Not even if you're an Academy Award-winning actor named Morgan Freeman — in the Big Easy to interview Marsalis and his wife, Angela, for the National Geographic Channel series "The Story of God."
In 2006, Charles and Angela Marsalis pose in the balcony of the Carrollton Avenue Church of Christ, where they fled as floodwaters rose after Hurricane Katrina. (PHOTO BY BOBBY ROSS JR.)"Some of the folks, including one of my sons, was watching me to see how I was going to react," the father of five said, referring to Freeman's presence at a Sunday worship assembly. "My son said, 'Pops, you never called this man out one time.'"
Of course, the actor who played God in the box-office hit "Bruce Almighty" and its sequel, "Evan Almighty," was impossible to miss. So were the cameras that filmed the congregation singing "Shelter in the Time of Storm."
Marsalis did address Freeman when the star jokingly took money out of the collection plate. "Boy, you about to get whooped in the church," the minister said he told him.
At the family's home after the service, Angela Marsalis served Freeman and his entourage baked chicken and macaroni and cheese. She admitted being a bit starstruck, even though she described the actor as extremely friendly and easygoing.
"I really was speechless in some parts, even though I know he's human," she said with a laugh.
As Christian Chronicle readers may recall, the Marsalises survived Katrina in 2005 by escaping to the balcony of their home congregation, the Carrollton Avenue Church of Christ.
Last summer, a representative of Freeman's production company, Revelations Entertaiment, contacted the Chronicle to see if the couple might share their story on camera.
The newspaper passed along that request, and the couple reluctantly agreed.
"We almost didn't do it," Charles Marsalis said. "The producer … wanted to go to the river and act like we were baptizing someone. I told them, 'I don't play with the Lord like that. We don't fake a service.' I told them, 'This is reality to us. It's not a reality show.'"
Angela Marsalis said she and her husband hoped their interview would bring glory to God.
"I know God uses us as vessels," she said. "It's not about us at all. To God be the glory."
The National Geographic Channel describes Freeman's documentary-style "Story of God" as taking viewers "on a trip around the world to explore different cultures and religions on the ultimate quest to uncover the meaning of life, God and all these big questions in between." The six-part series began airing on Sunday nights in early April.
The Marsalises, who appeared in the April 10 episode, told Freeman how they relied on their faith as floodwaters kept rising during Katrina.
The couple described singing on a bridge filled with desperate survivors — some selling drugs and carrying guns.
"I mean, I felt that the devil was at work," Charles Marsalis said. "I told my wife, 'Nuh-uh, it's time for us to get busy.' And so we just started singing, and then the next thing we know, in the darkness, you can hear people saying, 'Sing this song! Sing that song!' And I can't remember, how long did we sing?"
"All night!" Angela Marsalis replied, as Freeman joined the couple in laughing at the memory. "We just knew that God would get us out of there."
"Not even Katrina could shake that faith of God," Charles Marsalis added. "No way."
Morgan Freeman interviews Charles and Angela Marsalis at the Hollygrove Church of Christ in New Orleans. (INSTAGRAM PHOTO BY DEWAYNE MARSALIS)
In the TV segment, Freeman noted that the Marsalises "did get out in the end" and later returned to New Orleans to rebuild their lives.
"The experience of getting so close to the end and so close to God drove them to start their own church," he told viewers.
That's not the entire story: The Marsalises are quick to thank leaders of the Carrollton Avenue church — about a 10-minute drive from Hollygrove — for partnering in the church plant.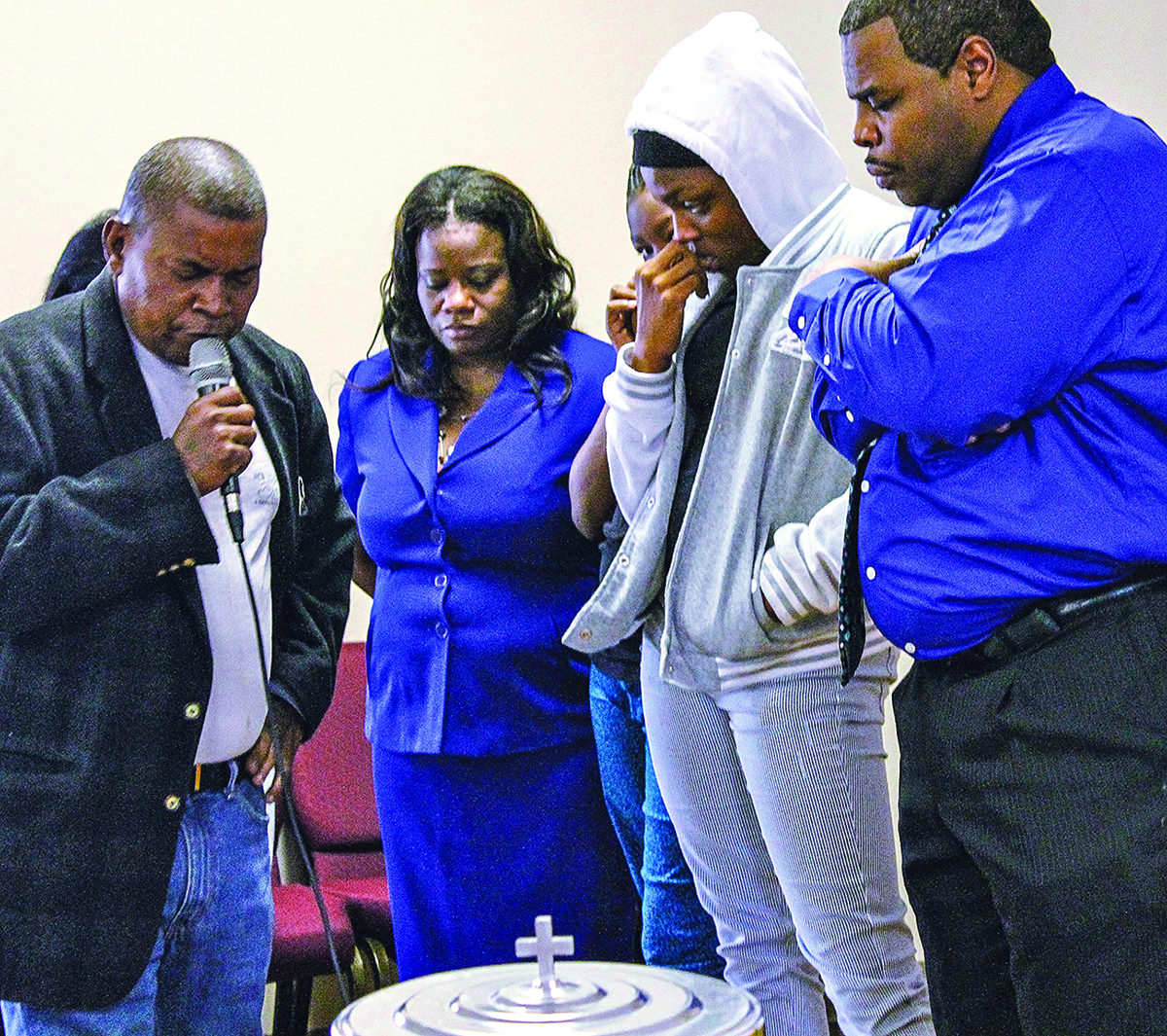 John Ellis prays as Angela Marsalis, Shekeira Honor (hidden behind Angela), Kevinisha Honor and Charles Marsalis bow their heads. (PHOTO BY BOBBY ROSS JR.)And they're grateful for their supporting congregation, the Park Plaza Church of Christ in Tulsa, Okla.
But fellow Christians say they couldn't be happier to see the Marsalises receive national attention.
"Charles and Angela Marsalis are such an incredible inspiration," said Jenny Garrison, wife of Carrollton Avenue minister Kirk Garrison. "They weren't just a light in the darkness after Katrina as they sang hymns on the overpass — they continue to be a light in the neighborhood around Hollygrove Church of Christ.
"They inspire me every day," she added, "with their unwavering faith and joy in the Lord."
Freeman told the Washington Post he believes man invented God, even though he doesn't consider himself an atheist. At the end of his interview with the Marsalises, he suggested that Buddhists "say every ending is a beginning."
Charles Marsalis responded that what happened during Katrina was "God's will."
"God saw this before we saw this," the minister said of his family's experience. "We just have to allow ourselves to let God use us to be a part of that will."
RELATED STORIES
• 2006: Surviving the storm: Charles and Angela Marsalis' test of faith 
• 2008: They survived storm, and now they know why
• 2014: In the Big Easy, despair meets hope
• 2015: Ten years later: The vivid faces of Hurricane Katrina