Missionary killed, child taken in Haiti (Updated)
Christians mourn Roberta Edwards, who dedicated her life to serving children, and pray for the 4-year-old boy abducted by her killers.
---
UPDATE, NOV. 6: Members of the Estes Church of Christ report that JoJo, the 4-year-old abducted during the slaying of missionary Roberta Edwards, has been found and is safe.

"We are very excited to announce that JoJo, a foster child kidnapped during the murder of our missionary Roberta Edwards, has been located and is alive and well," the church reports on its Facebook page. "Haitian authorities report that at least two suspects have been taken into custody. Please continue to pray for Roberta's family and the ongoing work in Haiti."

The Christian Chronicle  is preparing a report for our next issue on Roberta Edwards' life, legacy and the aftermath of this terrible attack. If any of you knew her, traveled to Haiti to work with her, and would like to add your thoughts and tributes, please email us.

"She took care of us until her last breath."
That's how Widlord Thomas described his adopted mother, Roberta Edwards, who was shot to death Oct. 10 by gunmen who then abducted one of the children she served in Port-au-Prince, Haiti.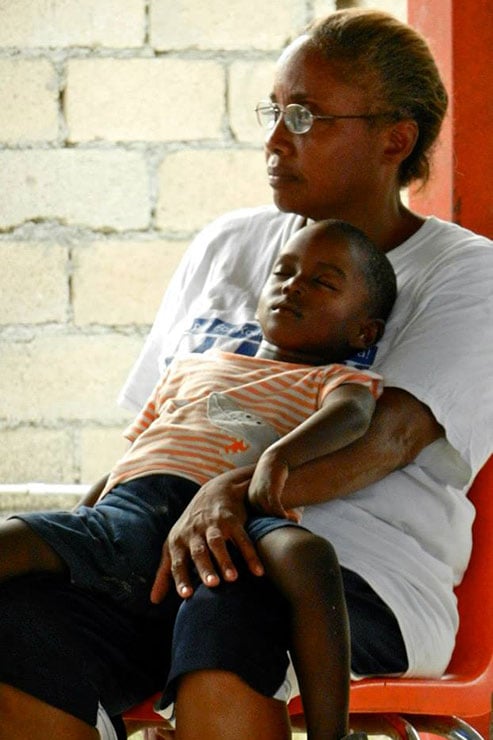 Roberta Edwards and Jonathan "JoJo" Paul in July 2014. (PHOTO BY OLIVIA COLE)
Edwards, 55, was the founder and director of SonLight Children's Home, where she was an adopted mother for 20 children. She was returning from a trip for gasoline with three of the children when a vehicle pulled in front of her and forced her to stop. 
The two teenage passengers fled the vehicle after Edwards told them to run for their lives, members of the missionary's supporting congregation, the Estes Church of Christ in Henderson, Tenn., told the Associated Press. 
Edwards was shot multiple times at the wheel of her vehicle, and the gunmen then grabbed 4-year-old Jonathan "JoJo" Paul and fled in a vehicle with tinted windows, according to fellow missionaries.
"Hearts are breaking for him. And we certainly hope that whoever took him, wherever he is, whoever has him, will return him as soon as possible," Larry Waymire, a longtime missionary to the Caribbean and friend of Edwards, told the AP.
Church members and missionaries connected to the children's home say that they have received no ransom demand or communication from the kidnappers.
"Many people in the community are grieving for her death," said Thomas, who was raised by Edwards at SonLight and now serves as an assistant director of the ministry. "She has been doing the Lord's work in Haiti for 20 years."

The Christian Chronicle profiled Edwards as she responded to the devastating 2010 earthquake in Port-au-Prince, which claimed the life of one child at the orphanage.
Edwards built the ministry from the rubble of a collapsed marriage. She moved from North Carolina to Haiti in 1995 with her husband, a native Haitian. Five years later he left, and Edwards' parents expected her to come home. But by then she already was caring for several orphaned and abandoned children.

"So I decided to stay and do whatever needed to be done," she said.

The Estes Church of Christ in Henderson, Tenn., began supporting her work, which expanded to include 30 children. She also oversees a nutrition center that feeds about 120 neighborhood children twice per day, five days each week. She works closely with church-supported groups, including Indiana-based Manna Global Ministries.

For her 50th birthday, Edwards' parents took her on her first real vacation since she moved to Haiti — a Caribbean cruise. She was exploring Grand Cayman when the quake hit. 

"I didn't sleep another night until I got there," she said. "I had to get home. I had to get to my kids."
Read the full story. 
Edwards provided some of the translation for this Christian Chronicle video about the 2010 earthquake:


Edwards was "dedicated to bringing hope to the hopeless," members of the Estes church wrote in a statement. "She knew that she worked in a dangerous setting, but had committed herself to care for children in Haiti despite these risks."
Edwards was involved in multiple development projects in Haiti and was hosting a workshop for Haitian teachers and teachers from the U.S., sponsored by Healing Hands International, at the time of the shooting. A mission team from the Estes church also was working with Edwards at the orphanage and returned to the U.S. safely.
Harold Pirtle, an elder of the Estes church, traveled from Tennessee to comfort the children at SonLight. He told the AP that Edwards, during a recent trip to Tennessee, said she had been feeling "tired" and "scared." She didn't elaborate or mention receiving any threats, Pirtle added. After two decades of ministry, she had considered returning to the U.S., but told Pirtle "I can't leave the kids."
In 2011, Healing Hands named Edwards a "Woman of Hope" during its annual conference. (PHOTO PROVIDED)
Recently, children at SonLight launched an effort to raise money from Haitian Christians for victims of another earthquake half a world away — in Nepal.
Memorial gifts for the work in Haiti may be sent to the Estes Church of Christ, P.O. Box 191, Henderson, TN, 38340.