Minister's daughter, battling Cerebral Palsy, needs online votes to win feeding tube food for a year
---
Addie Heltsley has the chance to become a Child of Hope Ambassador — with your help.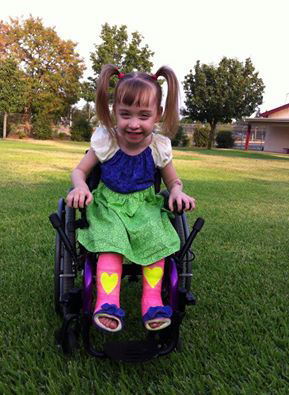 Addie Heltsley (PHOTO PROVIDED)
Addie, age 4, is the daughter of Addam Heltsley, minister for the Peach Tree Lane Church of Christ in Yuba City, Calif. Addie has Spastic Quadriplegic Cerebral Palsy and epilepsy. She is fed through a feeding tube "because she is like a little humming bird and just cannot eat enough for what her little body burns off," her mother, Sarah Heltsley, told The Christian Chronicle.
Recently, Addie was blessed to be in a clinical trial for a special feeding tube formula "and it did amazing things for her," her mother said. Now the company that makes the formula is looking for a Child of Hope Ambassador.
If Addie gets the most online votes before Nov. 1, she wins a year's supply of the food — which the family's insurance does not cover, Sarah Heltsley said.
Click here to go to the contest page. Look for "Addie," enter your email address and vote. (Posting a comment below does not count as a vote.)