Birthdays
Richard Overton
Richard Overton
111th
May 11
Austin, Texas
Eugene Perry
95th
July 19
Beamsville, Ontario, Canada
Ralph Scott Burcham
90th
June 29
Edmond, Oklahoma
Anniversaries

Glen and Peggy Moore
65 years
Glen and Peggy MooreGlen and Peggy were married on July 19, 1952, at Lueders, Texas, and will be celebrating 65 years together with family and friends on July 22 at the Sunset Church of Christ in Carlsbad, N.M.
They have five children, eight grandchildren and 13 great-grandchildren. The Moores have lived in Arlington, Fort Worth and El Paso, Texas, and currently live in Carlsbad, N.M. They have been loving, faithful and active members of the church, and they are always ready to give a helping hand to anyone who crosses their path.
Congratulations, Glen and Peggy!
Memorials
Jack Lee Cooley
1932-2017
Jack Lee CooleyCelebration of life services for Jack Lee Cooley were held on Thursday, May 18, 2017, at the 4th and Jackson Church of Christ in Hugo, Okla., with Steve Harbison, Scott Dutton, and Roger Raper officiating.
Jack passed away May 13, 2017, in Bonham, Texas, at the age of 84.
Jack and his twin sister, Janice, were born Oct. 22, 1932, in Powderly, Texas, to Joseph and Myrtle (Popham) Wharton. Both of their parents died before the twins were 18 months old. W.B. Cooley and his wife, Ella, adopted the twins, and the twins then took the Cooley name.
Jack had lived in Choctaw County most of his life and was a lifelong member of the 4th and Jackson Church of Christ. He attended Hugo High School and Central Christian College in Bartlesville, Okla. Jack was drafted into the United States Army in his sophomore year of college and was a combat veteran of the Korean War. After being discharged in 1955, he returned to Hugo and helped run the family business, the Hugo Steam Dry Cleaners and Laundry. He met the love of his life, Shirley Boone, and they married on July 20, 1956, in Hugo, Okla. He retired from the Frisco and Burlington Railroad Company where he worked as an engineer for nearly 35 years.
Jack was very involved in his community. He served as a board member for the Choctaw Historical Society from 1976 until his death. He served on the Choctaw Memorial Hospital board for 13 years and was a member of the Chamber of Commerce. He served his church as a Bible class teacher, song leader, jail minister, and as one of the elders for many years. Jack was very talented. He was a professional photographer and operated a studio; he was an excellent carpenter, and he operated a rental property business.
Jack was preceded in death by his parents, Joseph and Myrtle Wharton and W.B. and Ella Cooley; brothers, Horace, Joe, and Clifford Wharton; sister, Aliene Wharton; daughter, Denise Schulz; and grandson, Nathan Schulz.
Jack leaves, to cherish his memory, his wife, Shirley, of the home; son, Jackie (Cyrisse) of Colorado City, Colo.; grandsons, Jason (Jennifer) Schulz of Calera, Okla., Ryan Cooley of Colorado Springs, Colo., and Shawn Cooley of Corvallis, Ore.; great-grandson, Jagger Schulz of Calera, Okla.; great-granddaughter, Ava Marie Schulz of Calera, Okla.; twin sister, Janice Smithson of Irving, Texas; sister, Cleo Moseley of Paris, Texas; nieces and nephews; and a host of friends.
Ernest Leon Eldridge
1936-2017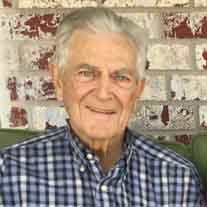 Ernest "Leon" EldridgeErnest "Leon" Eldridge, 80, died May 18, 2017. He was born on June 12, 1936, in Liberal, Kan., son of Merle and Hazel Pennington Eldridge. He graduated from Hardesty High School in 1955. He was self-employed in electronics and audio visual repair. He married Shirley Lafevers in 1955, and they had two daughters, Crystal Eldridge Loden and Jeanette Eldridge Zeller. They have four grandchildren and four great-grandchildren. After Shirley's death, he married Carol Cooper Adams in 1995 and gained two more daughters; Lisa Adams and Lori Adams Hammond and seven grandchildren.
He is preceded in death by his parents, his wife Shirley and his brother Verle Eldgridge. He is survived by his wife Carol, his children and grandchildren, and his brothers Cleb Eldridge, Eldon Eldridge and Roy Cooper.
More Milestones, Page 24

William Harold Fletcher
1923-2017
Dr. William Harold FletcherDr. William Harold Fletcher, age 93, legendary music and philosophy professor, of Edmond, Okla., died May 27, 2017. One of the longest tenured professors in the nation, Dr. Fletcher was born Dec. 4, 1923, in Hamlin, Texas. He and his beloved wife of 57 years, Mary Helon McAnulty, raised four loving children. She preceded him in death in 2001.
He received a bachelor's and master's in music from Hardin-Simmons University and a Ph.D. in the philosophy of education from The University of Oklahoma. Dr. Fletcher was the first and ultimately the longest-serving faculty member (1950-2014) at Oklahoma Christian University, Oklahoma City (originally Central Christian College, Bartlesville, Okla.).
He was a scholar, an intellectual, and an extraordinary teacher. At Oklahoma Christian, he received the Gaylord Chair of Distinguished Teaching and was inducted into the Master Teacher Hall of Fame. In 2005 the university established the Harold and Mary Helon Fletcher Center for Music to honor their influence.
In Oklahoma in the 1970s, Dr. Fletcher won a competition by the Oklahoma Heritage Society with "The Oklahoma Set," six songs about statehood, and in 2008 the Oklahoma Higher Education Hall of Fame inducted him as a member.
Harold Fletcher's greatest legacy was in the hearts of people. He loved and mentored students and friends without ceasing. His kindness, integrity and humanity were long remembered. In the 1960s, with Mary Helon's support, he became the most ardent advocate of civil rights at Oklahoma Christian.
He is survived by four children: Alicia (Bob) Burch, of Prairie Village, Kan., Nancy Fletcher Snyder, Sylvia (Gary) Hurst, and John (Cynthia) Fletcher, all of Edmond; one sister, Marilyn (R.C.) Swaim, of Abilene, Texas; five grandchildren; nine great-grandchildren; nieces, nephews, and countless friends. Harold Fletcher was a giant of a man, an icon, and a gift. We won't know his like again.

Helen B. Gross
1914 – 2017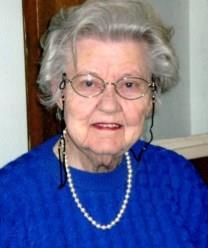 Helen Baker GrossHelen Baker Gross passed away peacefully with her niece by her side at Kindred Hospice in San Antonio, Texas, on Friday, April 21, 2017, at the age of 103. She was the youngest of 13 children, born to James Artemas and Sarah Alice Baker in Lockney, Texas, on Feb.15, 1914. She was a life-long member of the Church of Christ.
After high school, Helen attended Lippert Business School in Plainview, Texas, where she met L.E. (Edward) Gross. They were married Dec. 26, 1936, and were blessed with one daughter, Elizabeth Alice (Beth) who passed away after a long illness at the age of 33.
In 1950 the family moved to Port Lavaca where Edward worked in the smelting section at the newly-built ALCOA plant in Point Comfort, Texas. Then in the late 1950s Ed and Helen began their business, Port Lavaca Real Estate and Maintenance. Helen continued running the rental portion of the business from her husband's death in 1980 until her health prevented her from doing so in 2016.
Helen was preceded in death by her parents; her husband, her daughter, her grandson, and her 12 brothers and sisters. She is survived by numerous nieces and nephews as well as numerous great-nieces and nephews and great-great-nieces and nephews living throughout the United States.

Ray Wayne Lovejoy
1933-2017
Ray Wayne LovejoyRay Wayne Lovejoy, age 84, passed from this earth to his heavenly dwelling with a smile on his face on June 17, 2017. He was born to Ethel and William Lovejoy on Jan. 5, 1933, at their farmhouse in Tipton, Okla. They were quite surprised when the doctor announced that they were proud parents of not one but two baby boys! Ray considered being a twin one of God's greatest blessings. He and Roy were the youngest siblings of Merl, Glen, Loyd, and Floye.
Ray attended school in Tipton for 12 years. He took great pride in being a Tipton Tiger where he was a star football, basketball and baseball player. He was also voted "Best All-Around Guy" by his peers his senior year, which is the perfect description of his easygoing personality. His life was forever changed when he watched a young, beautiful girl named Carolyn Wright play basketball for the Wilson Wolverines. He gave her his heart on her 15th birthday when he kissed her goodnight. They married on May 25, 1952. For 63 years he was totally devoted to her for better or worse, richer or poorer, in sickness and in health. This devotion was a shining light to family, friends and even strangers of what a marriage centered in Godly faith can be.
Ray Lovejoy loved the Lord, loved his country, loved his family, and loved people. After graduating from high school and getting married, he was drafted into the Army in February, 1953. He was trained to be a military policeman and took great pride in serving his country.
He went to work for Geolograph in 1955. In 1964, he decided to go into the real estate business with a good friend in Lovington, N.M. He opened Lovejoy Real Estate in 1969. In Lovington, he was known to be an honest businessman that would make a deal on a handshake. His office was open for business, but it was also open to anyone who just wanted to drop by for a coke and conversation. Ray loved to talk and never met a stranger. Many times that conversation became a counseling session where the person who "dropped by" usually left with a smile on his or her face, because Ray's eternally optimistic personality was contagious.
Ray became a Christian when he was in the Army, and his love for the Lord and the Bible was also contagious, which made him a great Bible school teacher. He faithfully served as an elder of the Church of Christ in Lovington, N.M., for 25 years and in Lubbock, Texas, for five years.
He gives "his Carolyn" all the credit for his Christian faith that he shared freely with anyone he met.
Ray's love for his wife was witnessed by many as he patiently cared for her daily as she fought Alzheimer's for 10 years. He was an amazing father and role model to Barry and Judy, and he cherished his role as "Papa" to his grandchildren: Dan, Jodie, Conrad, Meagan and Lee; and his great-grandchildren: Elijah, Kloe, Leo, Isaiah, Raz, and Crawford. He also was adored and called "Papa" by many college students from Oklahoma Christian University.
Ray is preceded in death by his parents, his brothers, his great-grandson Damon Ray, and his beloved wife Carolyn. He is survived by his sister, his son Barry (Kathi) Lovejoy from Lovington, N.M., and his daughter Judy (Alfred) Branch from Oklahoma City. He is also survived by his five grandchildren, six great-grandchildren, and many more loving relatives. He leaves behind numerous friends from his homes in Lovington, N.M., Lubbock, Texas, and Edmond, Okla.
Honor/Memorial Gifts The Christian Chronicle appreciates and acknowledges generous gifts received in honor of Bobby Ross and in memory of Jack Lee Cooley. Entries should be submitted to [email protected] or call (405) 425-5070.
Rates and guidelines are available upon request (credit card preferred).