Birthdays
Bernice Crudup

Bernice Crudup
100th
July 15
Sun City, Calif.
Colonel Carrol Sites
82nd 
July 4
Greers Ferry, Ark.
Bill E. Wilson

Bill and Sue Wilson85th
Aug. 16
Edmond, Okla.
Sue Wilson
83rd
Aug. 5
Edmond, Okla.
Anniversaries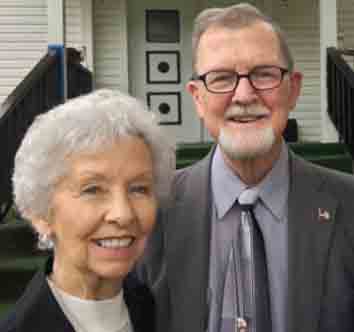 Carroll and Sarah Sites
Carroll and Sarah Sites

62 years

July 17

Greers Ferry, Ark.

Ralph and Marcene Dodd
75 years 
Saint Charles, Mo. 
William and Pearl Boyd  
72 years
June 11
Newburg, Ore. 

Wilbert and Juanita Scroggins
70 years
Wilbert and Juanita ScrogginsMr. and Mrs. Wib Scroggins were honored with a reception Saturday, June 17, at the Southwest Church of Christ in Ada, Okla. The occasion marked the couple's 70th wedding anniversary. Hosts for the event were the couple's children, grandchildren and great-grandchildren.
Wilbert "Wib" Scroggins and Juanita Foxx were married June 14, 1947, in the home of her parents, Mr. and Mrs. Ira Wommack, at Oakman, Okla. Mr. Scroggins' parents were John F. and Essie Akins Scroggins. He was raised in the Cedar Grove-Francis communities and attended school there. He worked as a machinist for Eureka Tool Company in Oklahoma City and at Oklahoma Machine Company and Kerr Pumps in Ada. Mr. Scroggins retired from Kerr Pumps in 1990 after having worked there for 36 years.
Mrs. Scroggins was raised in the Oakman community, and attended school at Oakman and Byng. She graduated from Byng in 1949. She was employed as a secretary at Mutual of Omaha Insurance Company and later at the Oklahoma Department of Transportation, where she worked for 26 years.
Mr. and Mrs. Scroggins retired the same day in September 1990. Both are active members of the Southwest Church of Christ.
Mr. Scroggins has served as a Bible school teacher, a deacon and an elder in the church. Mrs. Scroggins taught Bible school for many years and serves in fellowship and benevolent works. With the exception of living in Oklahoma City for a few months when they were first married, the couple has lived in Oakman and Ada the remainder of their 70 years of marriage.
The couple has one daughter, Lynda Collins, who lives in Mannford with her husband, Jud; and one son, David, who lives in Frisco, Texas, with his wife, Nancy.
The couple has four grandchildren and five great-grandchildren.

Paul and Millie Woods
70 years
Paul and Millie WoodsPaul and Millie Woods celebrate their 70th wedding anniversary on Aug. 1, 2017, in Athens, Ala. Millie is a Freed-Hardeman graduate, and Paul has a master's in Bible from Harding University, after attending Abilene Christian University and Pepperdine University. He has been a faithful preacher of God's word with Millie by his side in Michigan, Nebraska, Colorado, Minnesota, Montana, Wisconsin, Missouri and Alabama, starting in the early 1950s. They have been retired and living at 27012 McLemore Circle, Harvest, AL 35749 (near their son) for several years. Congratulations, Paul and Millie!

Arland and Floy Pafford
60 years
Arland and Floy PaffordArland and Floy Pafford of Madera Ranchos, Madera, Calif., celebrate their 60th wedding anniversary on Aug. 17, 2017. They met at the Los Banos Church of Christ in California and were the first couple married in the new church building in 1957.
Following service in the Army, Arland graduated from the University of California, Berkeley, on the same day Floy graduated from high school. They were married that August. Their first home was in San Francisco so Arland could attend dental school. Arland had a private practice for several years in Firebaugh, Calif. and then went to work for the State of California Department of Corrections until he retired in 1997 as chief dentist.
After Floy put Arland through dental school, reared three children and became a grandmother, she graduated from California State University, Stanislaus, with a B.S. in accounting in 1993. After moving around the state, they settled in Oakdale, Calif., for 30 years. Four years ago, they moved to Madera Ranchos, Calif., and are members of the Sunset Church of Christ in Madera.
Arland and Floy have three children: Evonna (Kyle) Jones, of Edmond, Okla.; Philip (Celeste) Pafford, of Corona, Calif.; and David (Tina) Pafford, of Madera Ranchos, Calif. They also have eight grandchildren.
Over the years, Arland has served faithfully as a deacon, an elder and a Bible class teacher while Floy has taught children's Bible classes and led ladies' Bible classes. As a couple, they have been faithful and active members of the church. As parents, they have always made God the center of their loving home and family.
Congratulations, Arland and Floy!

Memorials
Ina "Jeanell" Bradley
1930 – 2017
Ina "Jeanell" BradleyIna "Jeanell" Bradley was born on Jan. 27, 1930, in the middle of a snowstorm, to James "Jim" Benjamin and Noma Shipman Nease in Punkin Center, Oklahoma. She was the ninth of 11 children in that family and was affectionately known as "Number 9." She went to be with the Lord on July 5, 2017, at Mercy Hospital in Oklahoma City.
Jeanell graduated as valedictorian of the class of 1948 at Central High (Marlow). She loved music and participated in plays. She married her high school sweetheart, J.W. Bradley of Marlow, on July 7, 1948. They settled in Duncan, and both went to work for Halliburton Services. She worked for Halliburton until the birth of their first child, Vickie Sue. She then became a wonderful homemaker, wife and mother.
She was baptized into Christ in 1952 and lived out her life as a devout Christian woman. She and J.W. attended Westside Church of Christ and Eastside Church of Christ in Duncan. They were janitors at Westside for 25 years. Jeanell loved singing and helped provide music for weddings and funerals.
An excellent cook, she also coordinated meals for funerals for many years. People would stand in line to fight for a piece of her coconut or chocolate pie. Many visitors to Duncan were welcomed into her home for a fried chicken dinner.
Nineteen years after Vickie was born, J.W. and Jeanell were surprised with a bonus baby, Robin Jeanell. Jeanell continued to be a wonderful mother to both girls for the rest of her life. She would tell you that her greatest joys in life came from being a Christian wife and mother, and she was proud that her children and grandchildren were Christians. "I have no greater joy than this — to hear that my children are living according to the truth." (3 John 1:4)
Jeanell lived in Duncan for 63 years. She and J.W. moved to Edmond, Okla., to live with Robin after she suffered a stroke. She spent time with both Robin and Vickie for five years. She lived at the Fountains at Canterbury in Oklahoma City for the last few months of her life.
Jeanell was preceded in death by her parents, eight brothers and sisters, and one grandson, Thomas Beam. She is survived by her husband of almost 69 years, J.W. Bradley; her daughters Vickie (Clint) Stamper of Kimberling City, Mo., and Robin (David) Beam of Oklahoma City, Okla.; grandchildren Brad (Holly) Morrisett of Edmond, Okla., Lance (Jennifer) Morrisett of Hooker, Okla., Melissa (Greg) Bukovatz of Oshkosh, Wis., and Seth Beam of Edmond, Okla. She is also survived by one brother Gene (Charlotte) Nease and one sister Jimmie Lou (James) Gunkel; 10 great-grandchildren, a great-great-grandchild due in January; and numerous nieces, nephews and cousins.

Doyle Dennis Gilliam
1931 – 2017
Doyle Dennis GilliamDoyle Dennis Gilliam, 86, of Lubbock, Texas, passed away on Friday, June 23, 2017. He was born in Granbury, Texas, on Jan. 17, 1931. Doyle graduated from Poly High School in Fort Worth and received a master's degree from Abilene Christian University. He married Louise Humphrey on June 9, 1952.
Doyle had a career as a preacher, missionary, and a 38-year career teaching at Sunset International Bible Institute. He had a passion for the people of Southern Africa. He was an avid golfer and won many tournaments as a young man as well as during his time in Africa.
Doyle is survived by two sons, Stephen Gilliam and John Gilliam; three daughters, Charlene Hosking, Ellen Abshier, Laura Close; a brother, Bob Gilliam; nine grandchildren, Louise Benz, Colin Hosking, Jessica Shroyer, Jordan Abshier, Luke Close, Ashley Close, Brianna Close, Shelby Seals, Sawni Seals; four great-grandchildren; and numerous nieces and nephews.

Hugh Wayne Hemingway
1919-2017
Hugh Wayne HemingwayHugh Wayne Hemingway, died May 21, 2017. Born July 9, 1919, in Detroit, he lived 97 years. He leaves behind three children, Beth, Lois Ferrell and Pat Hemingway; five grandchildren; and twelve great-grandchildren. He was predeceased by his bride of 69 years, Annile Chambers Hemingway and grandson, Derek Wayne Hemingway.
Wayne knew the Scriptures well and lived by their teachings, serving as elder, minister, Bible class teacher and song leader. A gifted teacher for 75 years teaching the Bible, science and math, he was a founder, teacher and administrator of Athens Bible School in Athens, Ala., Crowley's Ridge Academy in Paragould, Ark., Madison Academy in Huntsville, Ala. and later at Northland Christian School in Houston, Texas. For 20 years he taught public school junior high science in South Orange, N.J. He was an elder at the Chatham Church of Christ in N.J., a new congregation that began under his leadership. After his third retirement, he taught GED and math at the Lone Star College System in Texas until 2015!
Wayne Hemingway will live within the hearts of those who knew him, and his legacy will be carried forth for future generations.

Parker Henderson
1924-2017
Parker HendersonParker Henderson, 92, former teacher at Sunset International Bible Institute, finished his earthly ministry June 22, 2017, and has entered his eternal home. He was a missionary in Thailand for twenty years and then spent thirty years serving in Trinidad. He taught at Sunset for relatively short stints and always took a team he personally recruited back to the mission field with him. Parker, along with his wife Donna, had moved back to Lubbock several years ago. This dear brother will be missed by people he led to Christ in a number of countries and by a host of other brethren and friends.

Geneva Sadler Jones
1927 – 2017
Geneva Sadler JonesGeneva Sadler was born in Nashville, Tenn., on April 14, 1927, to Henry Clay and Lena Demonbreun Sadler. She graduated high school from Central High School in Nashville in May of 1944 and attended business school thereafter. She met Joseph F. Jones in 1948, and they were married on Thanksgiving Day, Nov. 22, 1951, in Nashville. Together they raised six children and were married almost 57 years until he preceded her in death in 2008.
Geneva was a devoted and tireless mother, always putting her children above herself. She was mother to Ronald (Diane), Terrell (Diane), Deborah, Danny (Cynthia), Lisa, and Kevin (Kelly). Her grandchildren include: Ronald Jr., Stephanie, Ashley, Adam, Alysa, Aaron, Nicholas, Emily, Ethan, and Rachel. She is also survived by several sisters-in-law, nieces, nephews and cousins.
Geneva supported many charitable causes throughout her life. She was particularly involved with the South Oakland Shelter, helping with this cause for over 20 years. As a member of the Troy Church of Christ for 50 years, she also was involved with many outreach and ministry programs. Geneva was known for being quiet and sweet, but having a quick wit, sharp mind and the uncanny ability to corral her children (mostly the four boys) when needed. She was a devoted wife, a fantastic mother and grandmother, and a wonderful Christian woman who will be missed dearly. We love you, mom.

Harold Dean Wade
1938 – 2017
Harold Dean WadeHarold Dean Wade, 78, of Tomball, Texas, passed from this life into the next on July 12, 2017, at his home surrounded by his wife, Mary Elizabeth (Beth) Grobe Wade and his daughters, Lorie Wade Addison and Julie Wade Crum.
Harold was born Oct. 1, 1938, in Booneville, Miss., to Oren and Hester Mae (Armstrong) Wade. He graduated from Holcut High School in 1957 and he completed an associate's degree in education from North East Mississippi Junior College and finished his bachelor's and master's in education from Memphis State University.
While in college and during his early career, he served as a non-commissioned officer in the Mississippi Army National Guard and the Tennessee Air National Guard. In Memphis, he taught and coached at Sherwood Middle School.
Harold's life was dedicated to education and specifically to education from a Christian perspective. He served as a dormitory director for Lubbock Christian University and as an administrator of Lubbock Christian School in Lubbock, Texas. He served as the Superintendent of Dallas Christian School in Mesquite, Texas, Fort Worth Christian School in North Richland Hills, Texas, and Westbury Christian School in Houston, Texas.
In other areas of vocation and service, Harold served as a manager for University Inns (a dormitory management group) at Texas Tech University, San Diego State University, and The University of Michigan (Ann Arbor). He was also a Regional Director of Development for Eastern European Missions and served as a fund-raising consultant for Manhattan Christian College in Manhattan, Kansas.
Harold was one of the founding board members for the YMCA of North Richland Hills, Texas. After retirement, he worked with his wife, Beth, presenting marriage enrichment seminars and encouraging healthy Christian relationships in the Houston metropolitan area. He was a dedicated member of a local church throughout his life and served as a non-paid minister and preacher on numerous occasions. He participated in multiple mission trips domestically and internationally and encouraged his children to always follow the call to service to the Prince of Peace.
He is survived by his wife, Beth G. Wade; his children: Len (Lisa) Wade, Lorie (Glenn) Addison, Jonathan (Jodie) Wade, Jennifer (Stephen) Shewmaker, Julie (Andy) Crum; and his grandchildren: Nikki Addison (Brian) Lee, Austin Addison, Landon (Nicholl) Wade, Luke Wade, Logan Wade, Anne Wade, Rylan Shewmaker, Nathan Wade, Catherine Shewmaker, Ian Crum, Annalee Crum, Alexandra Shewmaker, Binyam Crum and Joseph Crum; his great-grandchildren: Lainey Lee, Camden Lee, and Kinsey Lee; his siblings: Lyonel (Maxine) Wade, Myra Wade Underwood, Vonceil Wade Enlow, Hoyt (Joan) Wade, Mackey (Margaret) Wade; in-laws: Lottie Wade, Charlene Wade, Judy Johnson, Ginger Herbert, Terri (Kevin) Lowry; and a number of dearly loved nieces and nephews, friends and co-workers.
He passed in peace as he lived, surrounded by love. Harold asked that, in lieu of flowers, mourners make a donation in his memory to a local Christian school.

Dr. Perry L. Morren
82
June 25
Childress, Texas

Memorial/Honor Gifts
The Christian Chronicle appreciates and acknowledges generous gifts received in memory of Jack L. Fields and Gordon Russell.
Rates and guidelines are available upon request (credit card preferred).