Major-league baseball: Church member to make debut for Marlins (Updated)
Called up from Triple-A New Orleans, Brian Flynn will take the mound Wednesday at Wrigley Field in Chicago.
---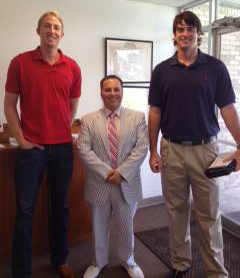 Minister Eric Dishongh, in the middle, stands between New Orleans Zephyrs pitchers Jared Rogers and Brian Flynn at a recent church service. (PHOTO BY SONTA JONES
Eric Dishongh, minister for the Hickory Knoll Church of Christ in Harahan, La., is a Chicago Cubs fan.
On Wednesday, though, he'll be rooting for the Miami Marlins when they play the Cubs at Wrigley Field.
That's because Brian Flynn — a lefthanded pitcher who has worshiped with the Hickory Knoll church while playing for the Triple-A New Orleans Zephyrs — will make his major-league debut for the Marlins.
Flynn, 23, grew up in the Church of Christ in Oklahoma, Dishongh said.
"Brian has brought at least three other Zephyrs players with him to church on Sunday mornings," the minister said.
THURSDAY UPDATE
The Miami Herald reported on the emotional nature of Flynn's debut, as did the South Florida Sun Sentinel. According to the Herald, Flynn had a so-so debut, giving up two solo home runs in the fourth before exiting in the fifth. He got a no-decision in the Marlins' 9-7 loss.
MORE BASEBALL STORIES
• Oh, Brothers!: For Rockies pitcher with 0.28 ERA, there's a higher calling
• Boys of summer: Josh Willingham's faith, character praised
• Brad Ziegler signs autographs with a favorite Scripture
• For love of God, family and baseball
• Cecil Cooper adjusts to life out of baseball
• Play ball: Travels bring ballpark fun, fellowship