Mack Lyon of 'Search' TV ministry dies at 93
As a 14-year-old boy, the Oklahoma-born preacher made a promise to share the Gospel via mass media — and he kept it.
---
EDMOND, Okla.
— Mack Lyon, who founded the
"In Search of the Lord's Way"
television ministry and served as its main speaker for 30 years, died Aug. 5. He was 93.
Seldom seen without a suit and tie, Mack Lyon rides his bicycle to a ministry appointment in the early 1940s. (PHOTO PROVIDED BY SEARCHTV.ORG)""We are saddened for our loss but rejoice that he has reached his goal of being with the Lord forever," the ministry said on its Facebook page.
Lyon's son, Chris, "mentioned how his father had worked all his life for this day," reported the Edmond Church of Christ — the longtime sponsoring congregation for the global media ministry.
"Our thoughts and prayers go out to all the family as well as the 'Search' TV family and church family," church leaders said.
At Lyon's memorial service Aug. 12, Dallas minister Wes Price noted that his close friend was the father of daughter Jo Ann and son Chris.
But Price said, "He was the spiritual father to hundreds of thousands."
A clip of "Search" TV ministry founder Mack Lyon preaching plays at Lyon's funeral today at @EdCofC. pic.twitter.com/GHY2pwGfdP

— Christian Chronicle (@CofCnews) August 12, 2015


Lyon served as a longtime mentor to Phil Sanders, who succeeded him as the main speaker on "Search" in 2009.
"When you are a preacher, you don't always have a preacher," Sanders said. "But from the 1980s on, Mack was my preacher."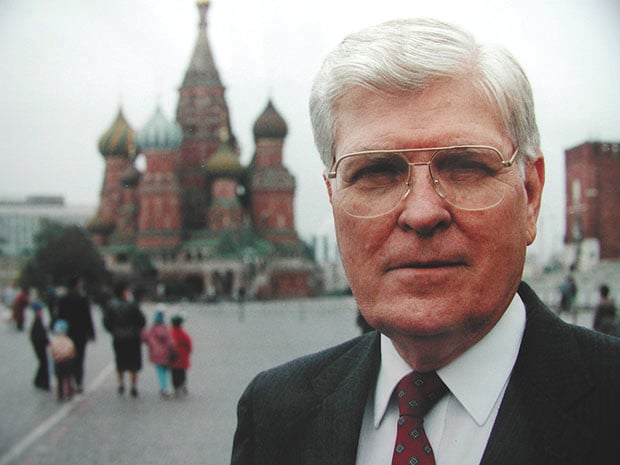 Mack Lyon stands in Red Square in Moscow in 1990. The Oklahoma-born minister preached extensively in the Far East, Middle East, Russia and Eastern Europe. (PHOTO PROVIDED BY SEARCHTV.ORG)A miracle of modern technology changed Lyon's life, as he shared in a 2005 interview with The Christian Chronicle.
At a time when not every family owned a radio, the 14-year-old's father brought one home. The young Lyon started listening every Sunday to evangelist W.L. Oliphant's program out of Dallas.
Lyon, who grew up on the banks of Muddy Boggy River in rural southern Oklahoma, had never traveled farther than the Coal County seat. He certainly had no idea how far Dallas was from his family's white, two-story farmhouse.
"I just knew it was a long, long way by horseback," Lyon told the Chronicle. "And yet I can sit out here at the end of the road, and I can hear the Gospel preached in a powerful way in my home. And that just overwhelmed me."


One night that summer, after Oliphant's program ended, Lyon dropped to his knees. "I just prayed to the Lord that if he would let me live to be an adult, I would give my life to preaching the Gospel using radio," Lyon said.
God, of course, had bigger plans.
Lyon's television ministry made him one of the most recognized faces in Churches of Christ. But his kindness and gentleness were what resonated with viewers, ministry supporters said.
Anything but flashy, Lyon resolved not to be a showman.
"I just wanted to present the simple Gospel," said Lyon, who wore his wedding band but no other jewelry — not even his wristwatch — while taping the program.
Lyon also refused to ask his audience for money or sell anything on the air. Rather, the ministry relies on support from congregations across the nation, many of which pay for airtime in their areas.
Lyon and his first wife, Golda, were married for 53 years before she died in 1996. He remarried, and his second wife, Lois, survives him.
IN LIEU OF FLOWERS, memorial donations may be sent to "Search" at P.O. Box 371, Edmond, OK 73083. For more information, see www.searchtv.org.