Lincoln Jones, renowned minister in Belize, dies at 56
---
Lincoln Jones, a renowned evangelist among Churches of Christ in the Central American nation of Belize, died April 3 after suffering an apparent stroke. He was 56.
Jones was baptizing new souls into Christ as recently as March 23, according to members of the Burrell Boom Church of Christ, who posted photos of the event on the congregation's Facebook page.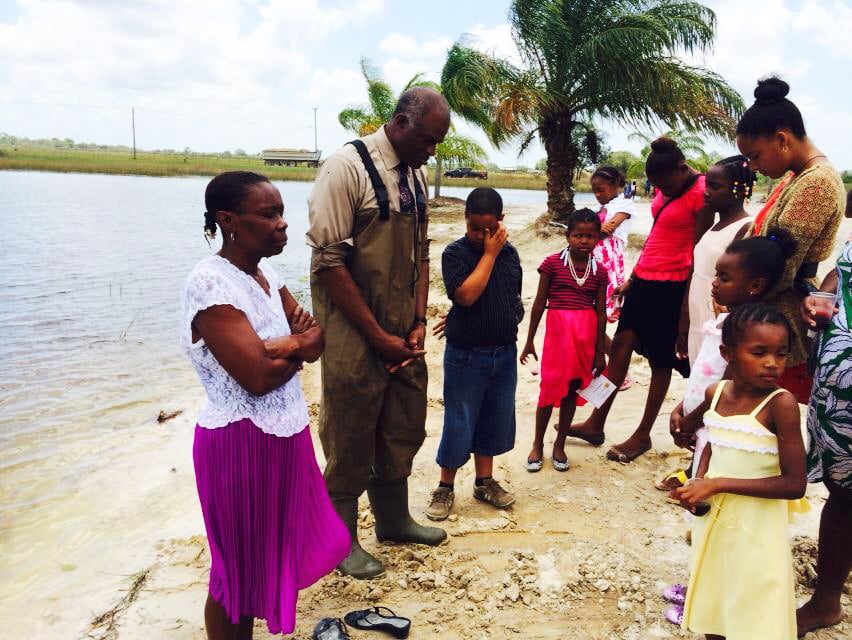 Lincoln Jones prays before a recent baptism near Belize City. (PHOTO VIA FACEBOOK)
"He was such a pillar in the church in Belize," said Barbara Kee, a longtime friend of Jones who served, along with her husband, Windle, as a missionary in the African nation of Cameroon. The Kees, who now live in Texas, made regular mission trips to Belize, a nation of 324,000 souls south of Mexico and east of Guatemala. The couple worked alongside Belizean ministers — including Jones and Andrew "Tex" Nunez — and U.S. missionary Bill Amason, who died in 2011.
"So many of us are trying to count it as joy, but it's very difficult," Barbara Kee said. "We know Lincoln and Bill said 'Don't cry for me,' but we are."
Jones' survivors include his wife, Margarita, two sons, a daughter, a stepson and five grandchildren.
The Burrell Broom church will host a remembrance of Jones' life April 8 in Belize. 
Friends established a Remembering Lincoln Jones page on Facebook.