Road Notes: Learning to love my expected journey
---
Erik Tryggestad in front of Samwise Gamgee's Hobbit hole in Matamata, New Zealand. (PHOTO BY ERIK TRYGGESTAD)
TAURANGA, New Zealand —
 Jaz Hayward blessed me with a well-deserved, much-needed smack in the face.
It happened during Wednesday night Bible study in the apartment of Steve and Gill Raine. It was the final night of my two-week reporting trip in the South Pacific, and I wasn't in the best of moods.
Don't get me wrong. It was an amazing, exhausting experience. I visited missionaries on the gorgeous islands of Vanuatu. In Auckland, I watched Christians practice friendship evangelism through a bizarre sport called netball (think basketball without dribbling). And I met dedicated believers from New Zealand, Australia, Fiji and Tonga at a Men's Challenge camp.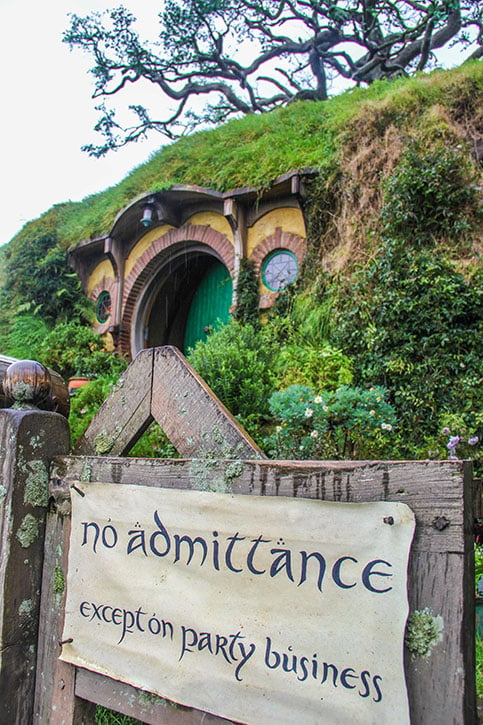 Hobbit holes and mud holes in New Zealand: See Erik Tryggestad's photo gallery from down under.
But fog in Rotorua grounded my flight and kept me from the last leg of my journey to Samoa, where I planned to attend church on Sunday before hopping on another plane to American Samoa, where I would have attended church the next day — on Sunday (think International Date Line). 
Stuck in New Zealand, I was treated royally by the Raines, who housed me two nights longer than they had planned. I visited the South Pacific Bible College, where they serve. 
Steve Raine even drove me to Matamata (yes, New Zealand towns have awesome names) so I could tour Hobbiton, the set used for the "Lord of the Rings" films and, more recently, "The Hobbit: An Unexpected Journey."
Still, on this final night of the trip I felt the twinge of regret for what might have been but wasn't. 
To be honest, I was sulking.
The Wednesday small group, all members of the Otumoetai Church of Christ, was concluding a video series on Christian apologetics. In the video, the scientists and scholars who had spoken throughout the series shared their personal stories of conversion. Afterward, we talked about how we can use our own stories to engage the lost and point them to Christ.
Jaz Hayward
I've always found my own story to be lacking in drama, I told the group. I grew up in the church with great, godly parents. When I was 14 I was baptized. My salvation was an assumption — an expected journey, hardly worth sharing.
That's when Jaz Hayward told me, quite politely, to stick a cork in it.
"Your story is what I want for my son," she said. Her boy, 4-year-old Ezekiel, was right there, playing with the other children in the group.
Jaz's journey is unlike mine. She remembers when she was 5, watching her mom drag massive bags of marijuana through their home. It was the family business. 
Her mom later gave it up and sought after God, but fell away by the time Jaz was 16. They were homeless for a while. 
By age 23 Jaz was an alcoholic. Abused as a child, she buried her pain with drugs and sex. She married a guy she met in a club and got pregnant. They later split up.
She had lost her home and was living in her drug dealer's house when she felt a stirring. At the office where she worked, her only place of refuge, she cried out, "God, if you're there, if you even care, if you can even hear this, I need help. I need a way out."

• Boiling faith down under: Churches are dying in Australia, New Zealand, but Christians see pockets of hope just below the surface

• Indonesia's most-blessed man: A former prisoner trains new generations of preachers
• Thailand: Survivors of the Taliban find new life — and new fears — in Bangkok

• Jailed Pakistani family in Thailand shows true beauty

• Singapore: A 'pillar church' for Southeast Asia

• His face preaches: The faith of 'Tattoo Tan'

Then she opened a newspaper and found a one-bedroom apartment for rent in the country. Her landlord: Jon Merrick, an elder of the Otumoetai church.
She entered rehab and started studying the Bible. "I just really felt at peace … like I had found home," she said. On April 18, 2010, she was baptized.
And now, here she was, this 5-year-old babe in Christ setting me straight, telling me that my story was a triumph.
"Somebody has worked their butt off," she said. "In your lineage, somebody has been through the hard stuff. I pray to dear God that my son has a rich heritage like you one day, and his son, and his son's son."
That was the smack I so desperately needed. I praise God for the events — expected and unexpected — that led me to cross paths with Jaz Hayward. I pray that Ezekiel grows up strong in the faith and that his mother's story is a source of inspiration for generations to come.
I look at my own history with a renewed sense of God's blessing. I think of my father, who spent countless hours at our dining room table, Bible open, as he prepared to teach. 
I think of my mother, now in heaven, who made sure we never missed a Sunday service, that we always had our memory verses memorized.
Thank you for believing in me, Mom and Dad.
And most of all, thank you for believing. 
CONTACT [email protected]
Related coverage: