Learning and loving in L.A.
THE CRENSHAW CHURCH OF CHRIST educates and nurtures its senior members to provide role models for a new generation.
---
LOS ANGELES —
You're never too old to learn about Zilpah and Bilhah.
Just ask the 20 senior members of the
Crenshaw Church of Christ
, crowded around tables in the congregation's fellowship hall. Bibles open, pens scrawling, they swipe their fingers across the pages of 1 Chronicles, taking notes as Tyson Moore, the church's assistant minister, tells the stories behind the lists of names in the book's first chapters.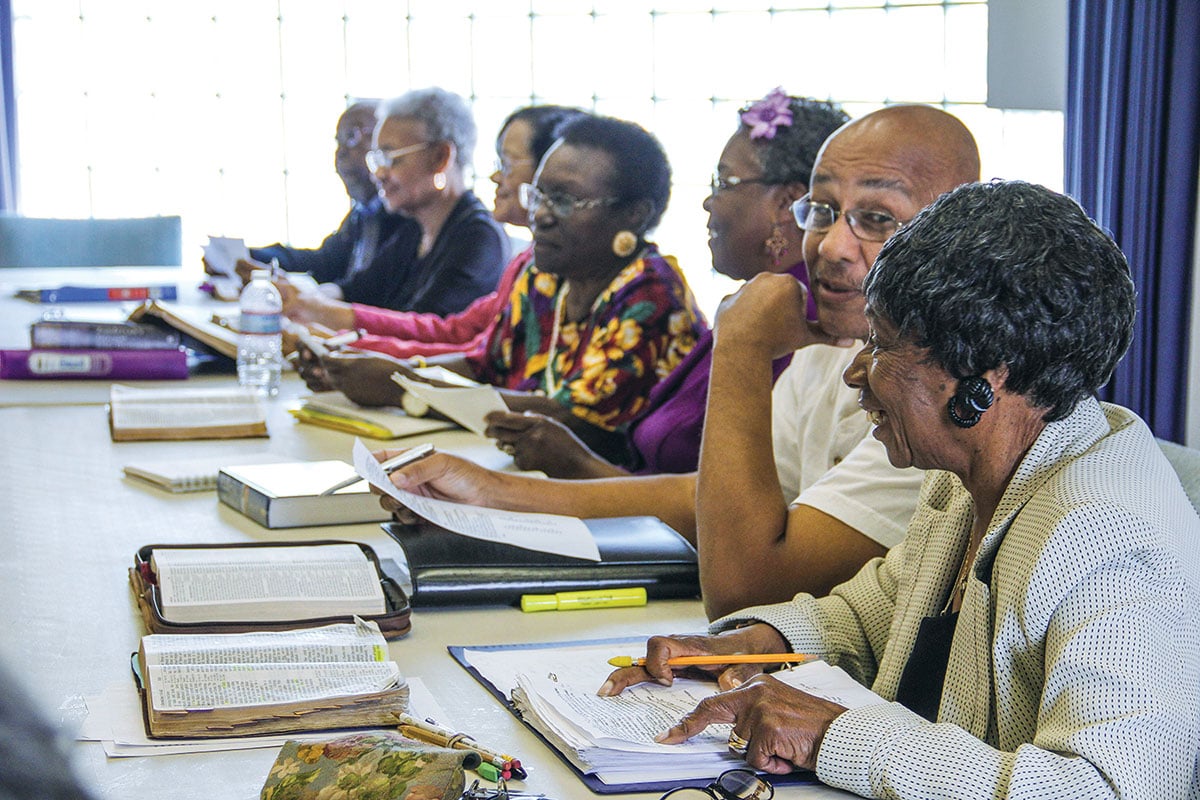 Early on a Saturday morning, senior members of the Crenshaw Church of Christ take notes during an in-depth Bible class surveying the Old Testament. After the class, the church treats seniors to a banquet at Marina del Rey. (PHOTO BY ERIK TRYGGESTAD)
It's part of a two-year study — that's right, a
two-year study
— through the Old Testament, highlighting how it relates to the New Testament.
Zilpah and Bilhah, Moore explains, were the two handmaidens of Leah and Rachel, the sisters who married Jacob and then competed to produce the most heirs. The result — 12 sons by four mothers, the tribes of Israel, listed in 1 Chronicles.
"As you read Chronicles, don't be dismayed by all the names," Moore says. The names tell stories — some of them sordid. But God uses those stories to accomplish his divine plan for mankind — redemption through the blood of his perfect Son.
"That's the good news about Christ," Moore says. "White, black, rich or poor, he puts everything back together."
"We started to love each other."
Moore strides among the tables as he de-mystifies the Old Testament for the seniors. His attire — a high school sweatshirt from 1992 and jogging shorts — isn't exactly Sunday best.
But it's not Sunday.
It's Saturday — 8:30 a.m.
Bible literacy and a lifelong love of learning are cornerstones of the 50-year-old Crenshaw church, which meets next to a busy intersection in south Los Angeles.
The 500-member congregation offers weekly, in-depth classes for seniors in addition to Bible studies on

Gerald Taylor teaches a young adult Bible class. He and his family travel more than 40 miles every Sunday to worship with the Crenshaw Church of Christ. (PHOTO BY ERIK TRYGESSTAD)Sunday mornings and Wednesday nights. The church has specialized ministries for men, married couples and youths. Its humble building constantly is abuzz with activity — even at a weekend hour when many Angelenos are still in bed.
"It's a spiritual joy for me to get up on Saturday morning and be around some beautiful brothers and sisters," says Thomas C. Webb, 70. "You know, the Old Testament can be a frightening thing," but the class' teacher, Rodney Elpheage, and Moore, who assists him, show through Scripture that "God is the same then as he is now."
'WE STARTED TO LOVE EACH OTHER'

Crenshaw Church of Christ (PHOTO BY ERIK TRYGGESTAD)At 7:30 the next morning, the church's auditorium — which bears the tell-tale irregularities of multiple expansions — fills with church members and guests.
Some come from the neighborhood, Leimert Park. Others come from far away, including Carla Dean, who leaves her home in Rancho Cucamonga, Calif., at 6:45 a.m. and drives 50 miles west for Sunday worship.  
"I've tried other churches," she says. "This is home." The ministers take biblical truth and "break it down into language I can not only understand but can use in my daily life. They get it."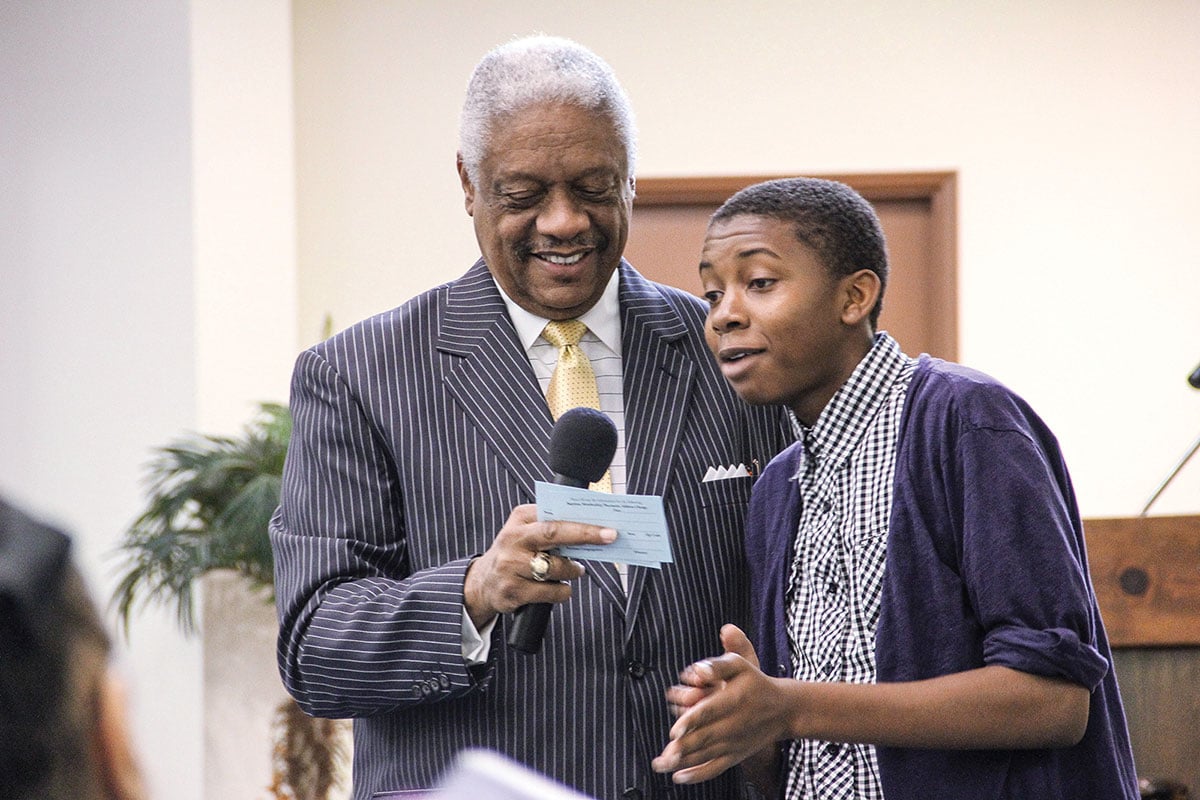 Billy C. Curl, minister and elder of the Crenshaw Church of Christ, takes a prayer request from Lemuel Johnson as Sunday morning worship concludes. (PHOTO BY ERIK TRYGGESTAD)As the Christians take their seats, Billy C. Curl circulates among the pews, shaking every hand. Gray-haired and soft-spoken, he knows everybody's name — and where most of their kids go to school and which of their relatives is in the hospital.
One of the church's two elders, Curl, 71, has served as lead evangelist for more than four decades.
Raised in Nacogdoches, Texas, with 11 siblings, he attended Southwestern Christian College, a historically black college associated with Churches of Christ.
Church members prepare the Lord's Supper for the church's second service. (PHOTO BY ERIK TRYGGESTAD)He's a trailblazer — albeit a reluctant one. In 1963, he and roommate Larry Bonner became the first black full-time undergraduates at Abilene Christian University in Texas. Curl applied to the then-all-white school at the suggestion of Southwestern's president, A.V. Isbell.
About the same time, church members in Los Angeles planted the Crenshaw congregation in Leimert Park. Its early members largely were Asian, Moore says, and the church's first elders were white. In 1965, racially charged riots ravaged the neighborhood of Watts, about 10 miles southeast of the church building. The whites and Asians began to leave.
Curl, meanwhile, was overseas breaking more racial barriers. For six years, he served alongside white missionaries in the African nation of Ethiopia.
"I wanted to know more about the church that sent white and black missionaries together." Eromo Kelbisow
KELBISOWEromo Kelbisow, an Ethiopian, met Curl in 1966.
"I wanted to know more about the church that sent white and black missionaries together," he says.
Baptized a year later, Kelbisow moved to Los Angeles and attends the Crenshaw church. Now he serves as a missionary to his home country, making trips and planting churches with support from Crenshaw.
"There's no hierarchy here" except Christ, he says of the Crenshaw church. "The people are very friendly, and the worship is very simple."
Since Curl began preaching for the church, its community has transformed into a hub of African-American culture, lined with jazz and blues clubs. The church now is predominantly black — and hurting for parking spaces.
Curl, who plans to retire soon, wants to see the congregation raise and spend more of its funds on education, missions and local outreach. But planning and programs can't replace the biblical focus and personal touch that he credits with filling the pews.  
"People ask, 'What did you do to grow?'" Curl says. His response: "We started to love each other."
That love engenders loyalty, even among Christians who work under the glaring lights of nearby Hollywood.

JOHNSONKendra C. Johnson, a Crenshaw member and part of the cast of the sitcom "Tyler Perry's Love Thy Neighbor," says she watches Sunday sermons through the Internet when she can't be there.
"There's nothing like Crenshaw," she says. "I've been around the country, but I always come back home."
'NO MORE WALLS!'
After minister of music Paul Berry leads the church in a chorus of "I Love to Praise His Holy Name" that nearly shakes the building's rafters, Moore steps to the pulpit. His sermon topic: zoning laws.
Los Angeles' complicated ordinances are a perfect example of the kind of "zoning" Christians practice in their daily lives, he says as he builds a physical wall in front of the church — using blocks labeled "Religious," "Spiritual," "Social" and "Moral."
Some Christians don't serve at church because they believe they "don't pass the social test," he says. Others wish only to associate with those who believe and worship exactly as they do.
"We have enough religion to hate one another," he says, "but not enough to love one another."
From the audience, one church member shouts, "Go on, Tyson!" Another yells, "No more walls!"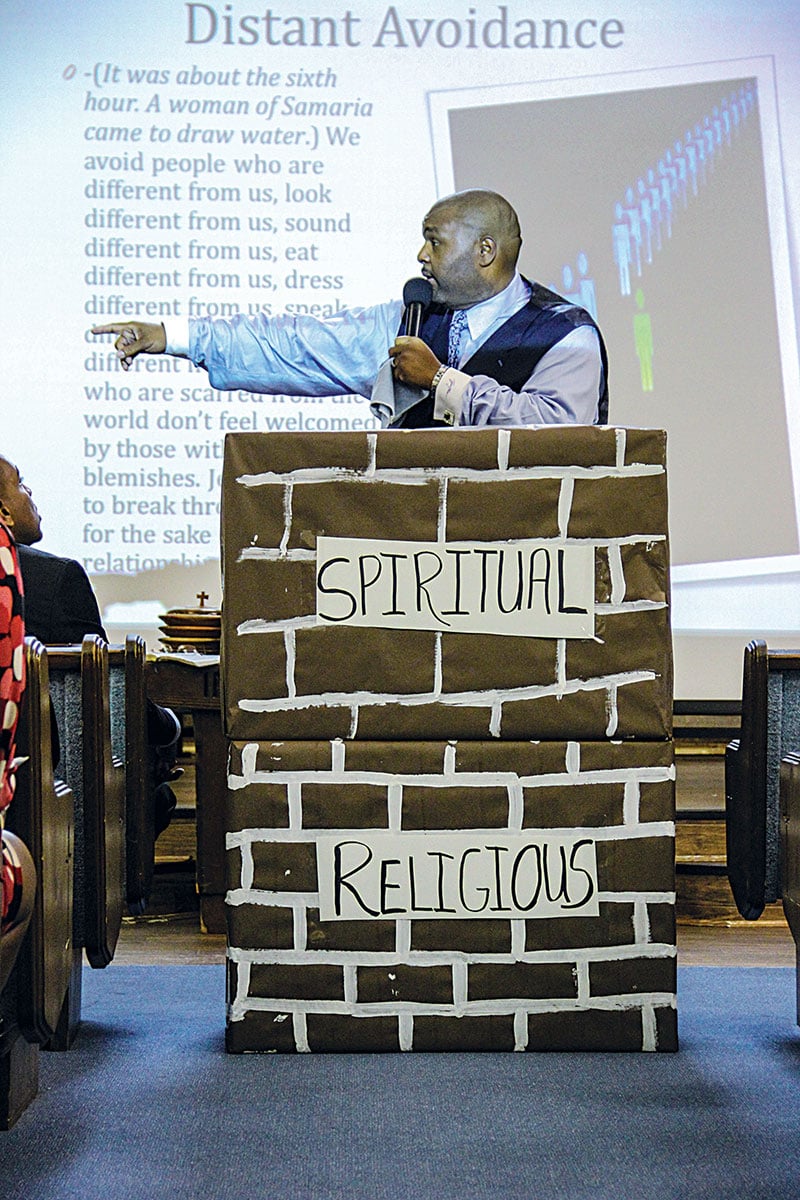 Tyson Moore builds a wall in front of the congregation as he preaches about the barriers that keep Christians from serving and interacting as they should. (PHOTO BY ERIK TRYGGESTAD)The barriers in Moore's sermon once kept Troy Andrews from serving Christ, the 24-year old says after he leads a closing prayer. Once a promising baseball player with a signing bonus from the Chicago White Sox, alcohol ruined his chances of major-league fame.
He found the Crenshaw church after viewing Moore in a YouTube video. He used to sit in the back of the building, thinking that his tattoos and taboos would keep him from finding acceptance here. Moore taught him otherwise, and the church's seniors treated him like a son.
Baptized March 11, 2012, he now stands at the front of the auditorium, arms raised as he praises God.
Moore, 39, grew up in Los Angeles and believes that "black men, especially in L.A., are an endangered species." Gang violence and incarceration have deprived children of fathers.
Moore credits his own faith to growing up in the church, "surrounded by strong men."
He wants the Crenshaw church to provide the same for a new generation. The church sponsors conferences and accountability groups for men and the STAR program, which rewards children who get good grades in math and science.
Personal relationships with mature Christians are vital, Moore says. That's one reason the congregation spends time and resources nurturing its seniors.
To show their appreciation, church members including Regina Bryant host activities for the seniors —
BRYANTincluding a recent banquet in the seaside community of Marina del Rey.
There, Berry performed a rousing rendition of Al Green's "Let's Stay Together," and Bryant moderated an "oldies music" trivia contest. Thomas Webb, the 70-year-old Bible class student, knew every answer.
Bryant says she will "shoulder tap, back push, arm twist, whatever it takes" to get church members involved in the ministry. Her service to seniors flows from the pattern of service she sees from her church's leaders — and from Christ's service to all mankind.
"I believe you do what you can while you can for who you can," she says, "because you don't know what tomorrow holds — or this afternoon, especially in L.A."
CRENSHAW CHURCH OF CHRIST
LOCATION:South Los Angeles, in the Leimert Park neighborhood.
MEMBERSHIP: About 500.
LEADERSHIP: Elders Billy C. Curl and Thomas Davis. Deacons Aaron Brumfield, Edward Charles, Victor King and Myron Perryman.
MINISTERS: Billy C. Curl and Tyson Moore.
MISSIONS: The church sponsors Hands Across the Sea Ethiopian Mission.
ONLINE: crenshawchurchofchrist.com
ABOUT THE SERIES
The Christian Chronicle launched Churches That Work in 2005. Churches That Work should be: Evangelistic, reaching the unchurched at home or abroad. Biblical, making Bible instruction central to their mission. United, possessing a spirit of internal vitality.  Visible, known and appreciated for service in their community. Read the series at www.christianchronicle.org.