Former Abilene, Texas, church kid wins another World Series (UPDATED)
Red Sox pitcher John Lackey earns the victory in the deciding Game 6 at Fenway Park.
---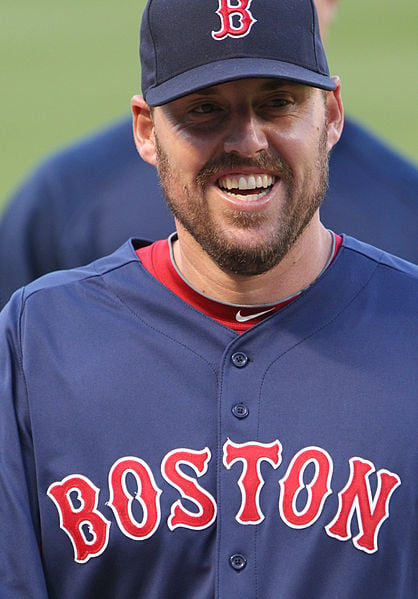 Boston Red Sox pitcher John Lackey (PHOTO BY KEITH ALLISON VIA WIKIMEDIA COMMONS)

Eleven years ago, The Christian Chronicle featured John Lackey on its front page after the rookie pitcher won Game 7 of the World Series for the Anaheim Angels.
The Chronicle connection: Lackey grew up in the Highland Church of Christ in Abilene, Texas.
Wednesday night, Lackey won another deciding game in the World Series. He pitched 6 2/3 innings of one-run ball and earned the victory for the Red Sox at Fenway Park. Boston took the best-of-seven series, 4-2, over the St. Louis Cardinals. (Somewhere, Terry Rush is crying.)
Lackey's parents, Derran and Sharon Lackey, were Highland members for 30 years before moving to the Dallas-Fort Worth area, where they still attend a Church of Christ, said Mike Cope, who preached at Highland for 18 years.
Cope, a Cardinals fan who serves as director of ministry outreach for Pepperdine University in Mailbu, Calif., found himself torn Wednesday night.
"What I was hoping is that John could go long and strong and pick up a win tonight with the Cardinals winning game 7 tomorrow," Cope said before the first pitch. "But now it's a problem. Since the Red Sox are my third-favorite team (behind the Cards and Rangers), I'm going to be pretty happy either way. It would be amazing if he could win another final game of the World Series, as he did in 2002."
Lackey did just that.
MORE BASEBALL STORIES
• Baseball fan's orange T-shirt is for the Birds
• Oh, Brothers!: For Rockies pitcher with 0.28 ERA, there's a higher calling
• Boys of summer: Josh Willingham's faith, character praised
• Brad Ziegler signs autographs with a favorite Scripture
• From the pulpit to the dugout
• For love of God, family and baseball
• Cecil Cooper adjusts to life out of baseball
• Play ball: Travels bring ballpark fun, fellowship
• Church member to make debut for Miami Marlins