Kind words about a crossword
---
We recently added a crossword puzzle to the pages of The Christian Chronicle. We love hearing the feedback from our readers. This particular letter really touched our hearts.
---
Thank you for adding the Bible-themed crossword  to The Christian Chronicle. 
I was delighted to arrive home from work yesterday to find the September 2019 issue on the counter. I opened it up and began to peruse the pages.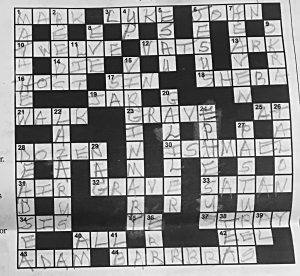 Several heartwarming stories caught my eye, but none matched the tears that welled up in my eyes when I turned to page 23 and viewed my 77-year-old mother's handwriting. 
Mom had apparently flipped through the newspaper before I arrived home and stumbled upon the crossword puzzle. Apparently, she had used her Bible and memory to complete the puzzle. I was amazed as it was filled out completely. 
This wouldn't be that unusual except that my mom suffers from Alzheimer's and stopped working the New York Times crosswords years ago because they "had just gotten too hard," she said.
Thank you for adding the crossword puzzle. To many it's probably just a puzzle, but to me, it was a moment that I got to see my mother enjoying a hobby that she had been unable to participate in for years.
Lorie Minor | Mobile, Ala.