Judge admonished for voicing concern on same-sex marriages
'I chose not to admit that I engaged in misconduct, but I agreed that they could find that my actions raised an appearance-of-fairness issue.'
---
Judicial authorities in the Pacific Northwest state of Washington formally admonished Gary Tabor — a superior court judge and Church of Christ elder — for voicing his preference not to perform same-sex marriages.

The recent official warning by the Washington Commission on Judicial Conduct came on the heels of that state's voters legalizing gay and lesbian nuptials.
After complaints were filed, Tabor voluntarily stopped officiating all marriages.
"It's concerning to see public officials face disciplinary action for their religious belief in traditional marriage," said Lori Windham, senior counsel with the Becket Fund for Religious Liberty in Washington, D.C.
The order issued by Washington state judicial authorities concerning Judge Gary Tabor, a Church of Christ elder.
"In this case, the judge had an option — he was able to stop performing marriages rather than choose between his beliefs and his job," added Windham, who was not involved in Tabor's case. "It wasn't so easy for justices of the peace in Massachusetts and other states, who had to resign rather than officiate same-sex weddings."
In the November 2012 general election, Washington state
voters passed
the same-sex marriage referendum. The measure received 1,659,915 "yes" votes (53.7 percent) to 1,431,285 "no" votes (46.3 percent).
In a private meeting after the election, Tabor quietly informed fellow Thurston County judges and court staff that he felt "uncomfortable" presiding over same-sex marriages, court records show. Tabor asked colleagues who did not share his objections if they could officiate in his place.
When an unidentified source leaked Tabor's concern to the media, the story made statewide headlines.
"This was never really about publicizing what my beliefs were," Tabor, 67, an elder of the
Olympia Church of Christ
since 1994, told
The Christian Chronicle.
"It was simply about me not wishing to perform same-sex marriages."
"This was never really about publicizing what my beliefs were. It was simply about me not wishing to perform same-sex marriages."Judge Gary Tabor
However, the publicity over Tabor's stance resulted in complaints to state judicial authorities, who launched an investigation.
According to the judicial commission's official report, Tabor "reasoned that since judges are not required, but are only permitted, to perform marriages, he believed he was within his rights to personally decline to perform same-sex marriages as long as those seeking to have their marriages solemnized had access to another judge without delay."
However, the judicial authorities determined that by expressing his concerns, Tabor "appeared to express a discriminatory intent against a statutorily protected class of people, thereby undermining public confidence in his impartiality."
At the same time, the investigation showed that Tabor "has a reputation for being a fair and impartial jurist, and one who is hard-working and well-informed in law," according to the report.
"I chose not to admit that I engaged in misconduct," Tabor told the Chronicle, "but I agreed that they could find that my actions raised an appearance-of-fairness issue."
Of the admonishment, he said, "It still allows me to stand on my principles. I don't hold any animosity. I'd like to just put it behind me."
RELIGIOUS LIBERTY VS. GAY RIGHTS?

Mark Johnson, the Olympia church's preaching minister, describes Tabor as a dedicated Christian and public servant of strong character.
"He's always around the church helping with anything he can," Johnson said. "He's looked to for advice in a lot of different areas, not just in legal areas but in spiritual areas. He's a trouper, and he relates well to people."
Washington state's marriage law exempts ministers, rabbis, imams and other clergy from having to perform same-sex weddings,
according to
the
Seattle Times.
As more states permit gay couples to marry or form civil unions, however, wedding professionals in at least six states have run headlong into state antidiscrimination laws after refusing for religious reasons to bake cakes, arrange flowers or perform other services for same-sex couples, the Wall Street Journal reported.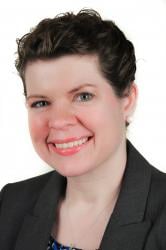 Lori WindhamLegal fights have been waged in Colorado, Illinois, New Mexico, New York, Oregon and Washington state, and some experts think the underlying question — whether free speech and religious rights should allow exceptions to state antidiscrimination law — could ultimately wind its way to the U.S. Supreme Court, the Journal said.
"In states that don't recognize same-sex marriage or civil unions, this is less likely to be a problem," Windham told the Chronicle. "But in states where there are same-sex unions, then some Christian business owners might be at risk.
"This is a developing area of law, so it's too early to tell how these cases are going to turn out," added Windham, a member of the Fairfax Church of Christ in Virginia and a graduate of Abilene Christian University in Texas. "I am hopeful that courts and state legislatures will strike a balance between marriage laws and religious freedom."
REQUIRED TO FOLLOW THE LAW

A 1968 graduate of Oklahoma Christian University, Tabor was first elected as a superior court judge in 1996 — after 19 years as a deputy prosecuting attorney.
Along with Thurston County's other seven judges, he had been on a rotation to perform marriages every eight weeks.
Tabor said he understands completely that a judge must enforce the law.
He noted that he regularly instructs juries that they must decide cases based on the evidence presented and follow the law even if they disagree with it.
"That's just our system," Tabor said. "So if an issue arose that came before me as a judge on this law, I would be required to follow it as it exists, and it would not be a personal statement by me."