Island living: Sharing the Gospel in American Samoa
---
Ili'ili, American Samoa —
 Trade winds pound the surf against the rusting wreckage of a decades-old fishing boat in this sultry, South Pacific paradise.
The remains of a Korean fishing boat, shipwrecked in the 1970s, sits near the mouth of Faga'itua Bay. (PHOTO BY ERIK TRYGGESTAD)
Nearby, a simple Samoan village sits off a paved road that winds between palmed-line beaches and lush, green mountains. At its center rises the majestic dome of a fale tele — a round, open-air meeting house where the community's elders share stories, songs and dances passed from generation to generation.
A few turns down the road, a sign reads "United States Postal Service." Not far away is a McDonald's — and a stadium for high school football games.
This is, after all, American Samoa, an unincorporated U.S. territory of about 55,000 souls. Nearly 2,500 miles from Hawaii and 4,800 miles from Los Angeles, it is the southernmost U.S. soil — and the nation's only territory south of the equator.
Like many Polynesian locales — including its western neighbor, the independent nation of Samoa — American Samoa is heavily Christianized. Church is a family affair. Nearly everyone goes — women in colorful puletasi dresses and men in sandals, wraparounds with pockets known as ie faitagas and floral print shirts. Only Mormon men, it seems, opt for button-down long sleeves and ties.

Related: How to travel backward through time
Joseph Sialulaiga, 18, leads hymns in Samoan during Sunday worship at the Lupelele Church of Christ.Among the plethora of faith groups on the island meet four Churches of Christ with a combined membership of about 250. Recently, church members and a few visitors gathered for the annual South Pacific Lectures, hosted by the Lupelele Church of Christ in the village of Ili'ili, to hear sermons on the theme "You Matter to God."
In a culture where church attendance is a custom, Churches of Christ "strive to instill the idea that we are Christians every day — not just on Sunday," said David Willis, an elder of the Lupelele congregation. Twelve years ago he and his wife, Danna, moved here for what they thought would be a four- or five-year mission to serve the church and foster local leadership.
"American Samoa went from being a mission field to being our home," David Willis said. "We have fallen in love with the people and the islands."
They serve a multinational mix of believers, including James Aho, a native of Tonga who works in construction and struggled with alcohol before he encountered Robert Martin, a missionary from Churches of Christ, and was baptized in the 1980s.
More recently, in January 2015, Karen Dizon and her family were baptized. A native of the Philippines, Dizon taught the Willis' youngest son, Dylan, at a private school on the island launched by members of Churches of Christ.
"I like the way they treated the people," Dizon said of her first Sunday worship with the Lupelele church.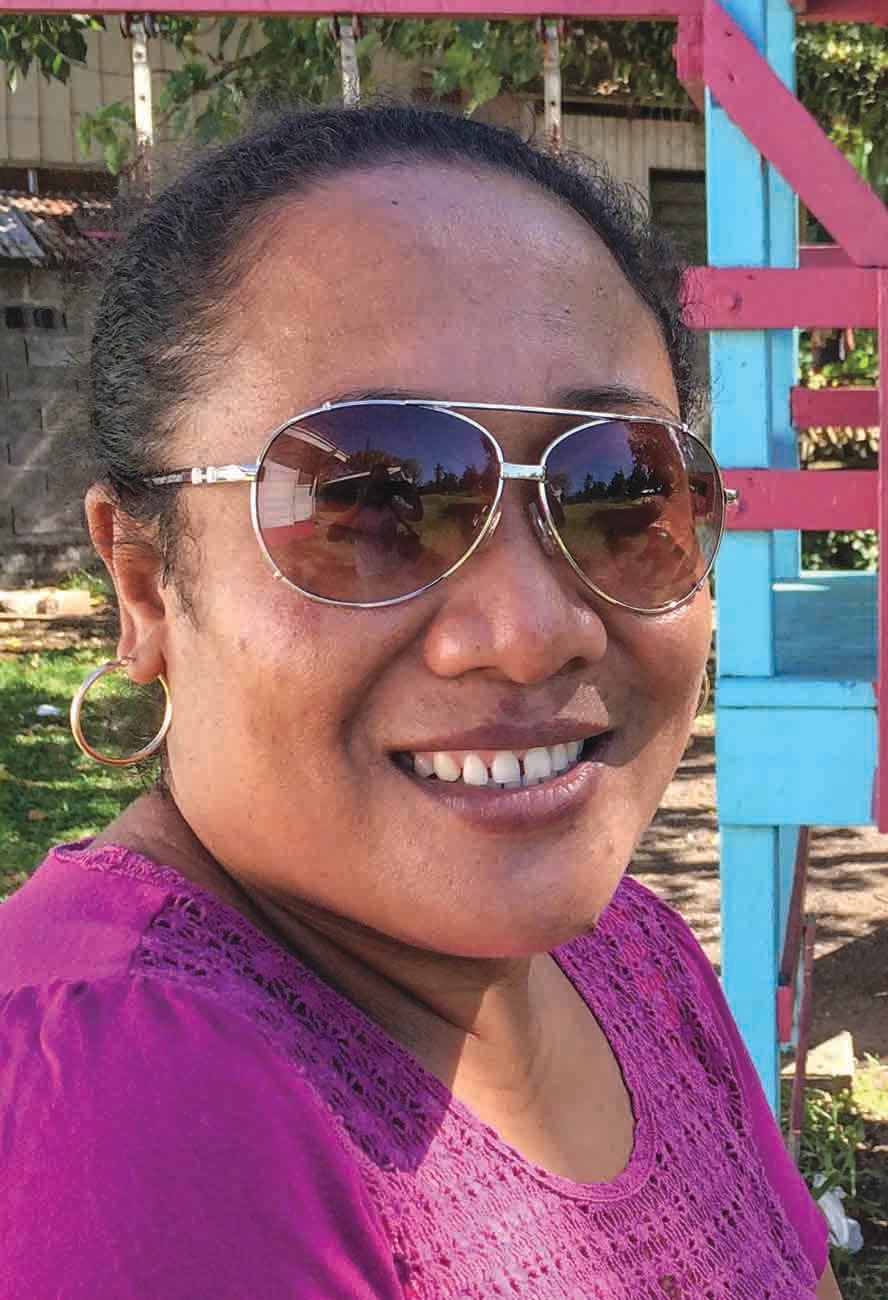 Suria JacksonSuria Jackson came from neighboring Samoa and was baptized in 2008. Lupelele members know their Bible and can give reasons for their faith, she said. That appeals to her.
And, as a mother of three, "I want my children to go in the right path," she said.
Reaching young people with the Gospel is important, said Luaao Soli Jr., youth minister for another congregation, the Nu'uuli Church of Christ. After high school, many leave the island for college or military service. Those that stay struggle to find jobs. Alcohol, gangs and sex are temptations.
Each year, Churches of Christ host a weeklong Camp Alofa (the Samoan word for love) that energizes the youths and often results in baptisms, Soli said. This summer four members of the Twin City Church of Christ in Festus, Mo., traveled to American Samoa to help conduct the camp. The church's minister, Patrick Adam, is a Samoan native.
Steve Ringling, on his fifth visit to American Samoa, said, "I see the smiles and the laughter, but I also feel the struggles and pain in dealing with everyday life on the island. …
"This year we feel as though we got a lot closer to the teens by placing ourselves closer to their families, their culture and their everyday lives."
The team — Ringling, his daughters Izze and Grace and Jordan Nichols — arrived a week before camp to spend time with the youths at their homes.
Grace Ringling visits children outside the meeting place of the Nu'uuli Church of Christ. (PHOTO BY ERIK TRYGGESTAD)
"I love how much they smile and laugh," said Izze Ringling, a college freshman on her first trip to the island. Seeing their simple homes was humbling, she added. As she worked with the teens, she hoped to "show them God's love — and what it means to love other people."

Missionaries and visitors come and go, said Tia Misa, another elder of the Lupelele church and a native of Samoa. He hopes that the visits inspire native believers to take leadership roles in Churches of Christ.
Tia MisaIn a place where everyone, it seems, goes to church, Christians must be able to speak about their faith with clarity and authority as they engage their communities, Misa said.
When they hear the Gospel proclaimed — compared to what they hear every Sunday — the people of American Samoa "will find something unique in the teaching of Christ," Misa said, "rather than the teaching of men."
related article: Reaching the lost in the home of their youth