Iowa church refuses to die
156-year-old congregation epitomizes the challenges faced by many small, rural Churches of Christ.
---
MONTEZUMA, Iowa
— Snow coats the ground as Pauline Ell arrives for Sunday worship on her 89th birthday.
A bitter wind brushes Ell's curly hair as she steps out of her daughter's car and into the little white church building where she has worshiped her entire life.
Corn and soybean fields and a cemetery where generations of deceased members rest in peace surround the West Liberty Church of Christ.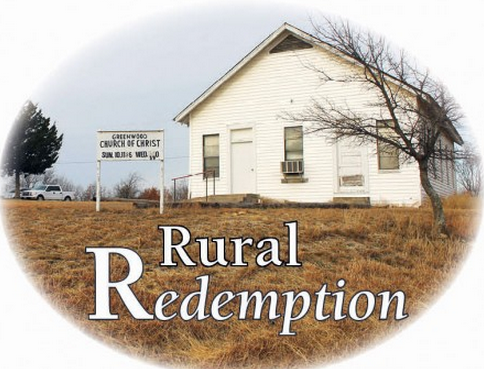 FIRST IN A SERIES
The 156-year-old farm church traces its roots to 1857 when settlers began meeting in a log house. Later, the congregation assembled in a renovated barn. In 1867, the church building that still stands was erected. The cost: $1,200.
For Ell, this Lord's house where she grew up warming her hands by a wood-burning stove holds a lifetime of memories.
As a young girl, she often rode to services in a horse-drawn sleigh.
"My dad would put straw in there, and we'd get down in the straw and cover up with a quilt," she said. "Sometimes, the drifts would be so bad the horses couldn't even get through. So my dad would put two, three, four shovels in the sled, and we'd all get out and shovel snow ahead of the horses so they could go."
Second from left, Pauline Ell, now 89, is shown in her younger years with fellow church members. (PHOTO PROVIDED BY WEST LIBERTY CHURCH)
In 1880, West Liberty's membership roll listed 229 names. In 1933, a gospel meeting yielded 30 baptisms and 10 restorations. In the 1960s, annual Vacation Bible Schools drew truckloads of children from miles and miles away.
But in more recent times, the Iowa congregation — like many small, rural Churches of Christ across the nation — has struggled to survive.
A year ago, down to six members, the church seven miles west of the town of Montezuma nearly closed."The finances were dwindling quite rapidly," said treasurer Rodney Playle, 66, a longtime member whose family started attending the church when he was 8.
KEEPING CHURCHES FROM CLOSING
Long stretches of highway separate Iowa's 64 Churches of Christ, which boast fewer than 2,900 total members, according to the 2012 edition of Churches of Christ in the United States. 
Fifty-eight of Iowa's 99 counties have no Church of Christ, according to the national directory published by 21st Century Christian.
About 27 percent of the Hawkeye State's 3.1 million residents live in a county with no Church of Christ. Only Minnesota, North Dakota and South Dakota have higher percentages of such residents.
For the past 14 years, Central Iowa Missions — a ministry overseen by the 150-member Grandview Church of Christ in Des Moines — has worked to bolster Iowa churches.
Signs for the West Liberty church and the public cemetery that surrounds the building greet visitors to the 156-year-old congregation, about an hour east of Des Moines, Iowa. (PHOTO BY BOBBY ROSS JR.)
"Something had to be done," said Art Wallis, the full-time missions evangelist who directs Central Iowa Missions. "Churches were closing their doors."
Through a 13-week Sunday morning course, Wallis teaches basic preaching skills to men of the Grandview church.
Those who complete the course join a roster of trained preachers available to fill pulpits — usually on a temporary basis — within a two-hour drive of the state capital.
"We try to go out and help," Wallis said. "It's easier to keep churches going than it is to let them die and then try to go back later and start from nothing."
'TOO STUBBORN TO GIVE UP'
The West Liberty church's native timber roof needed replacing. The upstairs rest room lacked hot water. The basement flooded when it rained.
Besides maintenance issues, the dwindling congregation had no regular preacher.
Still, the church refused to give up, members said.
"We're too stubborn to do anything else," Playle said. "We're bullheaded."
But without a minister, the mostly older members saw little way to keep going, they said.
In a last-ditch effort to keep the church alive, Playle placed an advertisement last year seeking a self-supporting minister.
Wallis saw the ad, which detailed West Liberty's situation, and told Grandview member Tom Collier about it.
Collier — one of Central Iowa Missions' regular fill-in preachers — had spoken at West Liberty a few times.
The possibility that a church with such a rich history might close shocked Collier."It just kind of stirred me," he said. "I thought, 'Are we, as Churches of Christ in Iowa, just going to let our weaker congregations fold?'"
In March 2012, Collier — who works full time as a Wells Fargo analyst — accepted the challenge of becoming West Liberty's part-time preacher.
He and his wife, Dianne, make the two-hour round trip from their Des Moines home each Sunday. In addition, they lead a Wednesday night Bible study and attend other church events, such as West Liberty's monthly Friday night singing.
"Tom decided he wasn't going to let it close on his watch," said Matt Glawe, minister for the Ogden Church of Christ, a 50-member Iowa congregation planted in 2001.
The Odgen church committed $300 a month to help with Collier's ministry.
"If that one is gone, it's a pretty great distance to the next Church of Christ," said Glawe, a vocational minister whose family operates an auto body shop and a farm services business. "Just too many have closed, and anything we can do to keep them open, we're willing to do."
Minister Tom Collier, seated on the front row, sings with other members of the West Liberty Church of Christ during a Sunday morning assembly. (PHOTO BY BOBBY ROSS JR.)
SPECIAL PLACE IN HER HEART
On this frosty Sunday, 15 souls occupy the seven rows of pews in West Liberty's wood-paneled auditorium — more than double the typical attendance a year ago.
Butch and Anita Gilbert, Ell's son-in-law and daughter, join her on the second row. The Gilberts hold worn maroon hymnals as the congregation sings "Leaning on the Everlasting Arms" and "Faith is the Victory."
Anita Gilbert, 53, grew up at West Liberty but — like many of her generation — moved away.
Children pose by the church sign in 1967, the building's 100th anniversary. (PHOTO PROVIDED BY WEST LIBERTY CHURCH)
"I didn't want to work in a factory. I didn't want to work for less than minimum wage in a small store. I didn't want to farm," said Gilbert, who was visiting her mother. "That's really all there is."
But the West Liberty church maintains a special place in her heart, Anita Gilbert said.
She and her husband, who attend the
Center Point Road Church of Christ
in Marion, Iowa, northeast of Cedar Rapids, donated $20,000 to help with the needed repairs.
Other concerned Christians contributed roughly $10,000.
Even a few area residents who do not attend the church but see it as an important community landmark gave funds.
"It's not just the bodies in the pews right now," Anita Gilbert said of West Liberty's legacy. "It's the people that have passed through here … and are continuing to do work for the church around the world."
RESTORING A CONGREGATION'S HEARTBEAT
When Collier arrived, he found a congregation of dedicated Christians who had settled into a not-so-exciting routine, he said.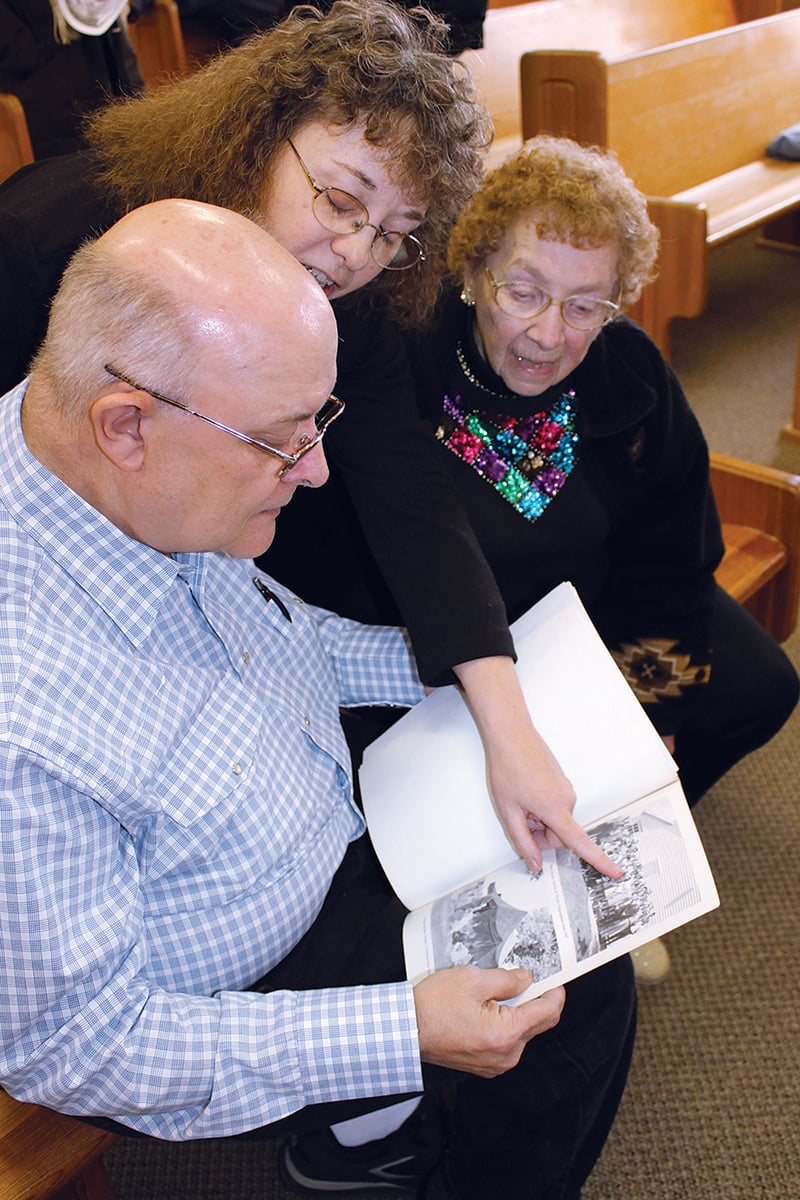 Rodney Playle, Anita Gilbert and Pauline Ell look at old photos in a 1967 church history. (PHOTO BY BOBBY ROSS JR.)"This was how they were going to finish their days, six or seven of them, trying to sing their songs, maybe closing their doors," he said. "But what I wanted … was to breathe some new life and get a heartbeat again."
Building renovations, development of West Liberty's first-ever website and intentional efforts to connect with the community have helped rejuvenate the church, Collier said.
Knocking doors in nearby towns, Tom and Dianne Collier have discovered that nearly everybody is familiar with the little white church.
"They say, 'My dad got married there' or 'My grandfather's buried there,'" Tom Collier said.
Other residents remember attending VBS at the church.
"There's a plethora of people that were taught by these folks when they were kids," Dianne Collier said. "So what I'm hoping is that those seeds that were planted will eventually come back to fruition."
FUTURE IN GOD'S HANDS
About 30 West Liberty members have died in the last 20 years.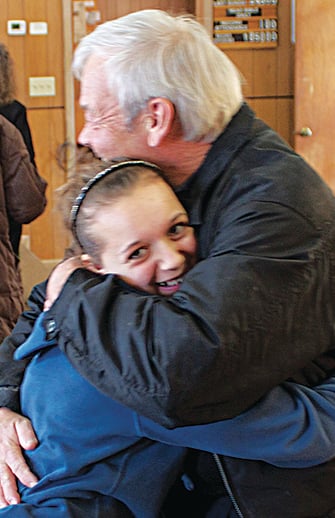 Krista Fatzinger, granddaughter of member Norma Jean Farrington, hugs Butch Gilbert. (PHOTO BY BOBBY ROSS JR.)Just one person in the pews on this Sunday is younger than 50. Thirteen-year-old Krista Fatzinger is the granddaughter of longtime member Norma Jean Farrington, 81.
A recent baptism and the addition of a few new members who had been driving elsewhere give old-timers reason for hope.
"We won't give up," said Bruce Guyer, 65, who grew up at West Liberty.
"Nope," agreed Ell, who has lived on the same 99-acre farm for 62 years.
"We want to teach the Gospel," added Playle.
Still, the congregation's long-term survival remains far from certain.
"It's going to be up to God," Tom Collier said. "He's going to have to give the increase."
Feedback

I have been working with Tom for over a year now, first introduced to him when he needed a website to let the people in the area around this church know that the Congregation on the Field of Graves was still alive and inviting them back to worship. It is an important work, and one that the large and small strong congregations need to be more involved in. I just know that the members of this little country congregation will grow, because of the work of Tom and Diane Colliers, and thier insistance that this family of the Lord will not die.

John Murphy

Manassas Church of Christ

Dumfries, Virginia
US

March, 9 2013

Thank God For people like the Collier's.
Our preacher is David and Betty Collier any kin?
Such and encouraging story when we live in beautiful
Texas weather and many do not come to worship. Snow Coats the ground (in Montezuma, Iowa) as Pauline Ell arrives for Sunday Worship on her 89th Birthday.

Loretta

Trinity Church Of Christ

Trinity, Texas 75862
USA

March, 9 2013

I have been preaching and planting churches for about 40 yrs. I would be happy to help any small church by putting on a Saturday, outreach seminar. It would be free to them. It is practical evangelism for all ages. It will show why we are not reaching the lost and how we can easily and cheaply.
Becaause of Christ,
Pete Nuthak 573-620-3594

Pete Nuthak

Shady Acers C of C

Sikeston, MO
USA

March, 8 2013

This was a sobering and heartwarming story. So much legacy, so many stories. I shall be praying that all the churches shine bright in Iowa.

Doug Hamilton

Camp Hill Church of Christ

Camp Hill, PA
US

March, 8 2013

Awesome and inspiring story. The Colliers and the rest of the congregation will be blessed as they unite together with God to do his work. A follow up story in 9 months would be uplifting.

Matthew Ezell

Rose Street church of Christ

Anchorage, Alaska
Anchorage

March, 7 2013

Your series on rural churches will provide encouragement and inspiration for our small rural congregation here in Woodville, AL. In this age of mega-churches, thanks for not forgetting those of us who carry on the Lord's work to the best of our ability in a small way.

Wes Dawson

Woodville Church of Christ

Woodville, Alabama
USA

March, 6 2013