In the South Pacific, a new zeal for Christ
A bible college designed to produce preachers for New Zealand reaches out to Asia's burgeoning faith.
---
TAURANGA, New Zealand —
Far below the equator, the
South Pacific Bible College
serves its students hermeneutics and homiletics — classes on interpreting and preaching from the Bible — with a double portion of cultural stew.
On a cold, rainy day in late winter (that's September in New Zealand), principal Steve Raine asked his class to look at 12 passages and note how God reveals himself to mankind in each.
Principal Steve Raine teaches a course on the New Testament. (PHOTO BY ERIK TRYGGESTAD)

The students — from Australia, Fiji, Tonga, Thailand and China, to name just a few — huddled on couches and around tables, poring over the Scriptures, discussing a burning bush and other, more subtle revelations of the divine. Some have been Christians for two years, others for 20.
Their responses were "the most varied of any class I've had before," said Raine, who has taught at the college for two decades. That variety reflects the changing nature of Churches of Christ in the East.
South Pacific Bible College
LOCATION: Tauranga, a harbor city in the Bay of Plenty region of New Zealand's North Island.
FOUNDED: 1982, with support from churches including the Otumoetai Church of Christ in Tauranga and the Lakewood Church of Christ in Denver. Currently the High Pointe Church of Christ in McKinney, Texas, sponsors the college.
PROGRAMS: A two-year Diploma of Advanced Biblical Studies and a one-year, post-graduate Diploma of Christian Ministry.
GRADUATES: 190 to date, representing 20 countries. Additional students study part time.
FACULTY/STAFF: Lecturers include Steve Raine, principal; Mike Austin, CFO; David Nelson, dean of academics; and John Atchley, compliance officer. Ministers from abroad and professors from Christian universities in the U.S. teach courses regularly. The college has four part-time support staffers.
MISSION: "South Pacific Bible College exists to transform lives through the inspiration of God's Word to multiply Christ-followers in the world."
As growth has slowed among churches in New Zealand and Australia, reflecting similar trends in Western nations, Asia's churches are burgeoning. About 350 million people in Asia call themselves Christians, the Pew Research Center estimates. That number could rise to 460 million by 2025.
Churches of Christ grew rapidly in New Zealand in the 1970s, but many potential leaders sought ministry training in the U.S. and never returned. To stem the brain drain, the Otumoetai Church of Christ in Tauranga, a coastal city on the country's North Island, launched the college in 1982.
Soon young Christians from Fiji joined their kiwi counterparts, and in the college's second decade souls came from other South Pacific islands. In recent years the college has attracted students from Southeast Asia.
"The benefits for the region," Raine said, "are that you have indigenous people trained to help lead the church."
In Papua New Guinea, for example, graduates of the college "are contributing tremendously to the work of the Lord," said Wesley Wosse, a minister in the city of Lae. In addition to ministering for Churches of Christ, graduates assist in preparing future generations of indigenous leaders. One graduate, Jab Mesa, serves as president of Melanesian Bible College in Lae.
Other graduates of South Pacific Bible College have evangelized and planted churches in New Zealand, Fiji, Thailand, Switzerland, the U.S. and Chile.
The college offers a two-year Diploma of Advanced Biblical Studies and a one-year, post-grad Diploma in Christian Ministry. In addition to coursework, students get hands-on experience interning with kiwi congregations.
"The students often say that they're learning as much from the interaction with the local churches here as they do in the classroom," Raine said.
Though diverse, the most recent crop of students was the first in its history with no kiwis at all, the principal said. Two students came from China. Cecilia Wu is one of them.
SHANGHAI SALVATION: Cecilia Wu planned to earn a degree in Bible — when she retired. First she needed to make money, she said.
Then a friend in Shanghai, China, where Wu grew up, told her that "if I have a chance to change my life, just do it immediately. Don't wait."
Wu enrolled at South Pacific Bible College. "Academically, it's more challenging than I expected," she said. "I never received any systematic Bible education ever. I didn't know there are so many things I didn't know." "I always thought there was a creator of the world, but I grew up in an environment that had lots of gods," Wu said. Then a friend in her native Shanghai invited her to church. Now Wu, the first Christian in her family, studies the Bible and fellowships with Christians from a wide variety of backgrounds.
The students reflect demographics in cities throughout the region, said David Payne, an evangelist for the Belmore Road Church of Christ in Melbourne, Australia, who has taught courses at the college for the past 10 years.
"God has positioned SPBC to become one of the most diverse biblical training schools on the planet because we live in one of the most diverse regions of the planet," Payne said. In a rapidly changing world, the college "is successfully training a new generation of workers that are equipped to function amongst the diversity of the region."
Local Christians support the work, with the goal of making it self-sustaining, said Edwin "Sandy" Detherage, a member of the High Pointe Church of Christ in McKinney, Texas, which sponsors the college. But an increasing number of potential students come from poor economies and need assistance, he added.
"While churches in Australia, New Zealand and, for that matter, the U.S.A., may be declining," Detherage said, "a robust, multicultural, enthusiastic student body brings a new interest and zeal to Christianity.
"Perhaps God knew that our comforts have spoiled us — and that we need the new spark as much as they need the academic rigors of Bible study."
Mink Gough and fellow students compare notes during a break. (PHOTO BY ERIK TRYGGESTAD)
Mink Gough, a recent graduate from Bangkok, Thailand, described her two years at the college as eye-opening.
"It's been challenging," she said of the experience. "But it has helped me to understand the Bible better in terms of context. We misunderstand a lot of the Scriptures, and we use them for our own advantage. That's the biggest thing I've learned about the Bible."

Jennifer Saavedra JENNIFER SAAVEDRA
Davao, Philippines
"Can you invite me to your church? I want to know your God."
Saavedra asked that question of one of her friends when she was a teenager. Thus began her Christian walk.
A member of the Matina Church of Christ in the Philippines, she finds the college to be academically rigorous. But it also exposes her to different cultures and perspectives on her faith, she said. She hopes to serve as a missionary after graduation.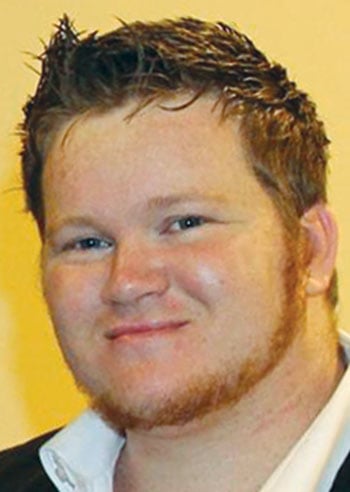 Joel Gough JOEL GOUGH

Canberra, Australia
"I always believed in God," said Gough, though he grew up surrounded by violence and drugs.
Searching for truth, he found a 10-member Church of Christ that "didn't condemn me even though I'd come to church hung over."
Now clean and sober, he enrolled at the college and will serve as an evangelist for the Canberra Church of Christ after graduation. He recently married one of his classmates, Mink.
Bonnie Chen BONNIE CHEN



Guangdong, China
"I was baptized two years ago, but I don't know most of the Bible," said Chen, a native of China's Guangdong province who moved to Auckland, New Zealand, and was introduced to the Gospel by the Morningside Church of Christ.
She came to the college to increase her understanding of Scripture.
Churches are small and hard to find in her homeland, she said, so she hopes to help them however she can.
Chan Ho Jung Chan Ho Jung

Seoul, South Korea
"I've been a Christian for more than 20 years, but I feel I am just a Sunday church-goer," said Jung.
Born in South Korea, his family moved to New Zealand and continues to search for a church home. Chan enrolled in the college because "I want to know more, and then I want to grow my faith," he said. He particularly likes his Greek classes. When asked what he wants to do with his degree, he said, "It really doesn't matter. Just purely, I want to learn the Bible."
Ofa None OFA NONE

Nuku'alofa, Tonga
"I thought only good people could pray," said None, who grew up in Tonga, an island nation where many profess Christ but don't follow him.
Though a preacher's daughter, None spent time drinking with friends and felt far from God. Now she prays regularly as she studies at the college.
She hopes to serve as a youth leader with her church. She reaches out to her friends, and some have expressed a newfound interest in faith, she said.
Bobby Whippy BOBBY WHIPPY

Savusavu, Fiji
"In Fiji, everyone claims to be a Christian," said Whippy, whose father ministers for a small Church of Christ in the South Pacific nation. But few people live as if redeemed by Christ's blood, he added. Whippy came to the college to improve his Bible knowledge and plans to return to Fiji as a church-planting evangelist.
In Fiji, "people are very receptive to studying the Bible," he said. "I'm going back with my family to spread the Word."
RELATED COVERAGE: