In Tennessee, prayers and questions of why
After shootings claim lives of five U.S. servicemen, church members in Chattanooga pray for the families of the victims ­— and the shooter.
---
CHATTANOOGA, Tenn. —
Three days after a shooting rampage in this Southern city left five U.S. servicemen dead, Churches of Christ offered prayers of compassion for the families of the victims and the shooter — a young man known to several church members here.
"I'll be honest with you, this has been a very difficult week for me," said Mark Beckham, an elder of the Red Bank Church of Christ, just north of downtown Chattanooga. "I remember what happened on 9/11 and how we got together that night and had a devotional here at the building, because we were hurting so much. But that was in New York City."
During a Sunday morning prayer service, Beckham was tasked with praying for the family of the shooter, 24-year-old Mohammad Youssef Abdulazeez.
"He was a student of our school system," Beckham said. "This is close to home. And there are so many questions of why."
The
Red Bank church
is less than a mile and a half from Red Bank High School, where Abdulazeez graduated in 2008. Jeff Reese, a 25-year-old missionary in the Dominican Republic with
Manna Global Ministries
, went to middle school with Abdulazeez and graduated in the same class. They had 11th-grade English together.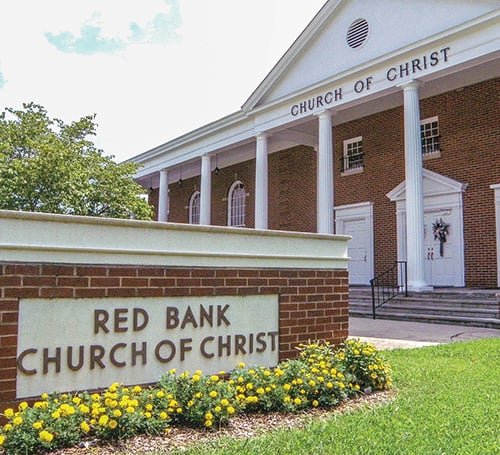 A few members of the Red Bank Church of Christ in Chattanooga knew Mohammad Abdulazeez when he attended the high school near the church's building. (PHOTO BY TED PARKS)
Reese remembered that Abdulazeez would usually leave class early on Fridays so that his dad could pick him up for Muslim prayer service. 
"I thought that was very neat to see the discipline that they had in practicing their beliefs," Reese said, adding that he "never thought anything of that … at the time."
Reese's mother, Jill, taught math at Red Bank High and recalled having Abdulazeez's sister in class. Both children were "very respectful, very friendly," Jill Reese said. 
"I can just see the smile on his face," she said of Mohammad Abdulazeez.
As he watched coverage of the shootings in his hometown, Jeff Reese said, "My immediate thought was, 'man, what changed?'"
SHOWING LOVE TO FRIENDS AND FOES
Other prayers during the Red Bank church's Sunday service expressed gratitude for first responders to the attacks and those who serve in the armed forces, including the four Marines and one sailor killed in the attacks. A Marine recruiter and Chattanooga police officer also were wounded.
Hope Mayberry and Jill, Allison and Jeff Reese sing during a special prayer service during the Sunday Bible class hour at the Red Bank Church of Christ in Chattanooga. (PHOTO BY TED PARKS)
Addressing their Creator, Tommy Stone, one of the church's ministers, prayed, "We just thank you so much that there are folks who are willing to go toward the dangers and to stand ready to protect."
The service was "extremely helpful and emotional," church member Becky McCormick said. "It was powerful to remind us that God is the one in charge and the enemy is somebody to be loved and prayed for."
In worship following the prayer service, Steve Lusk, who shares preaching duties with Stone, read from 1 Corinthians 13, in which the apostle Paul states that love "always protects, always trusts, always hopes, always perseveres."
Often referred to as "the love chapter," it was on the schedule for the service weeks before the shootings as part of a congregation reading plan. 
Lusk examined the chapter's place amid the problems in Corinth but did not shy away from its special meaning at Red Bank.
"I want us to not allow our fear to cause us to characterize people — from different cultures or different races — as dangerous or threatening simply because we may not understand them, or may not know them," Lusk told the congregation. 
Steve Lusk, a minister for the Red Bank Church of Christ, speaks about the apostle Paul's words of love in 1 Corinthians 13. (PHOTO BY TED PARKS)
"When we see our co-workers, our friends at school, our neighbors, … whose faith is being practiced in a way different from ours, let us not assume the worst. But let us love them, and let us strive to understand them, for in so doing is the only way that we can ever hope to reach them with the gospel of Jesus Christ."
Lusk also listed ways Christians could respond concretely to the tragedy: help the victims, including the families of those who died. And deepen respect for police officials, emergency medical personnel and members of the military. 
SERVING A CITY 'TURNED UPSIDE DOWN'
Emotions are still raw in Chattanooga, where hundreds visited impromptu memorials at the two shooting scenes, some standing or sitting in silence before the small American flags placed just beyond police tape. 
Churches of Christ across the city echoed the compassion voiced by the Red Bank congregation. John Robertson, an elder of the East Brainerd Church of Christ, thought about the fallen servicemen, their families in other places, and their friends in Chattanooga.
"A lot of this city is hurting, some much deeper than others," said Robertson, a former Marine. Among those hurting are military families, Chattanooga's Muslim community and Abdulazeez's family.
The tragedy "has turned their world completely upside down," Robertson said. "The whole city is turned upside down."
In Chattanooga's Clear Creek community, 10 minutes from the Abdulazeez family's home, the Clear Creek Church of Christ had counselors on hand after Sunday-morning worship. The church is seeking ways to offer help to its city,  leaders said in an email to members. 
PERSPECTIVE AND PEACE
Back in Red Bank, Jeff Reese reflected on the young man he knew eight years ago — whom he regarded as "just another kid" — and the horrors that unfolded in his hometown.
"It helps put life into perspective … what it's about and what we should be about as Christians," he said. "We mourn with those who mourn, and we reach to those who need that help and that comfort and peace at this time. 
"By the love that we've received, that's where peace comes."
RELATED VIEWS: Eric Greer, a church planter in Massachusetts, former Marine and native of Chattanooga reflects on the shootings. He urges Christians to look beyond the debates over surveillance and immigration and focus on the millions who don't know God.