In Italy, shock and aftershocks
As death toll rises after 6.2-magnitude earthquake, Christians gear up for relief efforts.
---
At least 247 people are dead after a 6.2-magnitude earthquake and a series of aftershocks toppled homes and church buildings in mountainous central Italy.
Devastation in Amatrice, Italy (PHOTO BY VIRGINIA VITALONE)
Dozens are likely trapped in the towns of Amatrice, Accumoli and Pescara del Tronto, the BBC reports. More than 4,300 rescuers are using heavy lifting equipment — and bare hands — in the search for survivors.
Virginia Vitalone, a freelance news producer, spent Wednesday in Amatrice and other parts of the quake zone. Vitalone, a graduate of Harding University in Searcy, Ark., is the daughter of an elder of a Church of Christ in Rome. People in the Italian capital, 90 miles from Amatrice, felt tremors from the quake.
Rescue workers in Amatrice, Italy. (PHOTO BY VIRGINIA VITALONE) 
Vitalone shared images of the devastation with The Christian Chronicle. Rescuers have since advised journalists to leave Amatrice because "the town is crumbling," the BBC reports.
Members of the Belgrade Church of Christ in Montana, who have connections to the church in Rome, are collecting funds to help the people of Amatrice.
Relief workers prepare food for first responders in Amatrice. (PHOTO BY VIRGINIA VITALONE)
PHOTO BY VIRGINIA VITALONE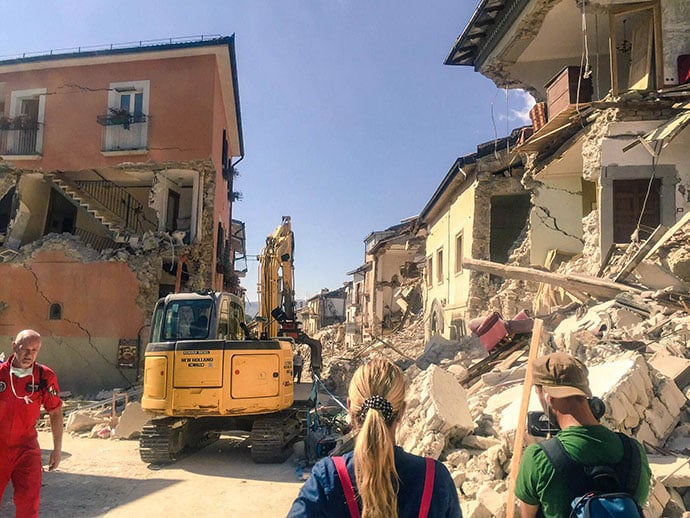 PHOTO BY VIRGINIA VITALONE