In Guatemala, a celebration 50 years in the making
The Pan American Lectureship returns to the Central American capital where it started in 1963.
---
GUATEMALA CITY — Fifty years ago, the Pan American Lectureship was launched in this Central American capital to focus attention on fledgling Latin American missions.
Just a few years before, Jerry and Ann Hill and their two young daughters drove a 1955 Chevrolet 210 station wagon all the way from Pleasanton, Texas — becoming the first Church of Christ missionaries between northern Mexico and the Panama Canal Zone.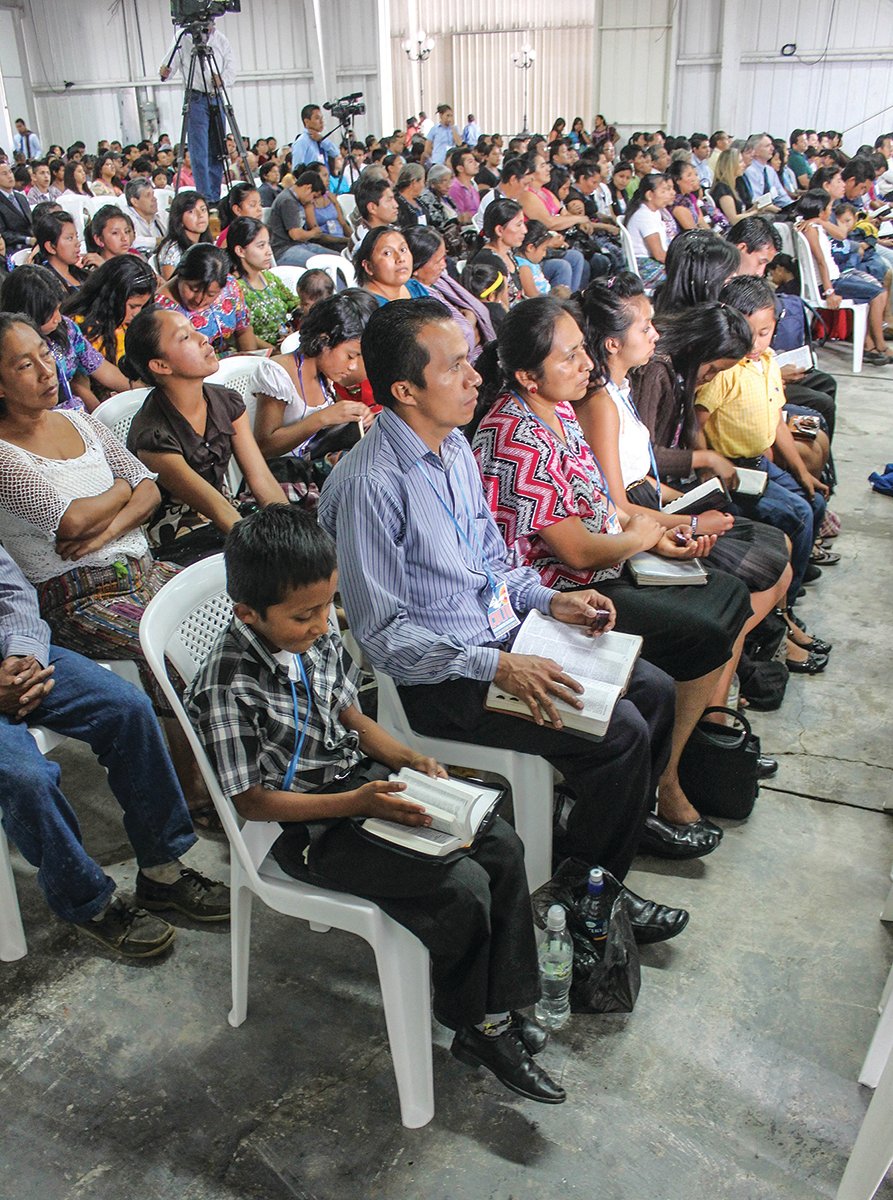 About 4,000 members of Churches of Christ fill a convention center in Guatemala City. The joint  worship assembly in the Central American capital coincided with the 50th Pan American Lectureship. (PHOTO BY BOBBY ROSS JR.)
The Hills — the first of a team of missionaries who came to share Christ with this nation known for earthquakes, guerrilla warfare and its deep Mayan roots — arrived in 1959.
"The oldest Churches of Christ in Mexico were only about 20 years old," the late Jerry Hill wrote in "Guatemala: Joy and Crown," his 2011 autobiography. "The oldest church in South America was seven years old. There were no known churches in Central America."
Fast-forward to a recent Sunday: The Pan American Lectureship celebrated its half-century milestone by returning to this sprawling metropolis of 3 million people where it began in 1963.
To mark the occasion, busloads of Guatemala's faithful came together for a joint worship assembly — some traveling hours from remote rural areas.
Ann Hill, now 81, sat on the front row of a national convention hall the size of a U.S. football field, barely able to contain her emotions.
In a dramatic display of unity, about 4,000 members of Churches of Christ filled every white plastic chair in a shadowy, open-air facility with fluorescent lights and a concrete floor.
Hill, a white-haired grandmother, invited two of the earliest converts — Luis Lopez Hernandez, 83, and his wife, Maria — to sit beside her. 
"All those thousands of people there blew my mind," said Hill, a member of the Pleasanton Church of Christ in South Texas.
Dan Coker, a fluent Spanish speaker and one of the original missionaries to Guatemala, delivered the sermon at the joint assembly.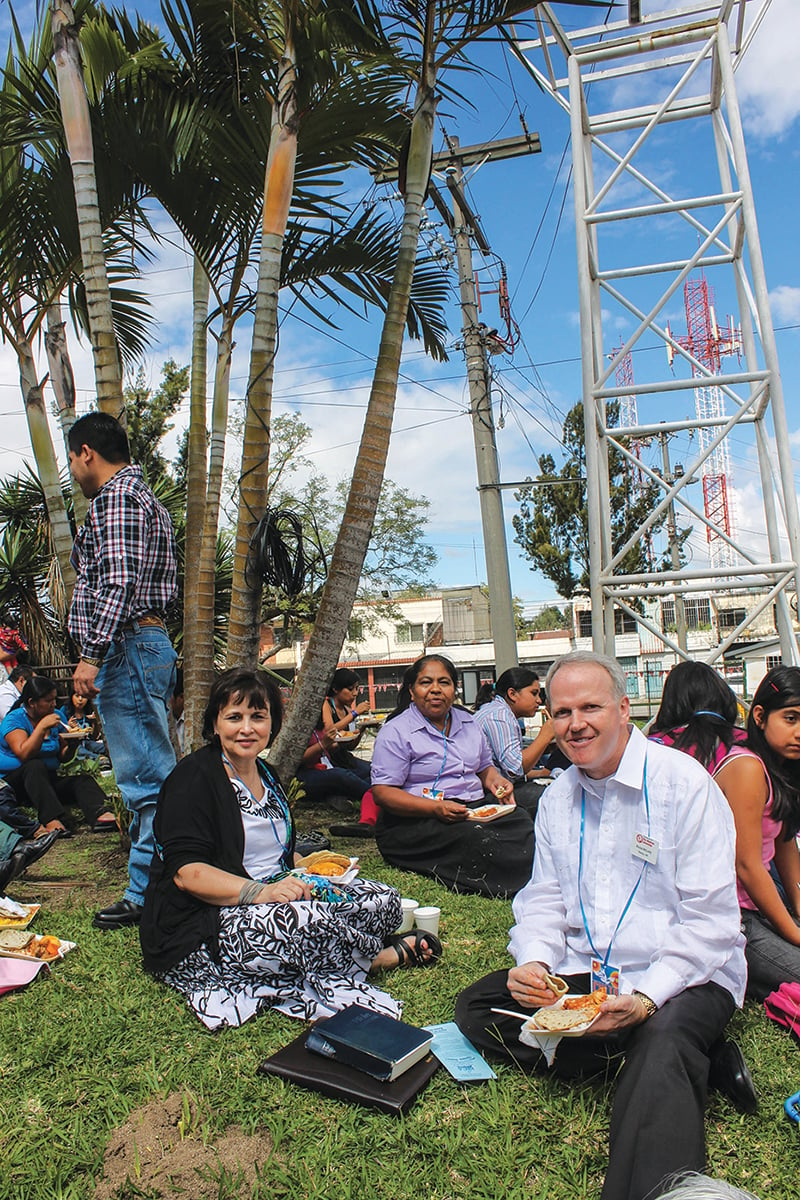 Harding University President Bruce McLarty and his wife, Ann, eat chicken, rice and tortillas after the joint assembly. (PHOTO BY BOBBY ROSS JR.)
"Oh, man, it was a thrill," said Coker, 77, a member of the North Davis Church of Christ in Arlington, Texas, "and especially to see the very first converts and others who are still very faithful and very active in the church."
After the service, the standing-room only crowd — including about 75 lectureship participants from the United States — enjoyed a fellowship meal of chicken, tortillas, potatoes and rice. 
Guatemalan members sacrificed to buy and prepare all the food.
"We eat together, just like the church of the first century," said minister Roberto Alvarez, whose late grandmother Josefina Noriega was baptized by Jerry Hill after the missionary initiated a Bible discussion at her southern Guatemala marketplace.
A VISION FOR LATIN AMERICA

In his book, Jerry Hill — who died in 2011 at the age of 82 — recounts answering a knock on his Guatemala City front door in 1963.
Standing outside his home was the late Reuel Lemmons, a renowned minister who served as editor of the Firm Foundation, then a prominent publication among Churches of Christ.
"While he stayed with us those few days, he introduced us American preachers to the idea of beginning a lectureship that would bring church leaders together in a different Latin American city each year," Hill wrote.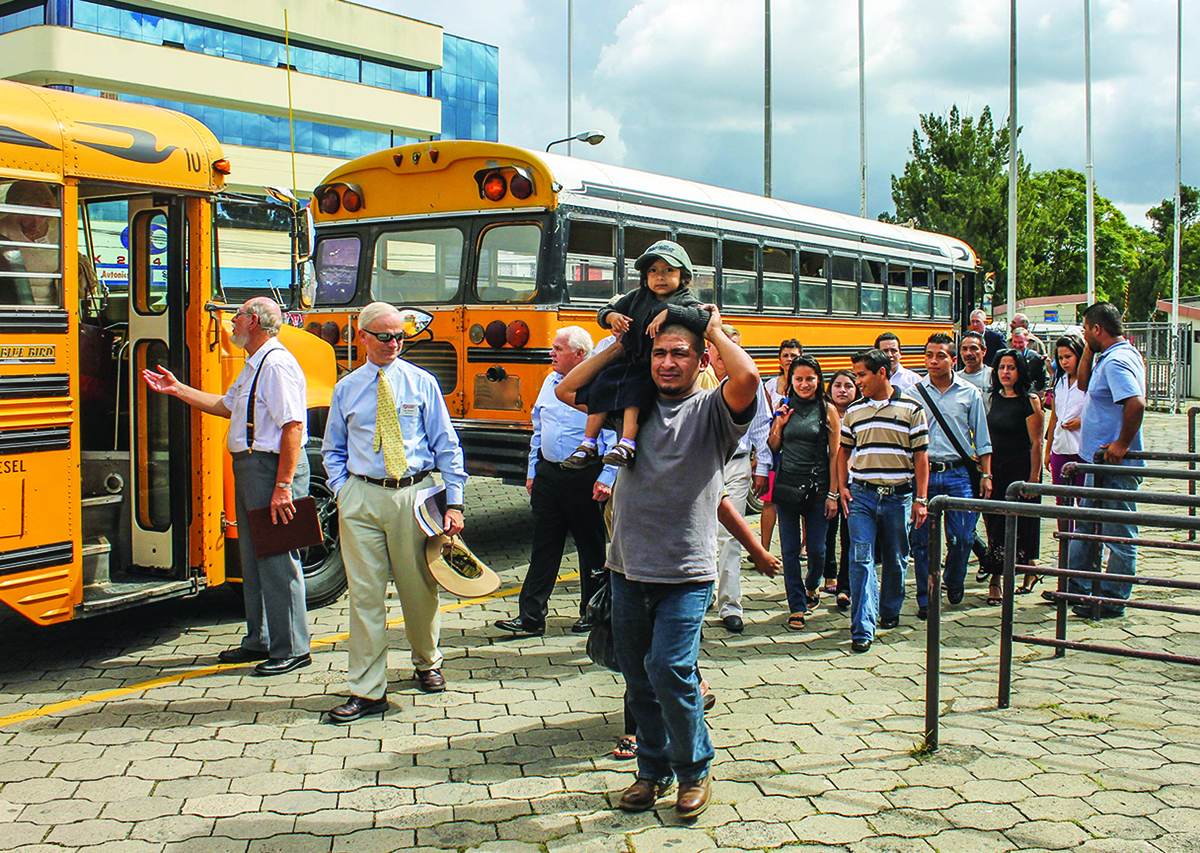 Guatemalan church members and Christians from the U.S., including Jim Frazier and Kent Hartman, arrive at a Guatemala City convention center for Sunday worship. (PHOTO BY BOBBY ROSS JR.)
Thus began the Pan American Lectureship.
Lemmons directed the lectureship for 20 years before turning over the organization to Jim Frazier, Howard Norton and Coker.
"He was a great visionary," Norton, a pioneering missionary to Brazil, said of Lemmons, who died in 1989 at the age of 77. "He had been involved in the early days of African evangelism in the 20th century and had a deep concern for Latin America at a time when not very many people in the Church of Christ knew anything about Latin America."
Lemmons wanted to highlight the spiritual needs of Spanish-, Portuguese- and French-speaking nations in the Western Hemisphere.
"He was convinced that if our brethren would come to Latin America, experience it, see the needs and see the opportunities, then they would generously open their lives and their pocketbooks," said Norton, former president of the Baxter Institute, a ministry-training school in Honduras.
Frazier, a member of the University Church of Christ in Shreveport, La., said he attended his first Pan American Lectureship in 1975. The location that year: Port of Spain, Trinidad.
"I thought we would be flying across the big pond to Spain," Frazier quipped. "I have learned a lot more about geography since that time."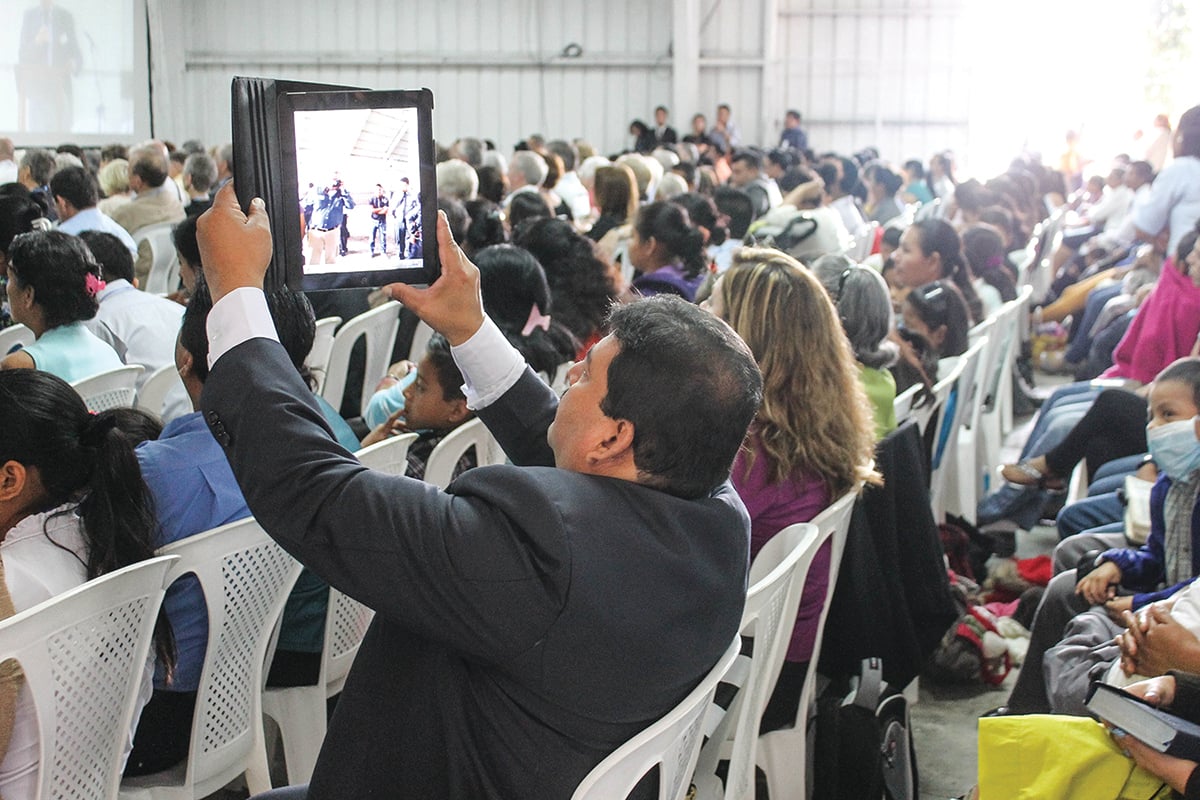 Rigoberto Chamale takes a photo with his iPad during the joint assembly. (PHOTO BY BOBBY ROSS JR.)

Frazier, Norton and Coker directed the lectureship for the first time in 1983, when it was held in Buenos Aires, Argentina. The next year, 1984, a record 290 Americans flew to Costa Rica for the event.
The Jackson Street Church of Christ in Monroe, La., sponsors the lectureship, and other men have joined the organizing committee — including Don DeLukie, Paul Shero, David Duncan, Kelley Grant, Bruce McLarty and Jeff Jenkins.
"We believe that one of the main reasons for the great growth in Guatemala, as well as all over Latin America, has certainly come to some extent from the Pan American Lectureship," said Norton, an elder of the College Church of Christ in Searcy, Ark.
Now, Churches of Christ exist in every nation of the region, and every country except Bolivia, Cuba and Haiti has hosted the lectureship. The event has been conducted every year except one.
"We don't know how much of that growth comes from the influence of the Pan American Lectureship," Norton said. "But those of us who came to Guatemala and Brazil and other places in the 1950s and 1960s know that the picture in Latin America today is totally and completely different from what it was."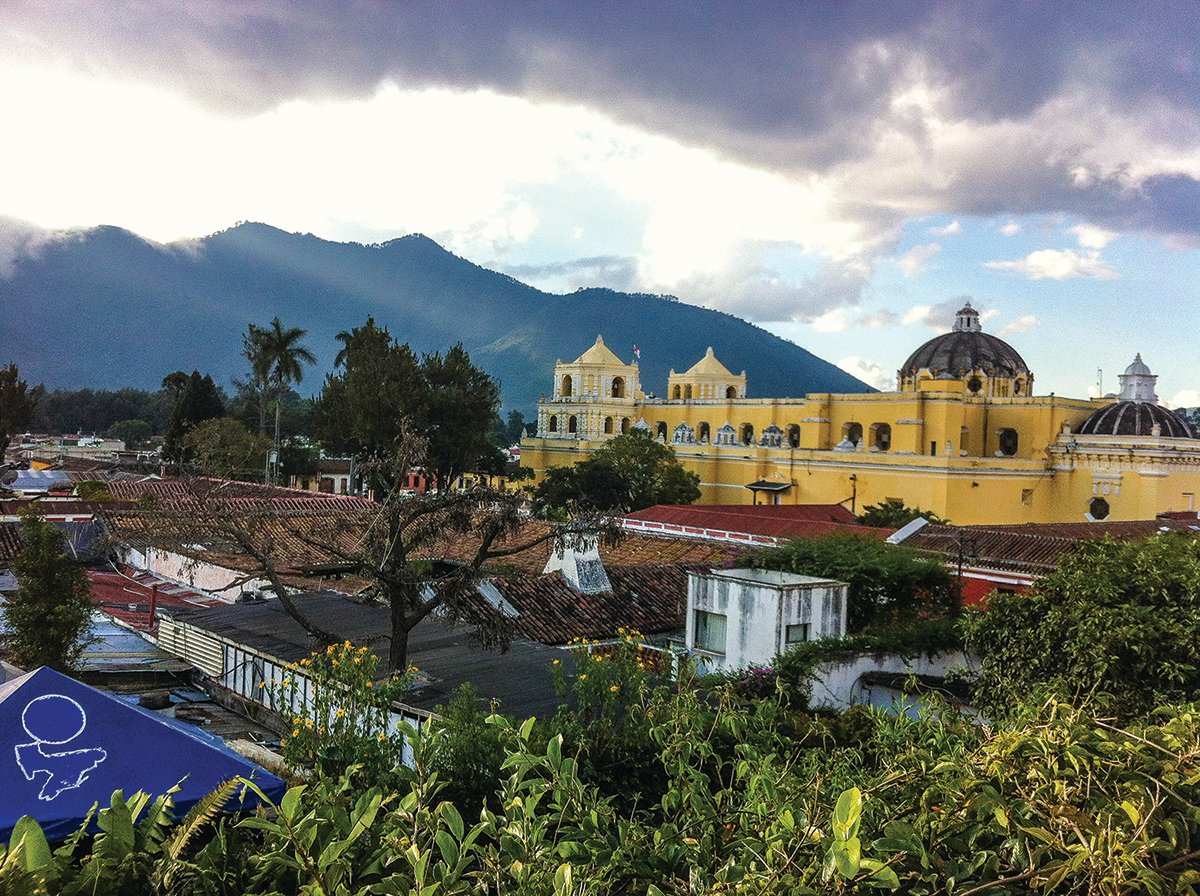 A photograph taken from one of the higher points of Antigua reveals a picturesque view of the ancient capital city, a 45-minute drive from the Guatemala City airport. (PHOTO BY BOBBY ROSS JR.)
CHURCH GROWTH IN GUATEMALA

Each year, the Pan American Lectureship brings together U.S. Christians and Latin American missionaries for a week of fellowship, Bible study, mission field reports and even sightseeing.
But the crowd has grown older, and attendance has declined.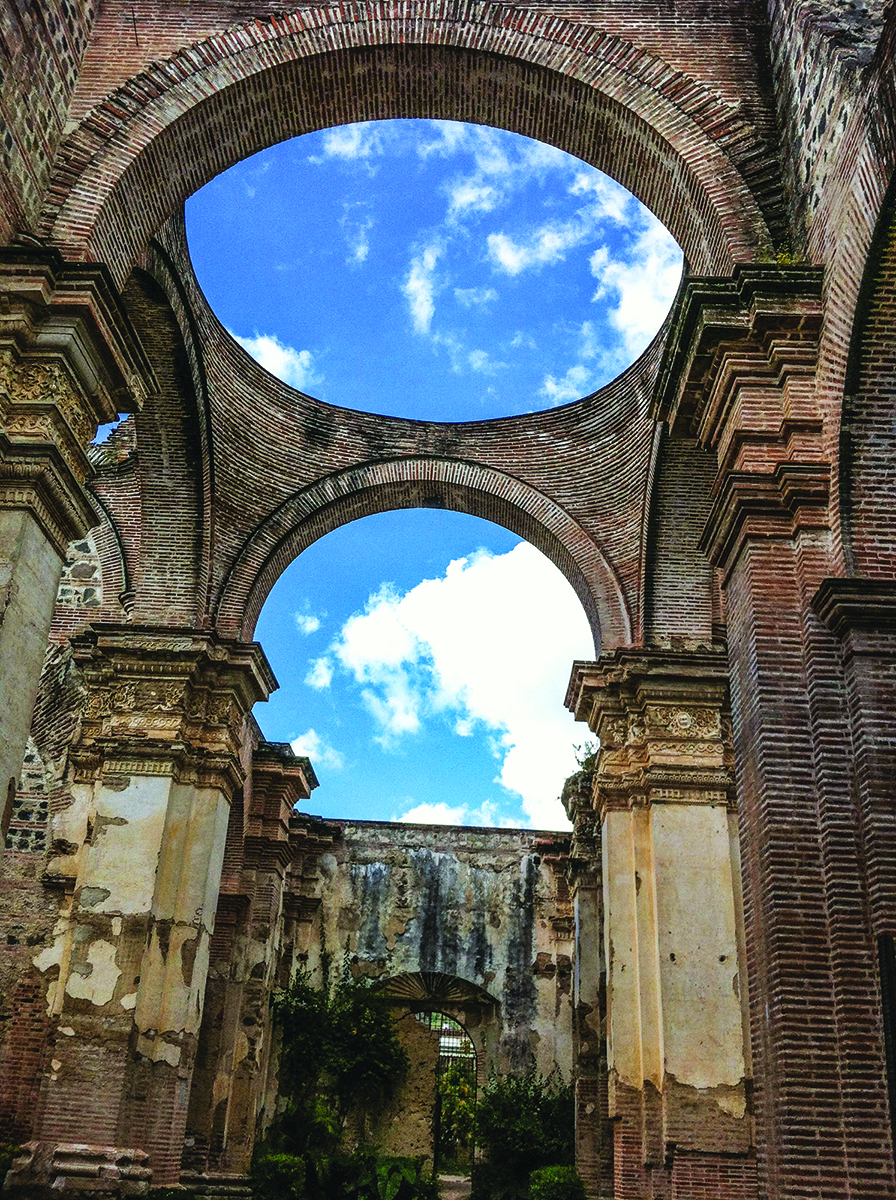 Ruins of churches destroyed in a 1773 earthquake can be seen in the colonial city of Antigua, Guatemala, where lectureship attendees toured the cobblestone streets. (PHOTO BY BOBBY ROSS JR.)
With all the options for foreign mission trips these days, younger Christians seem less inclined to spend a week listening to lectures in a hotel ballroom, even one in a Third World country.
"I don't think the need is as great," acknowledged Coker, who has attended 48 of the 50 lectureships.
Organizers split the 50th annual lectureship between Guatemala City — where attendees stayed in a modern, high-rise hotel and ate in a mall food court with a McDonald's, Pizza Hut and Subway — and the ancient colonial city of Antigua, a 45-minute drive from the airport.
In the shadow of volcanoes, participants walked along Antigua's cobblestone streets, viewed church ruins from a 1773 earthquake and slept at a one-time convent transformed into a five-star hotel.
Alvarez, who preaches for the 500-member North Pineras Church of Christ in Guatemala City, praised God for the lectureship and updated his U.S. brothers and sisters on Guatemalan church growth.
"We believe that we are close to 40,000 Christians in Guatemala, easily," Alvarez said, putting the number of congregations at about 400.
Luis Lopez Hernandez, one of the early Guatemalan converts, remains faithful. (PHOTO BY BOBBY ROSS JR.)
Students from the Biblical Institute of Central America's Guatemala campus — which Alvarez directs — convert 700 to 900 people a year in evangelistic campaigns, he said.
"Recently, we were at the border of El Salvador and Guatemala," he said, "and we baptized — to the glory of God — 49 people in one week."
All this work, Alvarez said, can be traced back to the missionaries who came to Guatemala a half-century ago.
Rigoberto Chamale attended the Sunday assembly with his wife, Maritza Alvarez.
"We thank God for our North American brethren, for their efforts, for their blood, sweat and tears, for everything they did 53 or 54 years ago," Chamale said.
As he spoke, the Guatemalan church leader tapped his chest — his heart — for emphasis.
"They left everything and came to be here with the people of Guatemala," he said of the missionaries. "It's in our hearts that they would do that for us. They struggled and sacrificed, and every day we bless them and thank God for them."