In Flint, Obama listens to Church of Christ minister's concerns
Rigel Dawson joins a presidential roundtable on the Michigan city's lead-contaminated water crisis.
---
A Church of Christ minister whose Flint, Mich., congregation has been active in helping victims of the city's lead-contaminated water crisis met Wednesday with President Barack Obama.
Rigel Dawson, who preaches for the North Central Church of Christ, was one of nine people invited to join a roundtable with the president.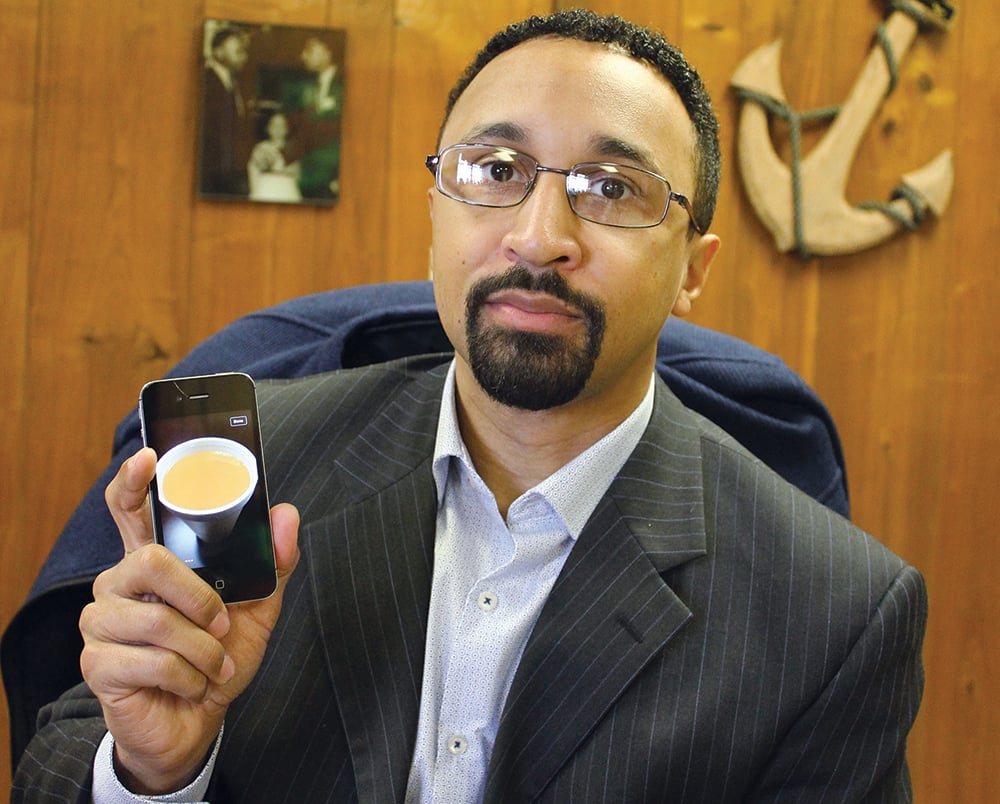 Minister Rigel J. Dawson shows a cell phone picture he took of tap water at the North Central Church of Christ in Flint, Mich. The water was the color of orange juice. (PHOTO BY BOBBY ROSS JR.)
Obama visited the troubled Michigan community to assess the water crisis and discuss the federal response after receiving a letter from an 8-year-old girl named Mari Copeny, a Flint resident.
The president spent an hour and 15 minutes with Dawson's group.
"He really heard us out," Dawson said. "Everyone got to share their story and let him know how they're feeling.
"Part of my point to him was, 'I hear a lot of people talking about what happened to us,'" the minister added. "I said, 'It didn't happen to us. It was done to us.'"
Later, while giving a speech at Northwestern High School in Flint, Obama recalled part of what Dawson told him: "In one of the roundtables, I was listening to somebody — I think it was a pastor who told me, you know, it made us feel like we didn't count. And you can't have a democracy where people feel like they don't count, where people feel like they're not heard."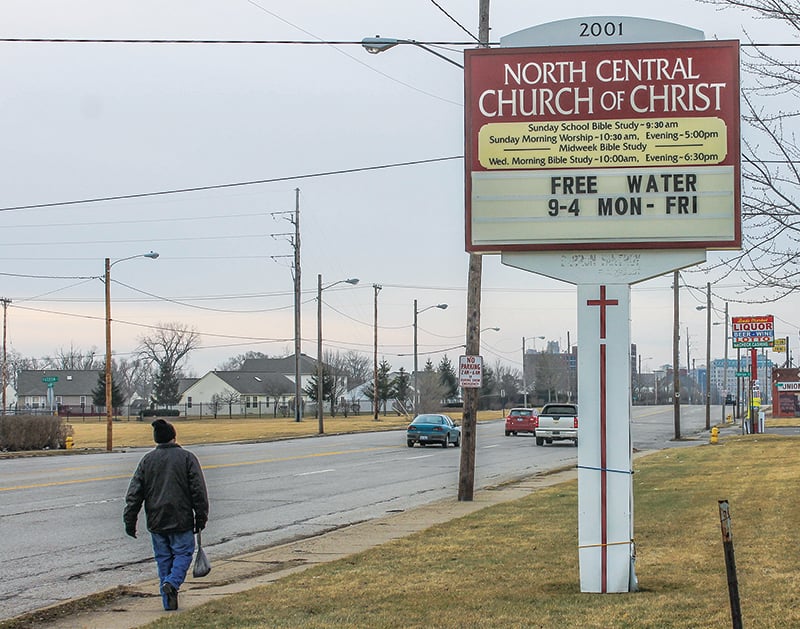 A man walks past the North Central Church of Christ in Flint, Mich. The 150-member church has distributed more than 150,000 bottles of water since the city declared a state of emergency. (PHOTO BY BOBBY ROSS JR.)
Dawson shared his story with The Christian Chronicle earlier this year.
From that March front-page report:
For Rigel and Qiana Dawson, rashes on their two young children were the first indication something was wrong.

"It was all over their bodies — legs, stomach, arms, back," said Rigel Dawson, 39, minister for the North Central church.
Red marks and dry, flaky skin on son Roman, now 3, and daughter Rylan, 5, made the parents rack their brains.

"My wife and I were trying to figure out what was going on," he said. "Did we start using a different soap or something that's got them irritated?"
A trip to the doctor turned up no answers.

But like thousands in this one-time automaking hub that in recent decades has battled high crime, unemployment and urban decay, the Dawsons soon identified the culprit: the water flowing from their home's faucets.

Since then, Flint's lead-contaminated water has put the majority-black city — where 42 percent of residents live below the federal poverty level — in the national spotlight.
Dawson, who was quoted in a New York Times story in April, said he welcomed the opportunity to express his concerns over Flint's ongoing struggles directly with the president.
Tap water samples taken from a Flint household after the Michigan city switched to the Flint River as its water source. (PHOTO BY CHURCHES OF CHRIST DISASTER RELIEF EFFORT) "It was just very humbling and a blessing that God puts you in those positions," he said. "The Scripture says, 'If you humble yourself, he'll exalt you.'"
In talking with Obama, the minister said he cited the need for financial assistance to solve the problems of this city of 100,000 souls, about 65 miles northwest of Detroit.
"This is just one more thing on top of the poverty, the violence and the disinvestment in the community from General Motors and big business over the years," Dawson said.
The North Central church remains active in distributing bottled water and other supplies — such as baby wipes — to Flint residents.
President Barack Obama meets with a group of Flint, Mich., residents on Wednesday. Joining the discussion was Rigel Dawson, minister for the North Central Church of Christ. (PHOTO PROVIDED BY RIGEL DAWSON)
RELATED STORY
• Thirsty souls: Churches of Christ help victims of Flint water crisis