In English, Spanish, 'a church for all people'
In Tennessee, minister urges Christians, in two languages, to 'embrace God's multicultural, multiethnic vision.'
---
Enoch Rinks, of Great Cities Missions, leads "Alabanzas Dad a Cristo" ("When We All Get to Heaven") during the bilingual service.
NASHVILLE, Tenn.— Sweet tea and homemade tortillas.
The faithful who dearly love each — and both — sang praises to God, side by side, during a bilingual worship service hosted by the Brentwood Hills Church of Christ. 
Lyrics to "I Will Call Upon the Lord," or "A Jehová Invocaré," flashed across the overhead screens, alternating between English and Spanish.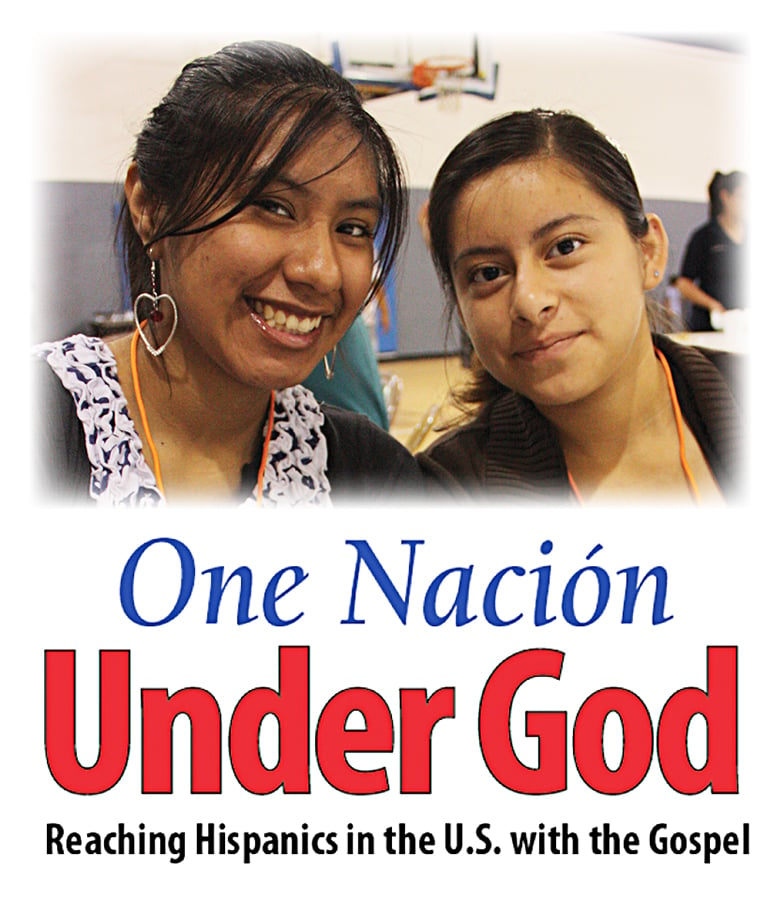 Enoch Rinks, a former missionary to Paraguay and songleader for the morning, knew many of the believers before him weren't fluent in both languages.
"Y'all just try the best you can," he encouraged them.
In Tennessee's capital city, home to country music and no fewer than 74 Churches of Christ, it's easy not to try — to remain in separate congregations, said guest preacher Dan Rodriguez.
"Here in Nashville, you can have a church of the shape or color you want — and I'm just talking about Churches of Christ," said Rodriguez, who ministers for the
Hollywood Church of Christ
in California and teaches religion and Hispanic studies at nearby
Pepperdine University
. 
But staying homogenous in an increasingly diverse city denies churches the chance to grow, he said — and to reflect the divine assembly depicted in
Revelation 7:9
— "a great multitude that no one could count, from every nation, tribe, people and language, standing before the throne and before the Lamb."
"It isn't easy," Rodriguez said. "We're swimming against the tide when we want to embrace God's multiracial, multiethnic vision."
During the service, Junior High, an elder of the Brentwood Hills church, prayed that followers of Christ would "strive to be a church for all people."
"Help us to know that you are one God for all of us," he prayed.
A BOOMING DEMOGRAPHIC
The Sunday sermon "opened my eyes even wider to the exciting realization that heaven is going to be culturally diverse," said Walt Leaver, Brentwood Hills' pulpit minister.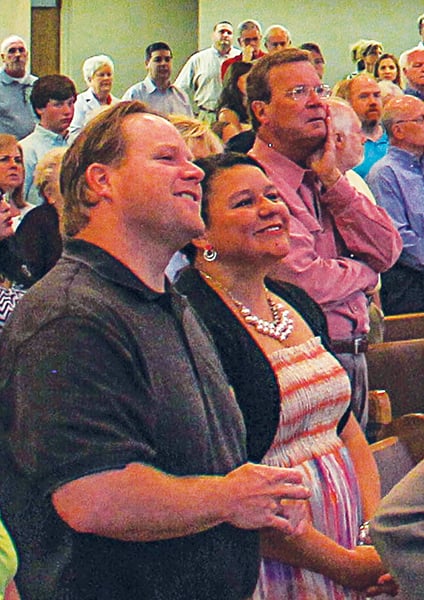 Christians sing songs of praise in both languages during the bilingual Sunday service. (PHOTO BY ERIK TRYGGESTAD)
The service included members of the
Iglesia de Cristo en Grandview
, a 70-member Church of Christ that meets about four miles east of the Brentwood Hills church. Roberto Santiago serves as minister.
"We function as one church with Brentwood Hills," Santiago said. The church is under the leadership of Brentwood Hills' elders, who appointed two Spanish-speaking members to serve as deacons with the Grandview church.
They serve a rapidly growing Latino population in the U.S.
Since 1990, the number of people who identify themselves as Hispanic has grown from 22 million to about 53 million, according to census data. 
About 10 percent of the 659,000 souls in Davidson County, which includes Nashville, identify themselves as Hispanic or Latino — terms that Rodriguez and other ministers use interchangeably. 
Grandview is the only stand-alone, Spanish-speaking congregation listed in Nashville in the most recent edition of "
Churches of Christ in the United States
," a directory published by Nashville-based
21st Century Christian
in 2012. Nine other churches in Nashville's metro area provide Spanish-language ministries.
Nationwide, Grandview is one of 222 Spanish-language Churches of Christ, according to the directory. An additional 315 churches provide Spanish services — a jump of 9.8 percent since the directory's previous edition in 2009.
Marco Diaz at the Brentwood Hills church. (PHOTO BY ERIK TRYGGESTAD)
Preachers from Latin America fill many of those pulpits. Marco Diaz, a native of Guatemala, traveled with a group of Hispanic Christians from Chattanooga, Tenn., to Nashville for the combined service. It also was the first part of the Spanish-language program at Summer Celebration, an annual lectureship at nearby Lipscomb University. 
Diaz worked for a church-supported medical mission,
Health Talents International
, before moving to the U.S. 12 years ago to preach for a Hispanic church. He and other Spanish-speaking ministers introduce new souls to Christ — including many fellow first-generation immigrants. 
Wilber Medrano is one them. 
He came to Nashville more than two decades ago from the Central American nation of El Salvador, fleeing a bloody civil war and hoping to become a success in the restaurant business. Three years ago, he was a victim of identity theft. It destroyed his credit.
"I lost everything," said the father of three children. A friend took him to the Grandview church. The Christians there supported him as he rebuilt his life.
"I saw the love of Jesus in them," he said. "That touched my heart. I told them, 'I want to be a part.'"
REACHING THE 'SPANGLISH' GENERATION
Medrano now owns a meat slicer and a growing business, supplying cubes of steak for the city's burgeoning food truck industry. He and his family worship with the Grandview church.
His sons, Brian, 17, and Aris, 12, were born in Tennessee. They can study the Bible in either language, but "I feel more comfortable praying in Spanish," Brian Medrano said.
In addition to Latinos, the Grandview church has some white and black members, they said. Classes for children and the youth group are primarily English. Worship tends to be mostly Spanish.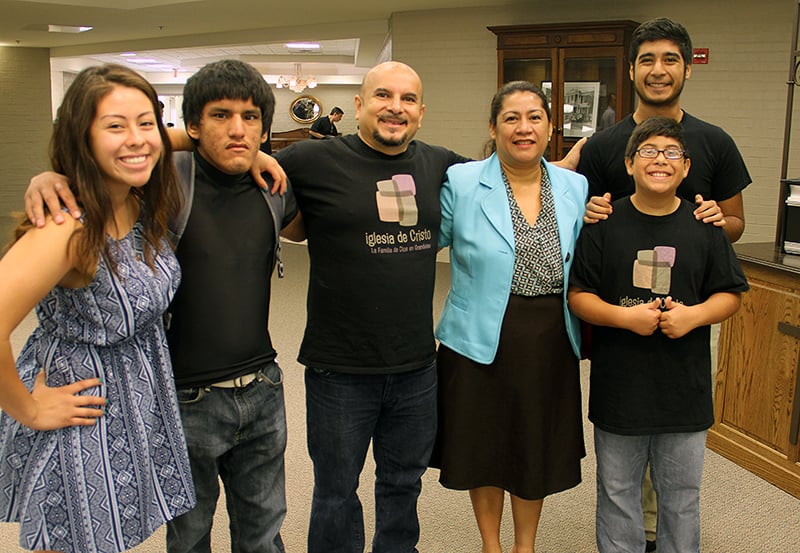 Wiber Medrano, his family (including sons Brian and Aris) and fellow members of the Grandview Church of Christ. At far left is Veronica Giron Vasquez. (PHOTO BY ERIK TRYGGESTAD)
Another Grandview member, 19-year-old Veronica Giron Vasquez, describes her native tongue as "Spanglish." Born in Nashville and raised Catholic, she was baptized at Grandview about five years ago because she and her family "loved the environment and people," she said.
She has traveled on mission trips with Brentwood Hills' youth group to Honduras. It was "a huge eye-opener," she said. "We don't realize how much we have here." 
At Grandview, when she hears a sermon in Spanish, she follows along in her English Bible.
"It's the love you feel around you," she said, when asked why she prefers Grandview to an English-only church. "Even though you don't understand everything, you feel the love."
MULTICULTURAL: NOT EASY, BUT WORTH IT
Vasquez and the Medrano brothers represent the majority of Latinos in the U.S. — native born. 
About 63 percent of Hispanics in the country are the children, grandchildren and descendants of immigrants, according to research by the
Pew Hispanic Center
in Washington. 
Most are ignored by church leaders who equate "Hispanic ministry" with "Spanish-language ministry," said Rodriguez, himself a third-generation Hispanic American — who didn't learn to speak Spanish fluently until age 30.
Rodriguez researched churches from multiple faith traditions for his book, "
A Future for the Latino Church
," finding that, in the U.S., multicultural churches that appeal to second- and third-generation Latinos are difficult to maintain. Churches that focus on becoming multiethnic instead of making disciples of Christ likely will fail, he said.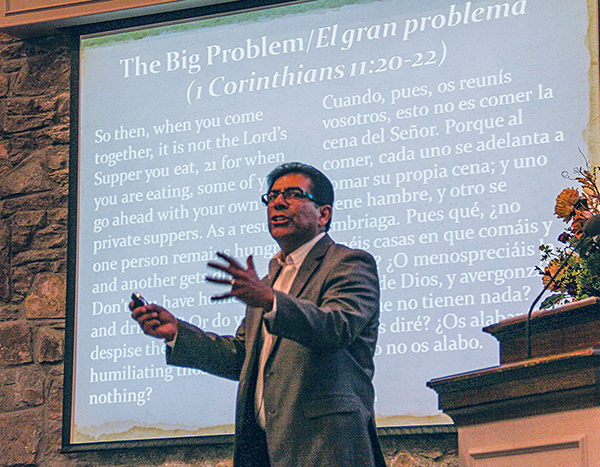 Dan Rodriguez discusses the problems in the first century church between Jewish and Gentile Christians, described in 1 Corinthians, and the modern-day challenges of ethnocentrism — judging someone else's culture by the standards of one's own culture. (PHOTO BY ERIK TRYGGESTAD)
However, "the greatest growth is in churches that have overcome ethnic barriers," he said. "Churches like this are rare, hard to sustain and worth the trouble."
Cultural — not language — barriers are the hardest to overcome, he added. For Anglo Christians, bilingual services may seem long, boring and uncomfortable. And some Hispanic Christians see Anglo culture as unfriendly, at odds with family values — even "against the will of God."
It's easy for Christians in both groups "to segregate ourselves in any area of our lives," said Rebecca Dorris, an Anglo member of the Brentwood Hills church who attended the bilingual service. 
She saw those ethnic barriers crumble as her church's youths — who have picked up some Spanish at school and on mission trips — sang with enthusiasm in both languages.
"When we seek God's purpose for our lives and for our worship, that should bring us, as believers, together," she said.
Wilber Medrano, who was shown compassion by the Grandview church, said that both ethnicities need to show that same spirit of generosity as they interact.
"The point is, the Latino has to change, too," he said. "The way we've received, that's the way we need to give."
'I LOVE YOU WITH EL AMOR DEL SEÑOR'
As the service concluded, Leaver asked the worshipers to join hands as Rinks led them in a final chorus of "I Love You with the Love of the Lord" ("Te Amo en el Amor del Señor"), first in English, then in Spanish and, finally, simultaneously. 
Though the two languages may have clashed a bit, "at that moment, I felt like we were closer to each other and closer to the Lord," Leaver said, "and perhaps a little closer to what heaven will really be like."
In the vision of heaven Rodriguez referenced — recorded by the apostle John in
Revelation 7
— the multitude sings "Salvation Belongs to our God" — not the national anthem of Mexico or the U.S. 
"Our Savior is coming back from our homeland," Rodriguez said. "He's not coming for Americans, for Mexican-Americans, for Salvadoran Americans. 
"He's coming for his bride. He's coming for the church of Christ."
Walt Leaver, minister for the Brentwood Hills Church of Christ, invites ministers from English- and Spanish-speaking congregations to the stage to sing "I Love You with the Love of the Lord" in both languages. (PHOTO BY ERIK TRYGGESTAD)