'The new culture is the language of Christ'
In Atlanta, technology helps bring together Spanish and English speakers.
---
A Spanish-speaking Bible class meets at the North Atlanta Church of Christ after the Georgia congregation's joint worship assembly. (PHOTO BY BOBBY ROSS JR.)
ATLANTA — Spanish-speaking members of the North Atlanta Church of Christ pick up wireless headsets on their way into the worship assembly each Sunday. 
As pulpit minister Don McLaughlin preaches in English, Latino minister Nelson Galarraga — stationed in a control room near the auditorium — translates the sermon "live." 
Or at least Galarraga tries.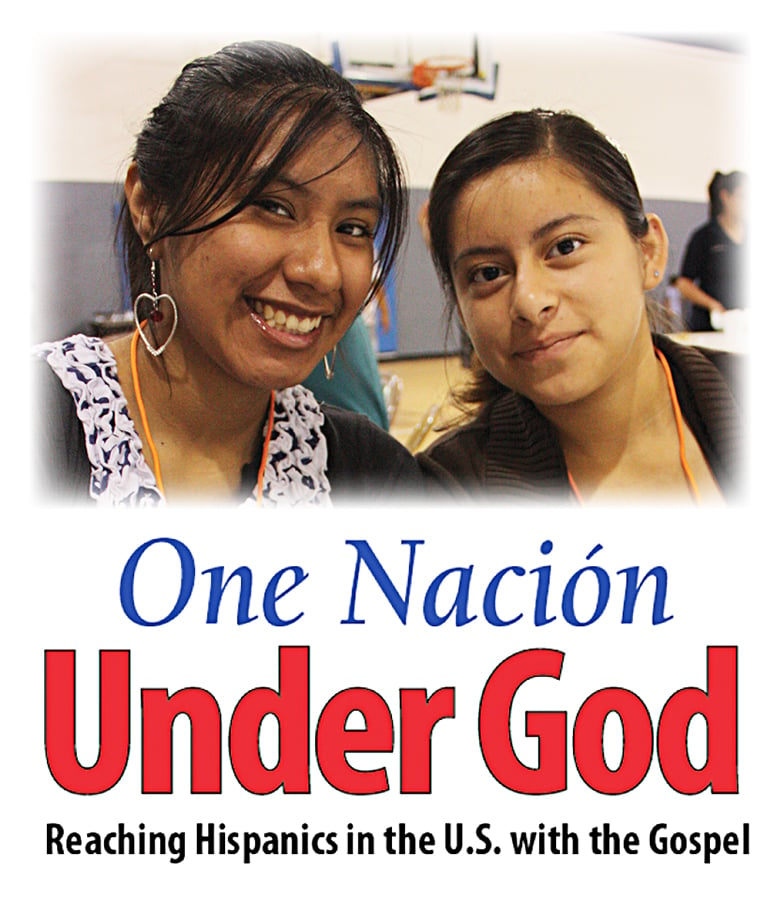 • In a Latino trailer park, a 'bus ministry kid' pays his blessings forward
• Genesis Alliance hosts college fair for Latino students
"Don speaks very fast," the native Venezuelan said with a chuckle, joking that he has learned to anticipate what McLaughlin will say before he says it. 
After the worship service, an adult Bible class in Spanish gives Latino members an opportunity to discuss the message and ask questions about any Anglo cultural examples that did not make sense.
At one time, the North Atlanta church had separate assemblies for English and Spanish speakers, said elder Fernando Nasmyth, who immigrated to the U.S. from Haiti when he was a boy and speaks both languages.
"What we are trying to do … is to have an integrated ministry within the body as opposed to a separate group," said Nasmyth, who often attends the Spanish class.
Member Loren Visaez, who leads a Wednesday night tutoring program for Hispanic children from a low-income apartment complex, said she has worshiped in other churches where the Spanish-speaking group seemed isolated.
Loren Visaez
"I think it's very important for the Latino member to feel a part of the whole church, not just a section," Visaez said. "By being there (with the full church on Sunday), they feel more like a part of a congregation. They know what's going on, even if it's translated."
When Galarraga and his wife, Mariela, came to Atlanta two decades ago to plant churches, the model was to start separate Spanish-speaking congregations — even if they used English-speaking groups' facilities.
But bringing everyone together creates a richer, multicultural worship experience, the couple said.
"We really believe it is the biblical way to do it," Nelson Galarraga said. "The new culture is the language of Christ, and that's what's going to unite us."
Revelation 7:9
speaks of "a great multitude that no one could count, from every nation, tribe, people and language, standing before the throne and before the Lamb."
Don McLaughlin
"We believe that if every tribe and language is gathered around the throne in heaven, then they should be gathered around the table of God on Earth," McLaughlin said.
The North Atlanta church translates the Sunday assembly "live" in Spanish so that everyone can participate, the pulpit minister said.
"We sing, pray, commune and learn together as one," McLaughlin said. "This includes sometimes doing the prayers, communion, readings or songs in Spanish first and then translating them into English. 
"Everyone has an equal place at the table," he stressed. "No one is more important or has more of a right to be present because of the language they speak."
North Atlanta Church of Christ members hug after a Spanish-speaking adult Bible class. (PHOTO BY BOBBY ROSS JR.)